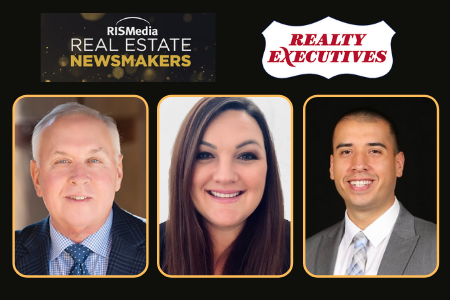 Realty Executives International is proud to announce the recognition of several leadership members of the Realty Executives team in RisMedia's 2021 Newsmakers.
Jeff Murtaugh, Broker/Owner of Realty Executives Arizona Territory, along with both Vice Presidents of Realty Executives International, David Celaya and Alysia Heun, were all named Newsmakers of the real estate industry.
As a top real estate source for news, trends and information, RisMedia considers those who have been nominated as Newsmakers thought leaders in the housing industry and contributors to the field, their communities and consumers. The Newsmakers are nominated by RisMedia readers and editors, showcased in the following categories: Futurists, Inspirations, Trendsetters, Achievers, Crusaders, Luminaries, Influencers and Trailblazers.
Jeff Murtaugh, recognized as an Achiever, has been in real estate for over 30 years and has continually evolved and grown his career to the next level. At the start of 2020, Murtaugh led the merger of Realty Executives Tucson Elite with Realty Executives Northern Arizona, which now, with over 600 agents, covers large markets throughout Northern and Southern Arizona. Since the brokerage's inception, Murtaugh has been committed to enhancing the brokerage culture and improving his agents' and clients' experience with the brand.
Alysia Heun, Vice President, is often known as the eyes and ears of the international real estate franchisor's network. Honored as a 2021 TrailBlazer, Heun focused on advancing Realty Executives' in-house technology and marketing initiatives. Because of this focus, Realty Executives became the first real estate franchisor to launch a proprietary home listing platform.
David Celaya, licensed Realtor and Vice President, was also honored in the Achiever category. Celaya led the revamping of the company's Digital Marketing Executive (DMX) certification course. This course helped over 1,000 agents learn how to shift their operations with the challenges of COVID-19; to adapt and run their businesses confidently despite the challenges.
"It is exciting, yet not surprising, to see these team members honored as 2021 Newsmakers." Patrick van den Bossche, President of Realty Executives International, said. "Working alongside them is a privilege and their national recognition is a testament to the hard work and dedication they have shown throughout the entire year."
To see who else made RisMedia's 2021 Newsmakers list or to learn more, visit https://rismedia.com/2020-newsmakers/.