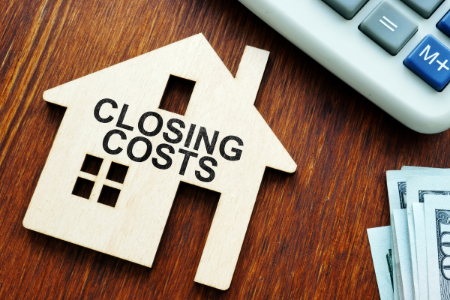 The process of buying a home requires many steps. One of the final ones is paying the closing costs on your new house. Here is everything you need to know about these expenses.
What Are Closing Costs?
Closing costs are the fees you owe at the end of a real estate transaction. Your lender will provide you with an estimate after receiving your mortgage application. In the U.S, the average closing cost is $6,087 with taxes. Yet, the price will vary based on several factors, such as your home's purchase price and the type of loan.
What's Included in the Cost?
The expenses cover all the fees necessary to close on a home, excluding your down payment. They are broken into three categories: lender fees, third-party fees, and prepaid items. Here are some of the typical costs in each group.
1. Lender Fees
These include charges for underwriting and processing your loan. They help brokers source essential documents, such as bank statements. In addition, they cover the cost to verify information on your loan application. You will also have an origination fee, which allows the lender to set up your loan. It's usually about 0.5% to 1% of your loan amount.
Here are some other expenses to expect from your lender:
Administrative fees
Application and lock-in fees
Loan level price adjustment
Discount fee
2. Third-Party Costs
These expenses come from outside companies involved in the closing process. For example, your credit bureau will charge a $30 fee for pulling your credit report. You will also owe an appraiser cash for determining the market value of your house. In addition, there's a title search cost to check for any outside ownership claims to your property.
Here are some more third-party charges to budget for:
Escrow fee
Flood certification
Attorney fees
HOA dues
Survey fee
Pest inspection fee
3. Prepaid Expenses
Homeowners pay for property taxes and homeowners insurance upfront when closing a loan. You also pay them monthly to protect your home from potential damage or tax foreclosure. The average price of homeowners insurance is around $1,015 a year. If you live in an area prone to inclement weather, also invest in flood insurance.
How to Reduce Closing Costs
With multiple expenses, your closing costs can start to add up. Here are a few tips to help you lower your price.
1. Check Out Multiple Lenders
Before choosing a lender, shop around and compare fees. Check out banks or credit unions first. Look for mortgage lenders offering low fees and competitive interest rates. Ask them important questions, such as how long the process is expected to take. Once you have selected an agent, improve your credit score and save for a down payment.
Also, remember you don't have to use the inspector or insurance agent your broker recommends. Instead, do your research to find the right companies.
2. Ask Your Seller for Help
If you're on a tight budget, ask the seller to help cover a portion of the closing costs. They can either accept or reject your offer. This is less likely to be accepted in a seller's market, where it's easier for the seller to find a motivated buyer in their desired timeframe.
However, for homes on the market for longer, a seller may be willing to compromise. If it's a competitive market, increase your offer price to offset the closing costs. Make sure to talk with your real estate agent before negotiating, as they can provide insight into whether it's a good addition to the deal.
3. Schedule Closing for the End of the Month
Scheduling later allows you to save money on prepaid interest charges. You're expected to cover any interest on your mortgage from the closing date until the end of the month. So, this way you only pay the fee for a few days.
4. Compare Your Loan Estimate and Disclosure Forms
Carefully review your loan estimate to ensure the fees are in order. Ask your lender to clarify any confusing charges. Also, if you notice any new fees or inconsistencies, bring them to your lender's attention. Catching any errors can reduce costs and move the process along.
5. Negotiate Loan Fees
Some lenders may try to add unnecessary fees, so if you notice these, speak up. Ask your lender to remove or reduce any duplicate charges. Compare your costs to other lenders' offers to ensure you're getting a fair deal. Look out for excessive processing and documentation prices, which are common in underwriting fees.
6. Combine Closing Costs into Your Mortgage
Some lenders might offer to pay your costs or roll them into your loan. Keep in mind you will still pay interest on the closing costs, usually at a higher rate. Therefore, consider this option as a last resort.
Preparing for Closing Costs
Purchasing a house comes with multiple expenses, including closing costs. These expenses will cover fees for lenders and appraisers. Before you invest in your dream home, review this guide so you can start preparing your budget today.