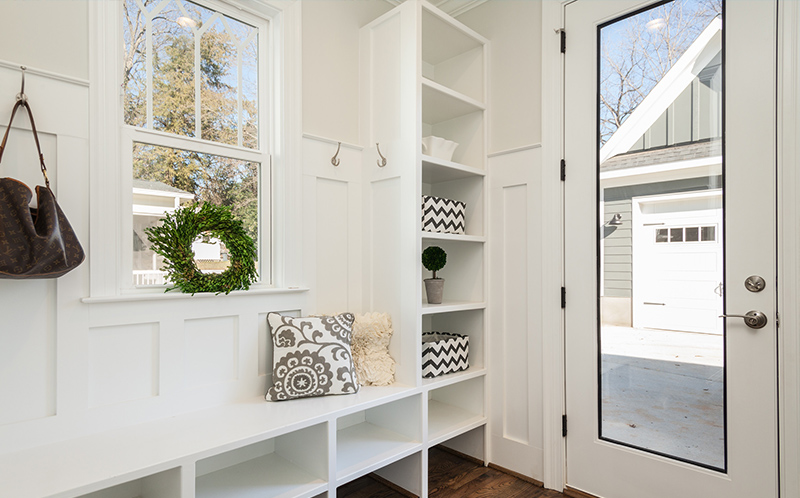 A well-staged home can make the difference between a quick sale or a long, drawn-out one. If you don't declutter and present your property in its best possible light, a prospective buyer might not be able to picture the home as their own. Here are some hacks to get you on the right track:
First Impressions Are Everything
Sure, the inside of the house is extremely important, but don't forget about curb appeal. How does the house look from the street? Easy ways to spruce up your property: mow the lawn, trim the hedges, add a new welcome mat, clean the front door, and wash the windows. Consider adding a tree or a tall plant. What about the backyard? Is it raked and neat? Free of branches? Take the time to take care of any needed yard work.
The Entryway
Once the outside of the house is covered, concentrate on what a potential buyer will see when they walk through the door. Remove family portraits and other personal touches. Get rid of knick-knacks and reduce the number of wall hangings. Replace bold furniture and accessories with more neutral ones.
Portable Storage Is Your Friend
If you have too much furniture and accessories and don't want to get rid of anything, portable containers are a great solution, as they allow you the flexibility to load at your own pace and store for as long as you need while your home is on the market. Also, all the driving is included, so you don't have to worry about renting a truck or dealing with the hassle of loading and unloading your belongings multiple times. Although on-site storage is an option, we recommend having your container picked up and stored in a storage facility to make your property appear more spacious.
As a bonus, you can have the portable container company move your container directly to your next home so you can store and move with one solution. Even if you're moving long distance, the provider may be able to accommodate your move. For instance, PODS offers a large national network, so they can move you across the country if needed, and even to Hawaii and Canada.
Convert Extra Rooms into Meaningful Spaces
Make sure not to leave any unused rooms empty. Empty rooms looks smaller and can turn off potential buyers. If you don't want to rent new furniture for these rooms, consider asking friends or family if they'll let you borrow some. One easy fix is to add a desk and a chair to an empty room so potential buyers will picture it as an office or a study.
This post is intended for informational purposes only and should not be taken as professional advice. The point of view and opinions expressed in this post are those of the author and do not necessarily reflect the position of Realty Executives International.  This guest post was written by PODS®. PODS® makes moving and storage more convenient and less stressful through its innovative solution of delivering a level container and providing the customer all the time they need to load and unload their container.