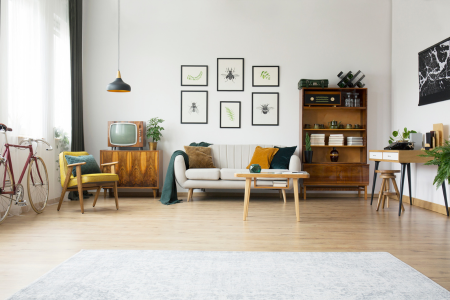 Step into your favorite local thrift store, and you will find a goldmine of one-of-a-kind home décor pieces — usually at very reasonable prices. One of the best parts of thrift store shopping is the hunt for great pieces that you know will not be found online or at your local big-box retailer.
Feeling inspired to learn more about how you can incorporate vintage and thrift store finds in your home? Keep reading to learn the history behind different design trends and how you can find cool décor for your home.
Popular Design Periods
As you wander through a thrift or antique store, you will find pieces from across the years that illustrate the unique style and design of the times. Some of the popular periods of home décor include:
Mid-Century Modern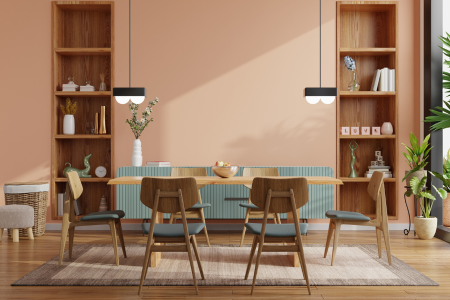 This design movement rose to prominence in the 1950s and 1960s and is often characterized by clean, simple lines, functionality, and organic shapes. Mid-century modern elements usually have warm, earthy colors and are composed of materials like wood, metal, and glass. Think of statement pendant lights and furniture with sleek edges and geometric shapes.
Art Deco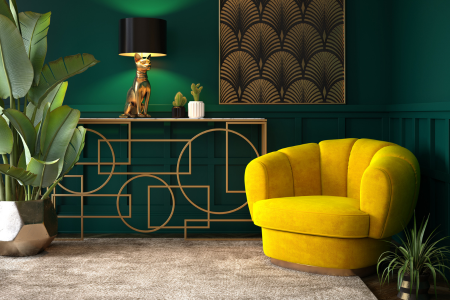 Another popular design era frequently found in vintage and thrift stores is the Art Deco era. This era was from the 1920s and 1930s and was inspired by a desire for luxury and glamour after World War I. Bold geometric patterns and rich colors often characterize this style — like mirrored furniture, gold accent mirrors and ornate materials. These pieces can add a touch of grandeur and sophistication to any space.
Vintage Industrial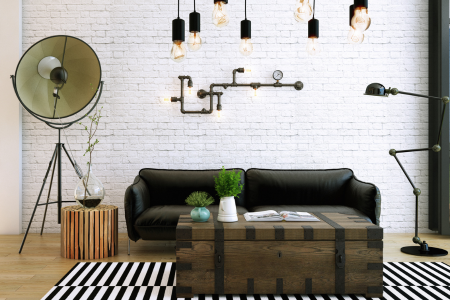 Recently popular, the vintage industrial style is rooted in the early 20th century, drawing inspiration from the interiors of factories and warehouses. This design style is admired for its use of raw materials like metals and wood that harken back to the Industrial Revolution and turn-of-the-century factories. From exposed cables to steel pulleys, the vintage industrial look is common in today's modern home.
Where to Find Vintage Pieces
Ready to go treasure hunting? Knowing where to find your thrift pieces is half the battle. But the good news is there are countless places you can explore as you begin searching for unique retro finds.
Thrift Stores
Of course, thrift stores are most people's go-to when looking for cool vintage finds. You can uncover one-of-a-kind items like furniture, artwork, trinkets, and jewelry, often hidden in a corner waiting to be discovered. People frequently donate items to these stores, which keeps them regularly stocked with new finds.
Estate Sales and Auctions
Usually, estate sales happen due to a person's passing or downsizing, and they can offer some great finds such as vintage furniture, artwork, and other keepsakes. You can check your local newspapers or online listings for estate sale announcements in your area.
Vintage or Antique Markets
If you are looking for vintage or antique items, try to find a market or pop-up store that specializes in these goods. Local vendors will typically bring unique vintage products to their local markets, and you never know what hidden gems you might discover. Try searching your area for local markets or consider visiting larger antique shows for a wider variety of options.
Flea Markets
Flea markets are the go-to place for many vintage lovers. While they require some sifting through, you can find stunning vintage pieces at a fraction of the cost. The best part? You can often try negotiating prices since most sellers expect a bit of haggling.
Online Marketplaces
You do not have to travel far to find unique home finds! Thanks to online shopping, it is easier than ever to find vintage pieces. Websites like eBay, Etsy, and Facebook Marketplace have a big selection of vintage items from sellers around the world. Just use caution when meeting up with anyone in person and check reviews and product details first to ensure you are getting exactly what you are paying for.
Yard Sales
You might be surprised but local yard sales and garage sales can be a great place to find unique furniture and home décor items. These local events usually happen on the weekend and offer a great opportunity to negotiate prices since most homeowners are trying to get rid of their items that day! You can check online for postings or drive through your neighborhood on a weekend morning to find some local garage sales.
Specialty Vintage or Second-Hand Stores
Slightly different than thrift stores, some antique stores specifically offer vintage pieces and antiques. Although they may be a bit pricier, their selection is often high-quality and authentic.
Adding Retro Touches to Your Home
So, you have found the perfect piece but now are not sure how to incorporate it in your home. We are here to help!
There are countless ways you can add a touch of retro or vintage charm to your home decor. From placing an old ladder near your bookshelf to setting up a vintage vanity in your bedroom, you can incorporate small pieces into your home decor to bring a hint of character and nostalgia to your home.
Another popular way you can capitalize on your vintage thrift store finds is to upcycle and repurpose old pieces. Whether it is an old couch that you reupholster, or vintage crates refurbished into a side table, you can use your imagination with your thrift store finds to come up with unique ways for repurposing old pieces.
You can also head to places like Pinterest to find inspiration on how you can incorporate more vintage finds into your home.
At the end of the day, finding cool ways to incorporate retro and thrift store finds can make your home one of a kind. You can use it as an outlet to be creative and transform your home into its own piece of history.
Remember, sometimes a great vintage find requires a bit of perseverance and imagination! Do not give up hope if you do not find something right away. With the right mindset and dedication to the hunt for a great piece, you can discover some amazing vintage pieces to elevate your home.
Please follow and like us: