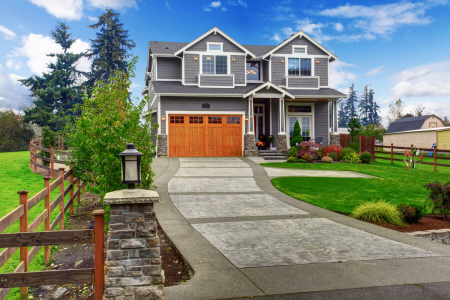 Just like when you meet someone for the first time, a good first impression can go a long way. The same can be said when it comes to your home. Your home's curb appeal — otherwise known as its overall exterior attractiveness — can make a big difference in how it is perceived.
According to the 2022 Home Buyers and Sellers Generational Trends Report, 55% of home buyers will visit a property after viewing it online, primarily based on its curb appeal. If you are selling your home, you want to pay attention to how your home's curb appeal might impact its selling value.
And even if you are not ready to sell your home, boosting your curb appeal can help ensure your home gives a great first impression to any visitors or passersby.
Adding charm to your home's exterior does not have to mean burning a hole in your pocket and spending a lot of money! There are countless ways to boost your home's curb appeal, making it more enjoyable for you or any potential buyers without breaking the bank.
Tips for Improving Curb Appeal on a Budget
Ready to get started improving your home's curb appeal? Here are a few of our favorite (and simple!) ways to make your home look its best.
Landscaping
The most noticeable aspect of your property is usually your yard. Since it is the first thing most visitors see, there are small ways you can improve your landscaping to boost your curb appeal – even with no previous landscaping experience!
If you are looking for some easy beginner projects, start with keeping the edges of your walkways trimmed, plants properly pruned and a green, weed-free lawn. You can incorporate seasonal plants to help add color to your space. Do not forget to add mulch to add contrast and freshness! You can even consider using a budget-friendly mulching alternative, like leaf mulch, made from fallen leaves.
Do a bit of research into what kind of plant varieties do best in your area, and make sure to consider things like how much shade you have in your yard and the amount of rainfall.
Front Door Facelift
As the main entryway to your home, the front door can really set the tone for the rest of your home's curb appeal. It is amazing what a fresh coat of paint in a vibrant color can do to improve and upgrade your home's overall look and feel. You can affordably improve your home's curb appeal with just a gallon of paint and some paint brushes.
Looking to take it to the next level? Try adding a kick plate or installing a new, modern door handle for an upgraded look. These small differences are also relatively affordable and simple to do with tools you likely already have lying around!
Outdoor Lighting
A well-lit pathway and front porch can dramatically change your home's appearance. One way to improve the appearance of walkways and shaded areas without increasing your electricity bill or cash out of pocket is by installing solar-powered lights. You can place these lights strategically along your walkways and underneath large trees to add a touch of brightness and safety to your outdoor space.
You can also purchase smart outdoor lighting that works on a timer to save you the hassle on turning it on every evening — and save a little money on your electric bills, too!
Mailbox Makeover
Looking to upgrade the appearance of your mailbox? There are plenty of budget-friendly options to give it a fresh look. Consider applying a new coat of paint, adding some beautiful greenery and plants around it, or even replacing it entirely. You can find a mailbox that compliments your home's style and color to add to your home's overall exterior appearance.
With these simple modifications, your mailbox will be transformed, elevating the overall curb appeal of your home. Give it a try and see the difference it makes!
Exterior Upgrades and Improvements
You would be amazed how even the smallest cleaning and tidying up of your home can make a difference in improving curb appeal. Even something like cleaning your windows or keeping your lawn mowed can make your home sparkle and look its best.
If you are looking to take on a slightly bigger project, try installing shutters or window boxes with flowers to bring a well-rounded and unique style to your home. You can find shutters with unique colors or select window boxes to decorate seasonally with flowers and greenery.
Want to improve your curb appeal? The key is maintenance!
Do not forget that maintaining and improving your curb appeal is an ongoing process. Each season will bring new opportunities to improve or follow the latest exterior home improvement trends. Make sure to keep regularly checking in on your landscaping, front door, and mailbox to keep your house looking its best year-round.
Regular touch-ups like pruning, power washing the exterior, cleaning the gutters, and maintaining the walkway will also ensure your home continues to be a great addition to the block and neighborhood.
You can also always have fun with seasonal decorations like pumpkins in the fall or a wreath during the holiday season. Do not forget your home is yours to make unique and reflect your personal style!
It does not take much to make your home inviting and appealing!
The real estate saying, "curb appeal sells homes," is a popular saying for a reason!
Your home's exterior is often the first impression people have, and you want to make it a good one — whether you are selling your home or just enjoying it. By applying these tips to spruce up your landscape, front door, outdoor lighting, mailbox, and windows, you can dramatically improve your home's curb appeal without busting your budget.
Please follow and like us: