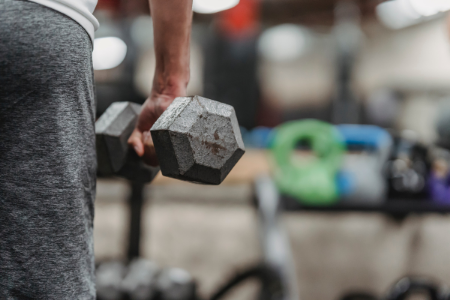 Ever since the Covid-19 outbreak, home gyms are becoming increasingly popular. In fact, people are finding out that they like home gyms more. As per a study, nine out of 10 Americans who work out on a daily basis reported that they would continue exercising at home even after they feel comfortable about going back to a gym in the future.
But let's be honest. Building a home gym can be quite costly. However, if you know when and what equipment to buy, you don't need to pay a hefty $10,000 to buy your home gym equipment and stay strong and fit.
Here's how to build a great home gym on a budget.
Purchase versatile equipment 
Unless you own a home with an extra large open space, you will be working with a limited area. Thus, buying versatile equipment will save you both money and space. For instance, you can buy folding squat racks. You can do a lot with the equipment, and it doesn't take up much space.
Another piece of equipment with high versatility is resistance bands. You can use them for different DIY workouts by adding them to bars.
Also, if you are building a home gym, consider rubber surfacing as it's durable, sound and slip-proof, shock-absorbent, and can be used for the most intense and high-impact workouts. You don't need to buy another exercise mat if you cover your floor with rubber. You can reach out to a professional to get it installed.
Buy used equipment
One of the best ways to build a home gym on a budget is by hitting the second-hand marketplace. Craigslist or Facebook Marketplace is a popular marketplace that people frequent to find used equipment.
Facebook Marketplace usually has several great pieces posted. Some days you will also find fitness companies selling their gear. Visit these sites regularly and purchase when you find the right pieces.
You can also go to reputed sites like Primo that sell used gym equipment. Located in the USA, they ship their equipment worldwide, and you can save 75 percent off retail price. Starting from Multi-Press Machines to Treadmills and Indoor Cycles, you will find all kinds of exercise equipment.
Or you can support local and look for a small 2nd-hand gym store in your area or even visit local garage sales.
Build your own equipment
Building your own home gym equipment is a great way to save money, provided you are a handy person. But what are the things you can DIY? There are plenty! Starting from power racks to plate holders and reverse hypers, the ideas are limitless.
For instance, you can build your platform using stall mats and plywood. It will cost you a portion of what it would actually cost to purchase a new one.
DIY toaster rack plate holders won't cost you more than $40. If you buy a new one, you will end up paying 3x or 4x as much.
To build reverse hypers, both rack-mounted and stand-alone, you will be investing less than $100. New reverse hypers are expensive and can cost you up to 35x more.
You can do a quick Google search for more DIY gym projects.
Make big purchases on Black Friday
The garage gym community knows that Black Friday is the best time to purchase gym equipment. On this day, the retailers offer huge discounts on the equipment you have been eyeing as well as on the equipment they couldn't get you to purchase before. 
Though you can buy small items on Black Friday, it isn't going to save you a substantial amount of money. You will need to purchase big items or several pieces of equipment to see big sales.
Don't invest in gimmicky equipment
Just because a piece of equipment is new, it doesn't mean it's good, and just because a piece of equipment has been around for a while, it doesn't mean it's outdated and of no use.
As technology evolves, all industries, including fitness, are trying to keep up. You can only do so much to 3"x3" steel uprights. But companies are always pushing the limits. Though the new fitness gadgets are fun to use and own, what you have to look for are the necessities.
A squat rack, barbell, plates, rubber surfacing, a flat bench, and good shoes are the prerequisites. You can upgrade eventually.
Also, don't buy equipment with a lot of cables, and that involves engineering. You want the basics first. Gears such as stability balls and foam rollers are good to have, but they can be regarded as supplementary and not needed to build the foundation of your home gym.
Wrapping-Up
Building a high-performance home gym on a budget is not that difficult, provided you know what, where, and when to buy. You can buy used equipment, build your own gears, and settle for versatile and durable items that are needed for building the foundation of your gym. Make sure to buy big purchases on Black Friday and don't invest in gimmicky equipment. 
You can upgrade your home gym later, as building a home gym is a process. In the future, you can consider flipping gear as a lot of workout equipment retains its value.