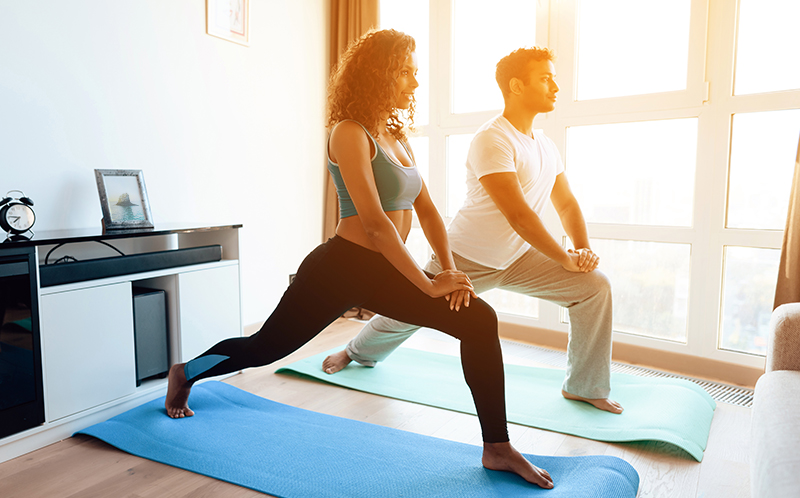 As we start the new year, many of us focus on self improvement and making changes. A majority of the new year's resolutions people make are health related, but only about 8% of resolutioners succeed in maintaining their new goals.
Check out our tips and ideas to make your home and your home life work with you, so that you can be a part of the crowd of people who succeed.
Goal: Lose Weight
Losing weight and eating healthy are the two most common new year's resolutions that people make. How can you use your home to help you shed some unwanted weight?
Rearrange your kitchen to support your diet. Take the time to clear out any junk food you might have laying around after all of your holiday parties and celebrations. This will clear space that you can fill with healthy foods to start the new year off right. This way, you'll be able to reach for something healthy instead of something you might regret later (ex. leftover Christmas cookies). You can also designate a certain cabinet or area in the kitchen for your healthy foods so you'll know exactly where to go to get a healthy snack and can steer clear of temptation.
Designate a space for home fitness. A key part to losing weight and staying healthy is getting proper exercise. Consider designating a space in your home for an at-home fitness routine. Even smaller spaces can lend themselves well to simple home workouts including push-ups, sit-ups, jumping jacks and yoga routines. If you want to take it a step further, you can invest in building a home gym complete with cardio equipment, weights, and work-out mats. If you have a spare room without a dedicated purpose, making the decision to transform the space solely to support your fitness goals is motivating and can definitely help you stick to a routine.
Goal: Stay Healthy
Step up your cleaning routine. Prevent allergens, bacteria, and viruses from getting you and your family sick. Be sure to get rid of dust that can cause allergies and wipe down surfaces, especially doorknobs and kitchen countertops that are usually covered in harmful germs. Air purifiers are a great way to keep the air in your home clean and reduce allergens and germs.
Plan home safety inspections. The beginning of the year is the perfect time to inspect your house for any hazards, and set a schedule for the year for regular check-ups. Hiring a professional to come and do a safety inspection can help identify hazards you might miss.  Be sure to consider the following action items as you develop your plan:
Check on any fire safety elements
Do an air quality inspection
Get an electrical safety inspection
Install or maintain home security systems
Prepare an emergency kit with food, water, a flashlight, batteries, and a first aid kit
Check that all of your appliances and electronics are working properly
Keep Things Neat and Organized. It's easy to let your home get a little bit disorderly, especially around the holidays. But did you know that clutter and mess can actually lead to mental health problems like anxiety and helplessness? Keeping your house clean and tidy can do wonders for your mental health, not to mention making maintaining your home a lot easier.
Goal: Save Money
Install Energy Saving Appliances. Installing energy saving appliances will not only save you money, but they will also make your home more environmentally friendly. There's everything from energy saving washing machines to energy saving thermostats, so consider replacing some of your older appliances with new, energy efficient ones.
Home Maintenance. While some issues should be handled by a professional, like electrical issues, there are many home maintenance basics you can do yourself. Hiring professionals can be costly, so learning how to do some of your own home maintenance can save you a lot of money. You may avoid costly repairs or replacements down the line with some home appliance maintenance basics.
This post was written for Realty Executives by Elliot Walsh. Elliot is a dual-degree graduate from the University of Rochester with a B.S in Cell Biology and a B.A in English Literature. He is a full-time freelance writer from Boston, specializing in veganism, humor, and health. His articles have appeared in The Rival Rochester and his work experience can be found here: www.linkedin.com/in/ewalsh17.
Please follow and like us: