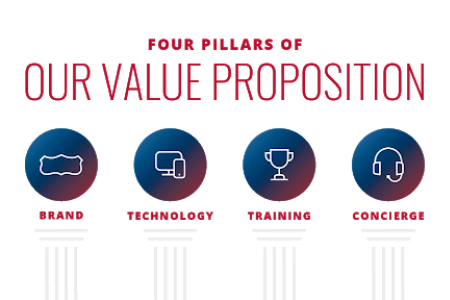 At Realty Executives, we dedicate ourselves to the four pillars of our value proposition: Brand, Technology, Concierge and Training. Each one of these pillars plays an integral role in every enhancement we make for our network, with the ultimate goal to maintain healthy company growth and a successful future for all. Our network is made up of innovators and entrepreneurs, which is why for over 50 years Realty Executives has been the trusted real estate expert by the most productive, efficient and successful professionals. The four pillars of our value proposition are a true representation of why our network continues to choose Realty Executives as the place to call home.
Brand: Our brand is our people. We are the only real estate company named for our greatest asset – you. For over 50 years, Realty Executives has become one of the largest and most established real estate franchise systems in the world being the first 100 percent commission-based real estate company. The ongoing strive to provide top-of-the-line technology, tools and customer service to our network is what makes us a game-changer in the real estate community, charting a course for the next 50 years.
Technology: We are the first real estate franchisor to develop a technology platform that was created for our people, by our people. We own the technology assets, giving you the comfort of knowing we have no dependencies on third-party providers. Our platform's functionality gives you the ability to perform at the highest level. Our top of the line technology includes on-demand mobile marketing, personalized web services and free custom listing and video automation, which gives you the ability to perform at the highest level while saving you time and money.  
Concierge: Our white glove concierge team brings unparalleled support to our network and we are continuously improving our offering. Supporting our network is a top priority at all times and we have the numbers to prove it. The Realty Executives customer service team is 2.7x faster than the industry average according to Zendesk and is relentless to find the right solutions quickly and efficiently.
Training: Our team provides ongoing training opportunities and unique training programs to propel our real estate professionals to the next level. Available through the new EXEC® University, our exclusive, free and focused training programs provide an on-demand library including webinars, franchise trainings and more. Each program and/or resource is crafted to help our executives reach their greatest success.
Are you ready to bring these values into your local events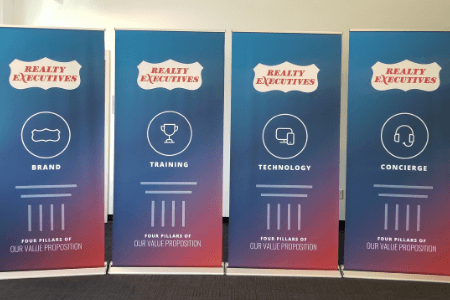 and offices? Newly created, modern and beautifully designed wall displays and pop-up banners are exclusively available to you on PrimeAgent. Use these materials to brighten up the workspace, brand your next event or show your pride of being an Executive!