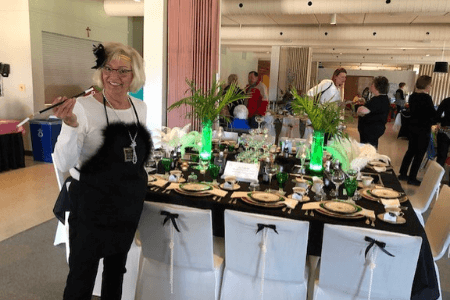 Realty Executives Integrity is proud to announce Pat Wunderlich's involvement in the 25th annual Ladies Theme Luncheon, which has now raised over $425,000 since its inception. The women's group "Designing Women for a Cause", where Wunderlich is a member, began 25 years ago and is a fundraising group that has been participating in the annual spring luncheon since the beginning. The group and luncheon raise money to support the charity ACAP (Adaptive Community Approach Program). Over the years, the popularity of their efforts has led to the addition of a cocktail party and most recently, a public viewing. The women's group started as a modest home and school group but is now instrumental in the support of ACAP and other local non-profits.
The Ladies Theme Luncheon includes over 10 group participants that are tasked with creating a fun and unique dining table based on a decided yearly theme. The table "hosts" provide everything from the place settings to the over-the-top centerpieces, one of which has included a Harley-Davidson motorcycle. Supporters are able to pledge money to the participants to help them decorate, and are able to buy tickets to a public walkthrough or to the evening cocktail party.
ACAP is a nonprofit organization, serving adults with disabilities in the Waukesha area. The organization works to encourage those with disabilities to fulfill their highest potential and become active community members through several educational and enrichment programs such as practicing the arts, recreational activities, community service and community advocacy.
After several years in advertising, Wunderlich received her real estate license and began working for a small family brokerage. From there, she worked under a high producing Realtor in order to pursue more opportunity and growth. After 13 years, Wunderlich found her real estate home at Realty Executives Integrity, in Brookfield, WI. Now a successful Executive, she is continuing to build her career and focuses on giving back to her community.