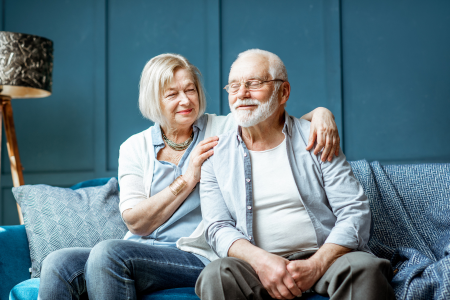 For 88% of people aged between 50 and 80, it is highly desirable to live in their homes as long as possible. However, nearly half of them (47%) give little to no thought to modifying their living places. Such modifications should concern increasing home safety, first and foremost.
Why is a safe living place crucial for the elderly, and how can you make your home more secure to age in?
Let us answer those questions in turn.
Reasons for Extra Home Safety in Older Age
As many senior citizens are staying in place, in-home safety is an important topic that correlates to the quality of life in older adults as they age.
It contributes to the following:
Supporting physical health
Caring for mental well-being
Achieving higher comfort in life
Remaining independent longer
Establishing peace of mind for the family
Noticeably, older people who live alone are more vulnerable to burglary, robbery, and fraud, based on the research. They are increasingly becoming victims of fraudsters. This is one of several reasons why designing a safer living space for an elderly person is a must.
How to Make Home Safe for a Senior
Implement these strategies to achieve aging-in-place security.
1. Order a home safety assessment
How do you know what safety measures are lacking in your home? By conducting a home safety audit, of course.
According to Shawn Plummer, CEO of The Annuity Expert, "one of the health insurance plans in the US, namely Medicare Part B, provides coverage for home safety inspections. For some services, however, you might have to pay 20% of the price as a coinsurance fee for this inspection. It is possible to get a home safety evaluation for free during a 'Welcome to Medicare' preventive visit."
Alternatively, you may hire professionals to assess the safety level of the property. The cost of such a service varies from $150 to $500 depending on the property size and location.
Here's a list of companies to consider:
Age Safe America
Home of Mine
Live In Place
Universal Home Consulting
LivWell Seniors
Home Safety Innovations
What if we told you that you can measure the elderly safety level of any home on your own with one single tool? It's a rating system developed by Age Friendly Ireland for homeowners and tenants. It can be applied to any type of housing in an urban or rural area. Download this age-friendly homes rating system.
2. Create your aging-in-place checklist (or use a pre-made one)
Below, you can find a common checklist for an elderly-friendly living place with room-by-room safety and home accessibility upgrades:
● Kitchen
A couple of things you may need to think about are pull-out shelves, grabber tools, spill-proof cups, timers on appliances, automatic turn-off devices, plasticware instead of glass, etc.
● Bedroom
A senior-accessible bedroom should include the following: an adjustable bed, a waterproof mattress protector, a bed rail, a bedside fall mat, a medication organizer, etc.
● Bathroom
Consider some essential bathroom improvements for seniors like a right-height toilet, grab bars, non-slip mats, walk-in tub, shower chair, etc.
● Living room
To improve home safety for aging in place, look for these items in and around the living room: supportive and sturdy furniture, well-lit pathways, uncluttered floors, lift chairs, transfer aids, stand assist handles, etc.
● Corridor and entries
Here, a bench is a must-have to take on and off shoes. You may also need to widen doorways and install ramps to ensure an accessible home for seniors with walkers and wheelchairs.
Generally, some wise home safety solutions for older people are no-slip wax or strips on floors and grab bars in each room.
3. Do all the necessary repairs and fixes
A broken staircase? Loose floorboards or popped nails in your hardwood floors? These are the most common home problems that increase the possibility of accidents.
"It's also necessary to think beyond the rooms when you aim at making a home safer for seniors," recommends Tom Nolan, Founder of All Star Home.
"You may need to walk around the house to determine your home improvement needs. It may be a leaking roof, broken windows, clogged gutters, or other outside things that put your home at risk. In some cases, replacing a roof, door, or window is not enough, and you might have to remodel or renovate the house completely," he adds.
Home renovation projects are quite costly, yet, they are sometimes obligatory. You can finance property improvements with homeowner loans, personal loans, or home remortgaging.
4. Remove potential hazards
In the study by Home Instead Senior Care, 65% of US adults claimed their parents' homes have at least one potential safety issue.
It is worth noting that falls are a leading cause of fatal and non-fatal injuries for seniors. In fact, every 11 seconds, an older adult in the US is treated in an emergency room for falls.
Additionally, elderly pet owners face a higher risk of fall-related injury. If you are adding a pet to the home, undertake some extra home safety measures. Create a play zone for pets and find a dedicated space for pet toys, as well as feeding and watering accessories, to remove them from walkways.
Let's look at some other possible threats to senior safety at home:
Clutter
Trip-and-fall items (cords, wires, small rugs, unstable furniture)
Slippery surfaces (serious health hazards in your bathroom and kitchen due to spilled liquids or grease)
Breakable things
Sharp objects (knives, table corners)
Don't forget about kitchen safety tips to prevent electrical fires. Kitchen fires kill about 480 people every year.
5. Take care of proper lighting
"Installing adequate lights is an important step for creating a safe home for a senior person," believes Jesse Galanis, Content Creator at Real Estate Skills.
"On the one hand, it reduces obstacles to mobility. On the other hand, you can't deny the significance of proper lighting for elderly mental health. It can help seniors foster a pleasant home atmosphere, avoid depressive moods and anxiety, and improve sleep," he explains.
Yes, it's all light. You can easily light your way to a better sleep and mood. Besides, you should understand the lighting needs of aging eyes. As many as 6.1 million Americans aged 65+ have vision loss. As the eye ages, people often experience difficulties focusing on things, adapting from a darker to a brighter space and vice versa, and distinguishing colors.
Upgrade your lighting with these changes in mind: decrease reflections and shadows, make an easy light transition room-to-room, and pick the pleasant room colors (peach, terracotta, gold, brown, light green, or blue).
6. Increase home safety with smart technologies
Why not make a property more secure with smart home technologies?
Take advantage of these:
Security cameras
Automatic door locks and lights
Panic buttons or Personal Emergency Response Systems (PERS)
Fall detection and glass break sensors
Fire and flood monitoring technology
Virtual assistants (Amazon Alexa, Google Assistant)
Smart home tech devices are indispensable tools for senior safety. Not to mention that they ease life for older people considerably.
Summarizing Home Safety Tips for the Elderly
The senior household safety strategies discussed in this article can serve as a comprehensive blueprint to create an environment that minimizes risks and maximizes the well-being of the elderly.
By implementing measures such as home safety audits, room-by-room checklists, home repairs, potential threat removal, adequate lighting, and smart home devices, you can age-proof your home and stay on the safest side of the life road.
Let your aging journey be happy and healthy!
Please follow and like us: