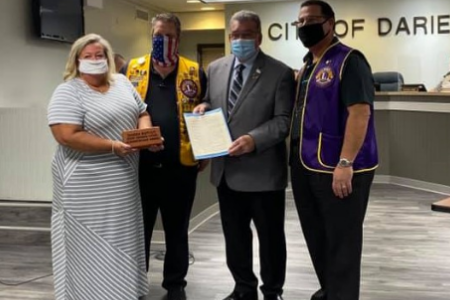 Deneen Ruffolo of Realty Executives Midwest, of Darien, IL was recently awarded the Humanitarian of the Year award by the Darien Lions Club, in collaboration with the city of Darien.
This esteemed award is given to a community and Lions Club member that shows commitment and passion for charitable causes. Ruffolo's continued effort to assist in Lions Club's Food Baskets program, Christmas program and more have ensured hundreds of families are left with food on their tables and smiles on their faces during the holiday season. Ruffolo began helping the Darien Lions Club in the mid-90s' and began spearheading their Christmas gift donations in 2016, organizing the placement and wrapping of over 4,000 gifts to give to families in need.
Ruffolo's coworkers and family are always in awe of the work she does year after year, thanklessly and happily.
"Deneen taught our children, and now grandchildren, how to properly treat others, to always be kind, not speak poorly of others but rather find the good in them, and to help." Greg Ruffolo, Ruffolo's husband, said. "In the end, that is the real reward for her."
The award ceremony was attended by Joe Marchese, Mayor of Darien, community members and Lions Club President, John Pearson, who presented Ruffolo with a brick to be placed at the Darien Community Park. 
Ruffolo joined Realty Executives in 2010, finding her love for helping locals find their perfect home. Specializing in first-time home buyers, relocation and estate sales, Ruffolo continues to build her real estate career with Realty Executives Midwest, serving DuPage, Cook and several other counties across Illinois. 
"We feel so honored to have Deneen on our team and to have the opportunity to watch her commitment to service and her community shine through." Patrick van den Bossche, President of Realty Executives International, said. "Her hard work and ethics are a perfect embodiment of what being an "Executive" represents."