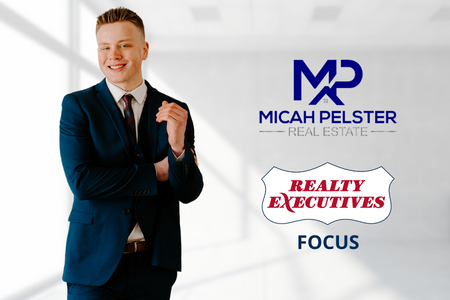 Entrepreneurship is a demanding and challenging career path that requires a unique set of skills and traits such as risk-taking, determination, creativity, and adaptability. Not everyone is cut out for it as it can involve long hours, creating your own structure, financial uncertainty, and stress related to decision-making. Often people do not find themselves in an entrepreneurial role until later in life.
As a young university student, Realtor® Micah Pelster was unusually clear eyed in determining that entrepreneurship was meant for him. Despite taking part time studies at MacEwan University, it was time for him to break into the real estate industry. He decided to start his business and begin making a name for himself.
Pelster joined Realty Executives Focus in April 2022. Since joining, he has balanced full-time studies toward his Bachelor of Commerce degree, helped multiple families buy and sell real estate in Alberta, and managed properties for families, students, and the Edmonton-area workforce. He has spent hundreds of hours hosting open houses, networking, and door-knocking in the Sherwood Park area.
His commitment to building his business has impressed his peers and set higher standards for the local industry. "Micah has continually surpassed my expectations for a Realtor® in the business for less than five years. He is everything that a professional real estate agent should be. He displays the right attitude, determination, and passion for helping people" said Sandy Johnson, Broker/Owner of Realty Executives Focus. "He is willing to put in the time and the effort and, as a result, is exceling at a phenomenal rate."
Pelster actively works to develop himself personally and professionally, a key habit of entrepreneurs that he developed prior to graduating high school. Before deciding on real estate, he reached out to multiple real estate agents and brokerages to learn as much as he could about a career and life in the industry. Now he continues to evolve his career by participating in other agents' courses, poring over "how to" guides, working on his social media streams, and attending conferences. He participates in real estate projects in property management, development, and flipping homes with his Realty Executives peers for continuous learning. He believes that the key to success is surrounding himself with the best and learning from them.
Pelster's sense of teamwork has been invaluable to his blossoming real estate career. It has been a way to demonstrate that professionalism doesn't necessarily come from years of experience, but from having the right mindset and drive. "If our Executives are caught up and cannot make an appointment, there is no doubt that Micah will step in to help. He will show listings, meet clients on possession day, show rentals, and more. He can adapt to situations and goes out of his way to accommodate his clients and his fellow Realtors®," said Jarett Johnson, Broker/Owner of Realty Executives Focus. "It's just one of the many reasons that he was nominated for Realtors® Association of Edmonton's Rookie of the Year."
Pelster's well-roundedness, love of human connection, and sense of community authentically extends beyond real estate. He works with various charitable organizations and has influenced his brokerage to become more involved with the community as well. With Micah's encouragement and introduction, the brokerage connected with the Sherwood Park Chamber of Commerce to participate in the Sherwood Park and Fort Saskatchewan Trade Shows, as well as golf tournaments to support AHS and the Boyle Street Community Foundation. On the weekends you can find him serving meals to the homeless along Boyle Street.
Patrick van den Bossche, President of Realty Executives International, the franchisor, applauds Micah's entrepreneurial spirit, work ethic, and commitment to his community. "Entrepreneurs need to be able to wear many hats, including those of a manager, marketer, financial analyst, and salesperson. They need to have strong leadership skills, excellent communication skills to build relationships with customers and partners, and an eye for innovation to stay ahead of the competition. They need to become a local expert not only because it is their profession, but because they have great love for the place where they work, live, and play and want to share it. This is really special to see in an Executive so fresh in the business."
The brand, who calls their sales agents "Executives," is proud to have Pelster amongst its ranks and is hopeful that he will be honoured for his leadership and selfless contribution to the industry with the Rookie of the Year award. Beyond the immediate future, Realty Executives hopes to see young professionals like Pelster lead the way for future Canadian real estate agents. "The industry needs more people like Micah Pelster. It needs the energy and new perspective of young agents combined with the professionalism, knowledge, and expertise of tenured agents. It needs true entrepreneurs and neighbourhood experts who are driven to achieve success," said van den Bossche.
To contact or learn more about Micah Pelster, visit MicahPelster.com.