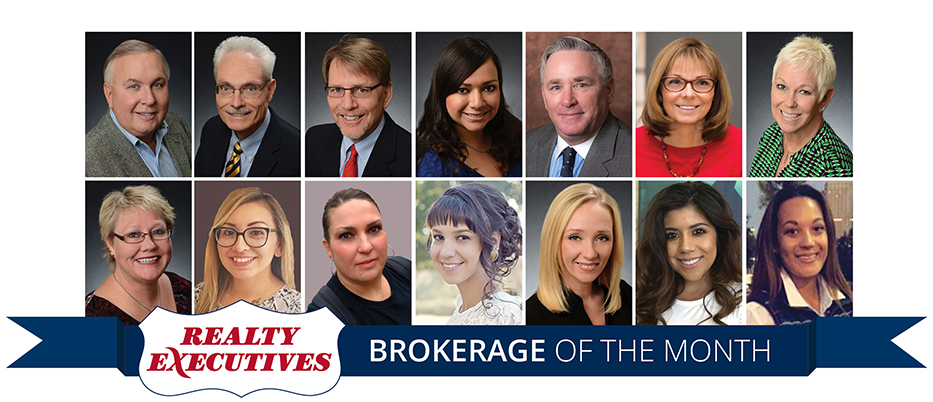 Realty Executives Tucson Elite, with 10 offices throughout Southern Arizona, has been selected as Brokerage of the Month for June 2017 by Realty Executives International.
Led by CEO and Designated Broker Jeff Murtaugh, President John Dwyer and Senior Vice President Mark Shinn, Realty Executives Tucson Elite is home to more than 360 real estate professionals offering full-service real estate expertise to buyers and sellers throughout the region.  As a brokerage, the firm has garnered national recognition for agent productivity, with many individual real estate professionals and teams also receiving exclusive recognition for their sales achievements.
"Realty Executives Tucson Elite's agent benefits, programs and services are all geared to make our company the easiest and most cost-effective place for a professional real estate agent to do their business. Our full-service and low-cost environment coupled with exceptional broker support has made Realty Executives Tucson Elite 'the place to be,'" says Murtaugh.
REAL Trends recently recognized several of Realty Executives Tucson Elite's most productive Executives, including The KMS Team, Corner Connect and The Property Partners, who each ranked in "The Thousand" as advertised in the Wall Street Journal.  These three elite teams were also featured in "America's Best Real Estate Agents" rankings along with The Stinson Group, The Watters Team, The Armbruster Team, Deakin-Anderson Team, The Leach Team, and Associate Broker Sofia Gil. Inclusion in these annual reports place the Executives featured among the top 1 percent of real estate practitioners in the nation.
These rankings also represent important benchmarks for Realty Executives Tucson Elite to see that their mission as a company is being realized on a daily basis.
"At most competitors, it's all about the company, while at Realty Executives Tucson Elite, it is all about our Executives. They are our customers, plain and simple. Our leadership, management and staff are extremely mindful that there wouldn't be a company without our Executives. With this mindset, we are keenly focused on promoting and serving our Executives. All business decisions are made with the best interest of the Executives in mind," Murtaugh explains.
The company has non-competing managers and administrative staff who support the high number of transactions that are typical for Realty Executives agents.  To further streamline processes and boost efficiency, Realty Executives Tucson Elite offers a full band of affiliated services through strategic business partnerships including title, mortgage, home warranty, insurance and moving professionals, among many others.
Growth trends and market share under the leadership of Murtaugh and Dwyer over the past five years has been profound. "Five years ago, Realty Executives Tucson Elite didn't show up on the market share stats for the Tucson Metro, and our agent count was under 50. Today, Realty Executives Tucson Elite is no. 3 in market share in both volume and units, and our agent count has grown by more than 600%," says Dwyer.
A distinct factor that has had a significant impact on the company's rapid growth both by agent count and office expansion is the "walk around management" style Realty Executives Tucson Elite's leadership and management team conscientiously practice, giving Executives full and unfettered access to the company's decision makers.
"We pride ourselves on having a genuine interest in what's going on in our Executive's businesses, as well as their lives.  Having the willingness to reach out, listen, and help when needed eliminates the barriers and tension that often exists between management and agents at other companies.  This willingness creates and sustains a happy and fulfilling work environment for Executives, which translates into our Executives spreading the good word about Realty Executives," Murtaugh concludes.
Pictured above, left to right, from the top row: Jeff Murtaugh (CEO and Designated Broker), John Dwyer (President), Mark Shinn (Senior Vice President), Karla Lopez Moraga (Vice President Operations), Walter Ohlson (Vice President Business Development), Annie Barmore (Regional Manager Green Valley, Sahuarita and Tubac), Susan Mize (Broker Team Manager), Tonna Ivy (Commissions Administrator), Rebeca Ibarra (Accounting Specialist), Deeanna Leichardt (Oracle Office Manager), Meghan Quinn (Tanque Verde Office Manager), Stefanie Duncan (Green Valley Office Manager), Nativiti Salcedo (Grant Office Manager) and Darrian Piper (Administrative Assistant).
Please follow and like us: