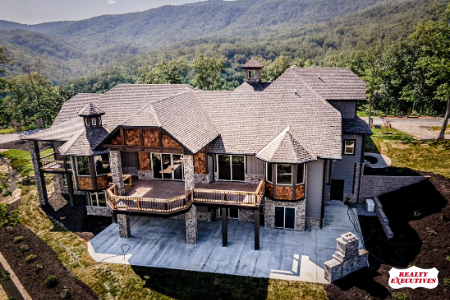 Realty Executives Southern Living, of Sevierville, TN, is excited to announce their partnership with luxury home developer, Pigs Fly. This partnership will allow the brokerage access to multi-million-dollar listings in the exclusive mountain neighborhood, The Summit Resort.
The Summit, 565 acres and up to 3000 feet in elevation, offers panoramic views of The Great Smoky Mountains, no state income tax, underground utilities, fire protection, direct developer-to-consumer pricing, paved roads and an average of 1.97 acres per home site. Accessible but private, The Summit is an oasis to second homeowners or retirees looking to escape the city. Home developer Shane Wood began building rustic, energy-efficient homes in The Summit in 2009 and has built 13 to date. In 2019, Wood partnered with former contractor David Runyan, who had started Pigs Fly in February of 2018. Together they own 11 properties throughout the Summit.
Wood and Runyan began their friendship after Runyan, originally from Florida, had bought his first home in The Summit. From there, Runyan purchased another property and saw an opportunity to expand the relationship into a business partnership.
"When you walk into one of Shane's homes, they aren't like anything you have ever seen." Runyan said. "I fell in love with the area after 25 years of vacationing in the mountains, but seeing the attention to detail and the thought put into each house Shane built, is what really made me intrigued to start this business. No two houses are the same."
Bringing natural materials directly from Alabama, such as poplar trees, Wood designs the materials into each room in a different way, ensuring no room goes without a wow-factor. The cedar and rustic look of the exterior meets modern and environmentally cautious in the interior. Not a contractor-for-hire, Wood builds out of passion and enjoys being able to show home buyers what is available once complete.
After being connected through a business colleague Wood and Runyan met with Broker/Owner Krystal Whaley of Realty Executives Southern Living to discuss possible listings. After a passionate presentation, Whaley's brokerage got a listing and has been working closely with the duo ever since, receiving her second listing in June and two others secured for later summer. Whaley, looking to expand into the luxury home market, hopes to revamp the marketing and advertising of The Summit Resort to attract home buyers globally, encouraging them to move to a higher degree of living.
"The views these homes offer is only the first major selling point, with so much more for our agents to work with." Whaley said. "This was just "Bluff Mountain", undeveloped land where we loved playing as kids. After moving back home to Tennessee to see this transformation of Bluff Mountain into a luxury resort of this caliber, I am excited to share the beautiful homes Shane and David are Developing. Quality, craftsmanship, and work ethic are in high demand no matter what part of the world you are from, and that is what you get with this partnership."
Pigs Fly currently has two completed properties with three in progress, up to 95 percent complete. To learn more about The Summit or the local listings please visit www.LuxLifeTN.com