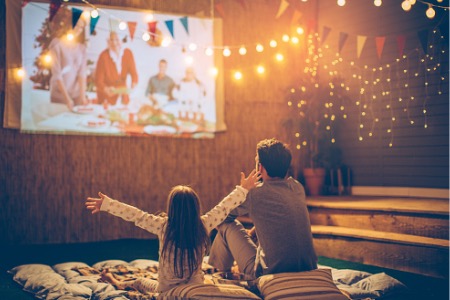 Are you missing going to the movie theater? During a time when most of us are trying to stay home, you may be missing out on your favorite past times! You may not be able to go grab snacks and sit down in the theaters, but you can make your favorite snacks and binge classic films right in the comfort of your own home. Here's some ways to make a backyard cinema you can enjoy with the whole family.
Large Backdrop
The first step to creating a great movie night is having the right place to watch your makeshift "big screen". If you have a shed in your yard that may be the best backdrop since most do not have windows on the side walls. No shed? No worries! You can always use the backside of your own home. Just make sure there are no windows that could ruin the image of the movie due to lights turning on and off in the home or from the reflection.
Projector
At-home movies are much cheaper than going to a movie theater but the start-up costs can be more than tickets. You will have to buy a projector that allows you to use DVDs or allows you to connect to a computer. There are several different kinds of projectors that range in price from affordable to high-end. Just do some research before purchasing or go to your local electronics store and ask an expert which one will fit your budget best.
Snack Attack
Trust me…we all miss the buttery salty goodness of movie theater popcorn and ice cold slushies, but watching flicks at home can be the perfect opportunity to try out some new movie snacks. Popcorn is a must, but maybe you buy some different seasonings to top it off or mix it with a sweet treat! Nothing goes better together than sweet and salty. Some other snacks cheaper and easier to make at home could be: nachos, trail mix, mini tacos, ice cream sundaes and more.
The Right Sound
Another part of equipment you may want to invest in besides the projector, will be speakers. Movie theaters are made with amazing sound boards and speakers already in place to make the movie really come to life. Although you won't be able to completely recreate that experience at home, you can hook up a few smaller speakers that will amplify the sound and make the movie crystal clear. Just make sure you aren't watching the movie too late if you have close neighbors, don't want a noise complaint interrupting your show!
Staying at home can be tough especially when you feel like you are missing out on your old activities. But with these tips you can make a night at home feel just like a night out with the whole family, watching the best films and eating some yummy snacks all together.
Please follow and like us: