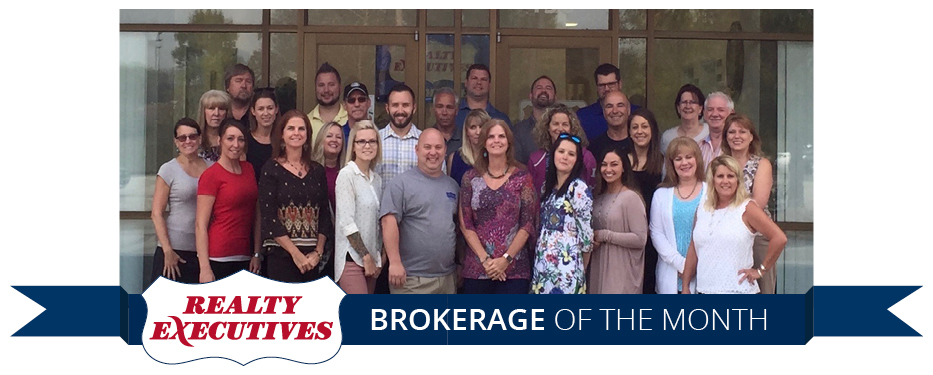 Realty Executives Premiere, with 60 real estate professionals across St. Louis, Franklin, and Jefferson counties, has been named Realty Executives International's Brokerage of the Month for October 2017. Whether through providing industry leadership, orchestrating local outreach, or by taking a boots on the ground approach to working with community stakeholders, Realty Executives Premiere's legacy of excellence is defined by offering more and giving back.
Serving buyers and sellers throughout the greater St. Louis-area and surrounding counties, Realty Executives Premiere has received industry accolades for productivity by REAL Trends, ranking in the Up-and-Comers report for closed transaction sides in 2016. With 45 years combined experience, brokers Chuck and Kim Maher work side by side with agents to offer above and beyond support. This three-office brokerage is led by Chuck and Kim Maher, with Executive Trainer Natasha Maher and Administrative Assistant Karen Edwards rounding out the support team.
"Our brokerage is different than many traditional companies. We offer higher commission splits with bonuses and 100% programs. We do not put ourselves above the agents in our offices. Whether helping with marketing, knocking on doors with them, or offering one-on-one coaching, we make ourselves available 24/7," stated Chuck Maher. "Our agents also appreciate that we pay for their continuing education every two years. We have a full-service title company in our office along with several preferred lenders, which makes for an easier and less stressful experience for the clients our firm serves."
In the same spirit of cooperation that they've applied to their business operations, the Maher's community involvement has spread to touch a growing number of lives. The company recently hosted its 5th Annual Trunk or Treat event at the Eureka office. This is an entirely free event, with booths hosted by local businesses and Realty Executives Premiere providing food to party goers.
"This is a daytime event where families can enjoy a safe Halloween with their children. This year we had more than 2,000 people in attendance. Every year the word spreads and we have more families and businesses join us. Forty-five agents and businesses hosted a trunk or booth this year," Kim Maher said.
October's outreach event was just one of many on the calendar for Realty Executives Premiere. Year-round, the company finds unique ways to honor first responders, exceed fundraising goals, and collaborate with local leaders such as the city mayor, police and fire chief.
"We host a Food Drive every year at a local grocery store on the Tuesday before Thanksgiving. We collect food to stock the pantry and help area families for four to five months," Kim Maher said, who estimates 6,000 pounds of food will be generated by this year's drive.
To help families in need, Realty Executives Premiere will collect thousands of toys throughout the month of December to fulfill requests from the chamber office, local schools, and churches. The team magnifies impact by joining forces with other organizations in the community including Land of The Giants charity big truck club and local fire departments, collecting more than 10,000 toys to support numerous organizations and foster care programs. The firm also supports the Byrnes Mill police department "shop with a cop" program, and has bolstered the USMC Toys for Tots program, the Marine Focus group, and Back Stoppers. Chuck and Kim Maher have also chaired the Northwest Jefferson County Relay for Life, with their offices raising more than $25,000 over three years.
The events hosted by the team make a lasting impact on the community. "This year's Texas Hold 'em tournament raised more than $10,000 for the Eureka Police Officers Support Fund. We also host a yearly picnic for the officers with gifts for each one and scholarships awarded to their children," Kim Maher said.
The support Realty Executives Premiere offers to the community does not stop with fundraising. A certified mentor for Brian Buffini's Peak Producers, broker Chuck Maher also gives of his time and industry insight, serving on Realty Executives International's Franchise Advisory Council, the Pacific Chamber of Commerce, and is Vice President of the Eureka Chamber of Commerce (and will serve as President in 2018). Chuck was awarded Citizen of the Year by The Missouri Peace Officers Association for 2017.
This spring Realty Executives Premiere, along with several other Realty Executives brokerages in the region, hosted an agent Mastermind event. The event brought together 150 real estate professionals across five Realty Executives brokerages to share tech, social media and industry best practices. The Mastermind was followed by a recent St. Louis-area event held in the fall.
As Regional Developers for the Mid-America Region, Steve and Nancy Summers have seen first-hand the impact of the Maher's strong brokerage leadership.
"Chuck and Kim Maher represent the best of the best when it comes to Realty Executives Broker/Owners. No two people work harder to serve their agents, clients, and community than Chuck and Kim. We have had the privilege to work with both of them for over seven years and cannot say enough good things about them and their level of professionalism," Steve Summers said.