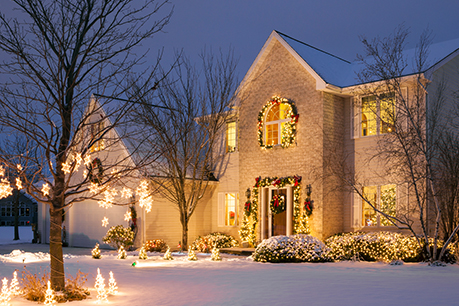 The holiday season is now upon us. It's time for family visits, warming up by the fireplace, and holiday decorations.
What house is complete during the holiday season without holiday lights? Here are some tips to make hanging your holiday lights easy and fun so that you can focus on how good they look instead of worrying about proper installation.
Make a Plan
This step is key: hanging lights without a plan will be frustrating and difficult.
Think about what kinds of lights you want to put up, how many you'd like, the size of your yard, your budget, and the overall design you want to see. Do you want colored lights? White lights? Large bulbs? Miniature bulbs? Animated displays?
You should know the answers to these questions before you get into the actual task of hanging them. Be sure to take measurements of where you want the lights to be, take notice of the surface where you're hanging the lights, as well as how much this is going to cost. Having a specific plan will keep you on task and will make the whole process easier.
The planning stage is also the best time to test your lights before you hang them. Imagine spending hours hanging lights all over your yard and on your roof only to discover they aren't working when you plug them in. It's best to find out they're faulty before you spend long, cold hours on your rooftop!
Get the Right Materials
Getting the right materials will ensure not only that your light display will last throughout the holiday season, but it will also ensure your safety, as well.
Lights
Check that the lights you are using are suitable for outdoor use. You should also use waterproof lights if you live where it snows.
If you're using older lights, make sure the cords aren't damaged, as this can be a huge safety hazard.
Also, make sure that the color of your lights are what you want. Different brands, different types of lights, and lights made during different years will have a slightly different color to them.
Extension Cords
As with the lights, you should only use extension cords that have been approved for outdoor use. You should set up the extension cords so they are above the ground, away from water and snow.
But also be aware of where you set extension cords so that they won't trip anyone.
Clips and Holders
While some of the lights will be wrapped around columns, railings and trees, some will require something to hold them in place, like those along your gutters or on your roof. In order to keep them secure, you should purchase special light clips or holders.
Do not use nails or tacks of any kind; this is a huge safety hazard. You're better off using clips, holders or staples.
Ladder
If you want lights all over your house, you'll definitely need to use a ladder. We've all seen the movie gag of someone trying to hang lights and falling off a ladder: don't let this be you. You could be seriously injured.
Get a sturdy, safe ladder for hanging lights in high places to avoid injury.
Time to Get to Work!
You've got your plan and your materials, so now it's time to start! It can't hurt to have someone helping you as you work: they can hand you materials, steady the ladder, and even help hang things themselves to speed up the process.
Start with the easier jobs, like wrapping lights around railings and trees, and stringing them through bushes. Next, get out your ladder for the slightly harder to reach places, like around your windows, up higher in trees, and along your gutters.
Finally, you can make your way up to the roof if that's a part of your plan. Be extremely careful, as it can get icy and slippery up there.
Use a Light Timer
Before you can sit back and admire your work, there's one last thing to do: install a timer.
Light timers can be set so your lights will turn on and off at specific times. This way, they won't be on all day or throughout the night. Because holiday lights can use a lot of energy, a timer can save energy and money on your next electric bill!
This post was written for Realty Executives by Elliot Walsh. Elliot is a dual-degree graduate from the University of Rochester with a B.S in Cell Biology and a B.A in English Literature. He is a full-time freelance writer from Boston, specializing in veganism, humor, and health. His articles have appeared in The Rival Rochester and his work experience can be found here: www.linkedin.com/in/ewalsh17.