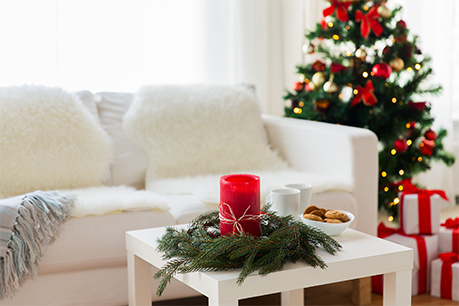 While selling your home during the holiday season might be challenging, it is not impossible. For those venturing out into the real estate market during this time of festivity and sometimes stress, we have compiled a list of tips to help you with home staging during the holidays.
Use Décor To Highlight Your Home
Festive winter decorations are a great way to make your home feel inviting and cozy. A wreath on your door and some baubles here and there can go a long way in making your house feel like a home.
You can also use these decorations to your advantage. Use the decorations to highlight the key selling points in your home.
You can put a Nutcracker figurine on your mantle to highlight a gorgeous fireplace. You could put up a large tree to showcase high ceilings and a spacious living area. And you could have an inviting, edible display on your dining room table.
Each of these things will serve to make your home feel warm and festive while also showing off the best parts of your home to potential buyers.
Don't Go Overboard With Decorations
While decorations can help make your home feel warm and welcoming, there is a fine line between what is considered to be too much and what is just right.
Try not to use every decoration you have, as this type of clutter can distract potential buyers. Having too many unnecessary decorations can also cover attractive areas in your house: you don't want an overly large tree to distract from or hide a bay window in your living area, for example.
You should also pack away some of the more gaudy items, like large Santa figurines or light-up reindeer. These might be your favorite items, but they could be a buyer's worst nightmare. It's safest to put those away while selling.
Keep décor simple and tasteful, even if it means going with only a couple of nice items, like a wreath, some lights, and a few ornaments.
Make Sure Everything Matches
Another thing to keep in mind while decorating is that you want items to fit in seamlessly with the rest of your house. If you can, try and follow a similar color scheme and design style so that your home's style looks orderly and well thought-out.

Put Up Holiday Lights
As with indoor decorations, it is best to keep holiday lighting simple and clean. Skip the animated Santa going down the chimney and instead opt for some white lights strung around your windows, through your shrubs, and perhaps lining your gutter.
Putting up outdoor lights serves another purpose as well. Since it gets darker earlier during the winter months, buyers are more likely to see a house when it is dark out, which means they are likely to see whether or not a home has any outdoor lighting; sprucing up your lighting this way will leave a great impression on buyers.
Use Festive Fragrances
Having a great smelling home is one of the most important things you can do while staging your home. USA Today reported that making sure your home smells nice can actually increase the perceived value of your home.
Since it is the holidays, you can go for some comforting smells that everyone will know and love. Fresh pine, vanilla, apple, cinnamon, and even fresh baked cookies are all smells that people will find comforting during this season.
To get these smells to disperse throughout your home, you can use candles, air fresheners, plants, and diffusers. You can also try putting a pot of cider on the stove with a stick of cinnamon and some cloves to achieve a genuine apple cider aroma.
Be Inclusive With the Décor
You're going to have all sorts of people viewing your home. Remember that not everyone celebrates the same holidays or religious traditions as you and your family, so be sensitive of that when you're decorating.
You should definitely have some holiday specific items, like a Christmas tree or a Menorah, and non-specific winter decorations, like wreaths, lights, and pine cones. But be thoughtful about religious figurines or sayings so that you don't create a barrier with a potential home buyer.
Amy Powers, the owner of Accent Home Staging & Interiors, says that, "You want to keep neutrality throughout, so you can attract any type of buyer." You want people to come in and see themselves living there; you don't want to make someone feel like they don't belong.
Bottom Line
Selling your home during the holidays can be challenging, but these tips can help ease the process. Leave a comment down below if you have additional tips to share or have questions.
This post was written for Realty Executives by Elliot Walsh. Elliot is a dual-degree graduate from the University of Rochester with a B.S in Cell Biology and a B.A in English Literature. He is a full-time freelance writer from Boston, specializing in veganism, humor, and health. His articles have appeared in The Rival Rochester and his work experience can be found here: www.linkedin.com/in/ewalsh17.