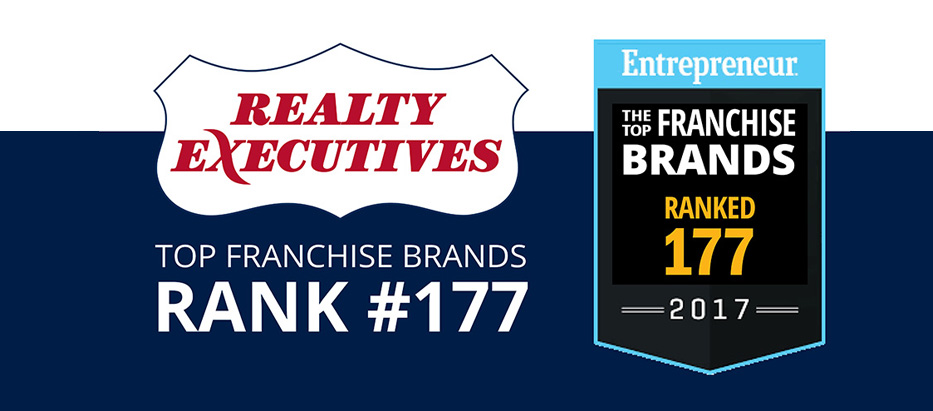 Realty Executives International ranks as a Top Franchise Brand for 2017 in Entrepreneur magazine's first-ever Top Franchise Brands list. The report recognizes the top 200 franchisors that have built the strongest brands, with 988 companies across industries considered for this year's ranking.
Entrepreneur set out to discover the brands that are beloved, recognizable and robust. Social media followers, system size, number of years in business, number of years franchising, and overall reputation were taken into account for this ranking.
"This list captures the essence of what makes a strong brand: It's that perfect balance between consistency and constant evolution," says Jason Feifer, editor in chief of Entrepreneur. "The brands we highlight know exactly what they are, but they also embrace change."
Realty Executives International ranks No. 177 on the Top Franchise Brands list, scoring highest in the Cost and Fees, Financial Strength, Size and Growth, and Support categories.
"We are the experts and have been for 50 years. Our brand equity is built on a culture of excellence, agent productivity and entrepreneurial freedom. These scores also reflect the success of our Concierge Services team, which provides support to our network across multiple channels 2.7 times faster than the industry average," says David Tedesco, CEO of Realty Executives International.
In keeping with its legacy of innovation, Realty Executives International develops and supports essential real estate tools, in-house. These tools aggregate real estate functions into one convenient platform called PrimeAgent, and include personalized local websites, lead management, contact management, automated email marketing campaigns, print marketing materials, on-demand mobile marketing via SMS and listing automation features. New features and enhancements are continuously added to evolve the company's tech offerings.
For more information, real estate professionals interested in joining Realty Executives may contact JoinUs@RealtyExecutives.com.