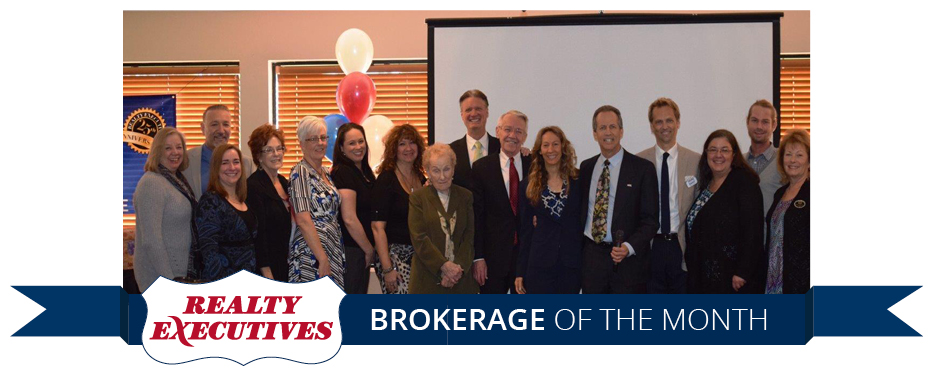 Realty Executives Santa Clarita, with more than 275 Executives and five offices serving buyers and sellers throughout Santa Clarita Valley, Frazier Park, and surrounding areas is Realty Executives International's Brokerage of the Month for September 2017. Under the leadership of Broker/Owner Jim Tanner, Corporate Developer, Janus Tanner, and Co-Owner, Phil Nordella, the company boasts a 27-year legacy of service, an unparalleled brand presence, and ongoing recognition by both local and national industry news.
For the fourth year in a row, Realty Executives Santa Clarita is The Best Residential Real Estate Company in Santa Clarita, as recognized by The Signal, the area's thriving multimedia print and digital news source, offering some 280,000 residents local news and information. On September 30, The Signal published its annual "Best Of" Awards and Realty Executives Santa Clarita once again came in on top according to Santa Clarita residents.
"We are very excited to be voted the Best Residential Real Estate Company in Santa Clarita in The Signal's Best of 2017 contest, for the fourth year in a row.  We are extremely proud of our Executives for earning this achievement. It is through their collective commitment to excellence in real estate that we have earned the trust, loyalty and patronage of our local community. We appreciate and value each and every one of our Sales Executives, business affiliates, and most of all, our real estate clients who have made this achievement possible," said Jim Tanner.
A full service firm, Realty Executives Santa Clarita maintains a strong market presence and has consistently garnered national industry recognition as well. RISMedia once again ranked the company amongst the Top 500 Power Brokers in its annual report released this spring. "Since our inception in 1990, we have been the top real estate office in California under the Realty Executives franchise umbrella based on sales volume," Tanner said.
The company has appointed key managers to enhance the brokerage's support of its agents, including General Manager and Canyon Country Office Manager, Rikki Allen, Valencia Office Manager Linda Cross, Newhall Office Manager Robert Valencia, Agua Dulce Office Manager Shayne Bilinski, Marketing Manager Beth Williamson, Executive Career Development Manager Jimmy Smith, and Technology Manager Richard Neville.
The team is available to assist Executives with all areas of their businesses, from providing transaction support, implementing social media campaigns, and ensuring agents make the most of Realty Executives International's technology suite, PrimeAgent.
"Our in-house email system is a great tool to communicate with the Executives, and for them to communicate with each other. Executives pitch their buyer needs, promote new listings, provide opportunities to hold an open house, share information, and network. Many in-house transactions are created using this system. We have bi-monthly sales and networking meetings with industry relevant guest speakers and caravan our newest property listings to maintain our reputation as neighborhood experts," Beth Williamson explains.
In addition to providing top-level real estate services to buyers and sellers, the company finds ways to give back to the community, and build office camaraderie at the same time.  The brokerage and individual Executives contribute financial support and volunteer hours to many local and national organizations including Toys for Tots, the SCV Youth Project, Tidings for Teens, and the Meals on Wheels program for the SCV Senior Center.
"We promote our annual holiday Toys for Tots Event to the entire Santa Clarita Valley public. Our Executives promote the event to their clients, friends and family encouraging attendance to the event and toy donations. It's an awesome way to complete each year, while connecting with our community, clients and fellow Executives," Jimmy Smith said.
Today, Realty Executives Santa Clarita and its Executives look forward to providing excellence in real estate to one of California's leading markets in growth and master planned communities, serving generations of home buyers and sellers to come.