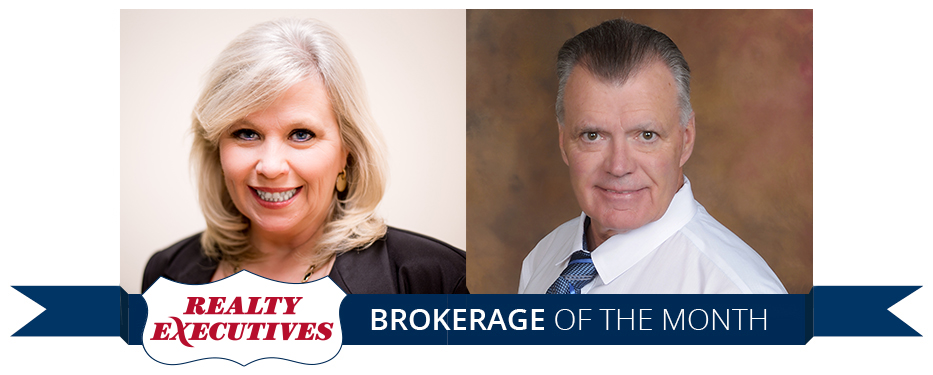 Despite real estate market fluctuations, Realty Executives Brio and Grant County in Bellevue, Washington continues to see consistent agent count growth through the seasons. While steadily welcoming new members to the team, the firm has remained 'the place' top producers want to call home — many for almost a decade.
Realty Executives Brio and Grant County is Realty Executives International's Brokerage of the Month for April 2018. Co-owners Ken Bell and Crystal Herrmann lead the team of more than 60 real estate professionals who specialize in the Grant County market and Bellevue, the third-largest city in the Seattle metropolitan area. Armed with decades of experience, the co-owners offer industry knowledge, exceptional training programs, and insight that comes from having worked in the trenches themselves.
Today, with a focus on leading the Realty Executives Brio brokerage, Bell and Hermann have seen their company grow in agent count by 24% over the last year. And the best part? The "new blood" enjoys the benefits of rubbing shoulders with established Executives.
"One major strength has been the loyalty of our Executives, with 20% being with us for almost 10 years and nearly 50% for six years. From the start we've offered a new [associate] broker training program and hired a full-time training manager to implement it, real estate broker and consultant, Tom Perry.  Tom trains in both Bellevue and in Moses Lake which is 175 miles away. He brings 30 years of experience training, mentoring and coaching hundreds of real estate agents to his role with Realty Executives," Bell said.
Bell acts as the Designated Broker for the firm's three locations, including the main office in Bellevue and two additional offices that make up Realty Executives Grant County with branches in Moses Lake and Ephrata.
Before aligning with Realty Executives, both Bell and Herrmann were turning heads in the industry. Ken Bell had scored 5th place in the Five-State Pacific Northwest Region for RE/MAX, and had established an employee referral and relocation business with 40 Fortune 500 Companies including Microsoft, Boeing, United, 3M and others. In search of entrepreneurial freedom to grow his business his way, he joined Realty Executives as a franchise owner.
"Our Bellevue office opened in 2001 with just six Executives and we launched Moses Lake in 2012 with one Executive. From the start, Bellevue offered the 100% commission option with a full-service attitude and not the unsupervised, home-alone agenda that many of our competitors adhered to," said Bell.
Herrmann also left RE/MAX but was headed in another direction. She opened a Realty Executives office in the Mankato, Minnesota area. After seeing her office become a market leader in Mankato, she joined Ken Bell in 2007 as a regional co-owner in Washington, working alongside him to grow the brand to a dozen offices throughout Washington and Oregon.
The boots-on-the-ground leadership style and training programs Realty Executives Brio and Grant County offers are bringing in consistent results.
"Currently Realty Executives Brio and Grant County ranks in the top 25 of the 3,420 real estate offices in the Northwest Multiple Listing Service. Even with extremely limited inventory (the Seattle market has led the nation in equity gains for 17 consecutive months) the top producers in our Bellevue office are closing approximately 24 sales annually. In Moses Lake our top producers are doing 50+ sales annually," Bell explained.
Equipping Executives to guide buyers and sellers through any market has always been a focus for Herrmann as well. Drawing in and retaining career-minded professionals with a calling for real estate has been it's own reward.
"We are not the biggest but we strive to have the best and most experienced agents. We focus on providing the tools, information and support that creates a culture that meets the highest standards of integrity, knowledge and experience," said Herrmann.