Flooring is essential to any building, be it a home, office, or commercial facility. It is one of the first things people notice when they enter a room and significantly impacts the space's functionality, comfort, and overall feel. However, with so many options, deciding on the right flooring materials can take time and effort. In this article, we will discuss the most popular flooring options and their pros and cons. We will analyze each flooring based on its cost, durability, maintenance, and aesthetic.
1. Hardwood Flooring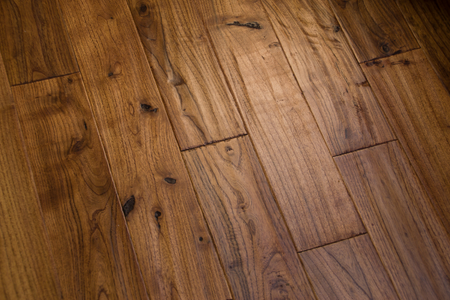 Any property will look more elegant and valuable if it has a timeless and attractive hardwood flooring option. This flooring type is made from solid hardwoods such as oak, maple, or cherry and is available in various colors, finishes, and designs.
Pros:
Due to its durability and resistance to damage, hardwood is a great flooring option for high-traffic areas.
Hardwood flooring has a timeless beauty and elegance that is always in fashion. It goes well with any decorating style and adds warmth and personality to a room.
Installing hardwood flooring can significantly increase the value of your property, making it a worthy investment.
Cons:
Hardwood is among the most expensive flooring options available; this makes it less affordable for people on a tight budget.
Hardwood floors are prone to scratches and dents if not properly maintained; this makes them less suitable for homes with children or pets.
Installing hardwood floors is difficult and time-consuming and often requires the help of a professional.
2. Carpet Flooring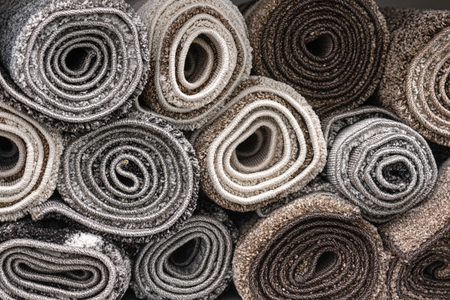 Carpet flooring is a soft and comfortable alternative that adds coziness, warmth, and soundproofing to a room. It can be made from wool, synthetic fibers, or recycled materials and is available in various colors, textures, and patterns.
Pros:
Carpet is a popular choice for bedrooms and living rooms because it provides a soft, cushioned surface that is comfortable to walk on.
The carpet is insulating and helps retain heat in a room; this makes it ideal for colder climates.
Carpet muffles sound and lowers noise levels; therefore, it is the ideal choice for households with children or animals.
Cons:
Carpet can hold germs and dirt, making it difficult to clean and maintain.
Carpet fibers can hold dust and allergens; as a result, it becomes less suitable for people with allergies or respiratory problems.
The carpet needs to be replaced every 5 to 10 years, depending on use and care; it's less durable than other flooring options.
3. Laminate Flooring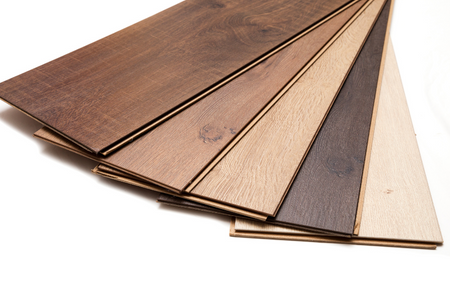 Laminate flooring is a synthetic solution that offers the look of hardwood at a lower price. It is covered with a protective layer and constructed of various layers of material, including a high-definition image of the preferred flooring material.
Pros:
Laminate flooring is much less expensive than hardwood flooring, making it a viable option for those on a tight budget.
Laminate floors are easy to install and can usually be installed by homeowners without the help of a professional.
Laminate floors are durable and resistant to dents, scratches, and fading. Therefore, it is ideal for high-traffic areas.
Cons:
Laminate flooring may not be the best choice for locations with harsh weather because it is readily destroyed by exposure to direct sunshine, heat, or humidity.
Some homeowners find laminate flooring less appealing because it does not look and feel as authentic as hardwood flooring.
Laminate flooring is tough to repair and can be damaged if exposed to moisture or water.
4. Tile Flooring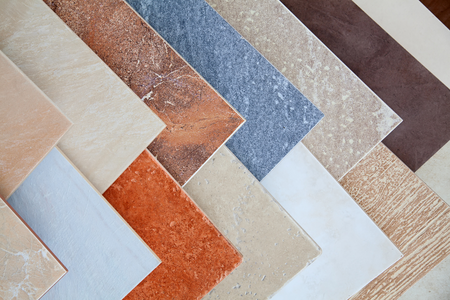 Whether made of ceramic, porcelain, or natural stone, tile flooring is a durable and adaptable choice. Commonly used in bathrooms, kitchens, and high-traffic areas, tiles are available in various colors, sizes, and patterns.
Pros:
Tile flooring is the best choice for high-traffic areas due to its high durability.
Tile flooring is popular in bathrooms and kitchens because it is easy to clean.
The wide selection of colors, sizes, and patterns makes it easy to find the ideal flooring for your decorating style.
Cons:
Walking barefoot on a tile floor can be uncomfortable, and the surface can feel cold.
Tile flooring has the potential to be slippery, making it unsuitable for homes with small children or older people.
Tile flooring can be very expensive, especially if high-quality materials like real stone are used.
5. Vinyl Flooring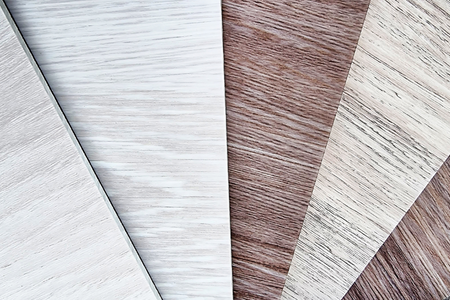 Vinyl flooring is a popular and affordable option compared to carpet and hardwood flooring. It can be designed to look like stone, hardwood, or other materials and is available in various colors, patterns, and textures. Because of its accessibility, durability, and low maintenance, it remains a popular choice for many homeowners.
Pros:
Vinyl is among the most economical flooring material options; it is a fantastic option for those on a tight budget.
Vinyl flooring is water-resistant and easy to maintain; this makes it the perfect choice for high-traffic areas in homes with children or pets.
Vinyl flooring is incredibly durable and can withstand many years of heavy traffic.
Cons:
Vinyl flooring often lacks the charm and natural beauty of stone or hardwood, which may deter some homeowners.
Vinyl flooring has the potential to be slippery, especially when wet, making it less suitable for homes with small children or the elderly.
Vinyl flooring is less suitable for colder climates because, unlike carpet, it does not insulate or retain heat.
Final Thought
Each type of flooring has a unique mix of advantages and disadvantages, so it's essential to weigh these elements thoroughly before deciding on the floor type to install in your home. While considering your choices, remember to consider your budget, flooring location, and exposure. By taking the time to weigh your options carefully, you can make an informed decision and choose the best flooring for your home.