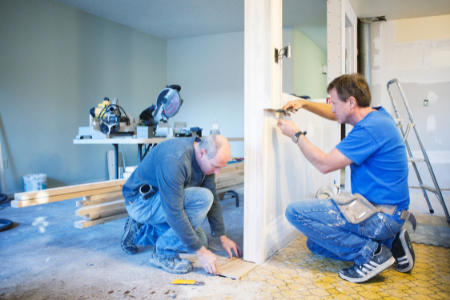 If you are a homeowner, regardless of the age of your home, at some point there will be home improvements, maintenance, or renovations to undertake. Projects to improve your property, such as knocking out drywall or creating a backyard garden, will be exciting yet inevitably stressful.
The last thing you want to think about during your project is a future lawsuit. By consulting a real estate attorney, a consumer rights group, or local government authority before you sign on the dotted line with your selected contractor will aid you in protecting your rights.
California Laws Regulating the Construction Industry
California has the Contractors State License Board which regulates the construction industry. This Board will issue licenses and discipline contractor firms. In California, state law insists that contractors must advise clients of their consumer rights.
If the contractor you have selected does not have a license for the type of renovation you want or does not offer a contract, this is a huge red flag. Hiring an unlicensed or unqualified contractor can prove to be very expensive if problems arise.
The California Business and Profession Code describes contract requirements in Section 7159 and includes repairs, remodeling, or modifying residential properties. Not only does this include work on your house, but also garages, fences, terraces, pools and spas, patios, and driveways. Projects under $500 may not be considered under the code.
The law defines what needs to be written in the contract and specifies that work cannot begin until the contractor provides you with a signed and dated copy of the contract. Down payments must not exceed $1000 or 10% of the contract.
What to Do to Protect Your Investment
There are several steps to take if you run into problems:
Communications should be in writing. Often issues may result due to bad communication or even a lack of updates.
Be somewhat flexible but with limits. Mistakes and unexpected events happen. However, it should not occur regularly.
Define milestones with payments and timelines.
Always refer to what you have agreed upon in your contract. Avoid agreeing to work without one.
Amend your contract if need be, especially in the case of a missed milestone. Do not rush to meet a deadline by accepting lower-quality work.
If you have problems with onsite workers, speak with the boss.
Communicate with onsite subcontractors doing the work. If they are dissatisfied with your contractor there may be a money issue involved.
Keep an eye on additional charges. Refer to your contract and amend it if you wish to upgrade and incur an increased cost.
Withhold a missed milestone payment but inform your contractor that you expect conditions to be satisfied to make payment.
Consider posting a review or testimonial. The risk of bad reviews or payment withheld may stimulate your contractor to meet the contract conditions.
Poor Workmanship
In the event of poor workmanship, there are several things you can do. The first is to file a complaint against your contractor with the Contractors State Licensing Board. There are three ways to do this. You can call them to ask that a complaint form be mailed to you, use the online complaint form, or select to download the form and print it. The Department of Consumer Affairs assists in this.
Another choice is to sue your contractor for poor workmanship if you have already fired the contractor.
Poor workmanship can be evident by defects in:
Concrete
Design
Drainage
Drywall
Engineering
Finishes
Roofs
Siding
Slabs in concrete
Soil settlement
Structure
Ventilation
Windows
These kinds of defect can reduce the value of your property.
There are four categories of construction deficiencies:
Design. This will involve architects and engineers that do not respect building codes in their designs.
Material. This involves the use of substandard materials.
Subsurface. This involves the instability of the soil where the house is located.
Workmanship. This involves workers that are poorly trained or those that use shortcuts.
Suing the Contractor
To sue your contractor for bad workmanship, you must have a signed, legally binding contract or agreement. You will need to demonstrate that you fulfilled your obligations of cooperation and the agreed payment schedule. The most important aspect, however, is demonstrating breach of the contract or agreement- evidence that your contractor did not deliver the work expected or that it is faulty. Finally, you will need to indicate damages that you incurred by redoing the work.
Before making a decision to sue, make sure to consider the following:
Document any poor work. Have proof that the contractor did not respect the contract by presenting shoddy work or by not respecting time schedules. Always inform your contractor in writing that they are at risk of breach of contract.
File a complaint with your local state licensing board. When a contractor receives enough complaints, the board can choose to publish this info.
You can attempt to resolve any issues by opting for arbitration or mediation.
Sue your contractor in small claims court.
What You Can Recover
Because suing normally involves a breach of contract, fraud, or negligence, with sufficient evidence that includes testimonies, photographs, and documentation, you may be able to win financial compensation. Damages include:
Court costs and fees
Lawyer fees
Market value reduction or depreciation
Repair costs
Temporary housing costs
A Final Thought
The best method for avoiding the risk of poor workmanship is to select a dependable contractor. Get references from other clients of the contractor to see if the work was well done and has lasted. Avoid contractors that will cut corners to contain costs or prefer cash agreements. Review the contract and make sure it is detailed and in line with your expectations. In the end, a little research and preparation can help you avoid the risk of poor workmanship and the hassle of legal action.