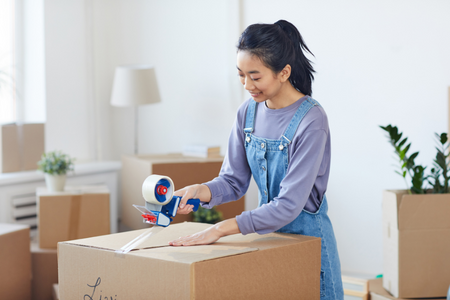 Leaving the nest and moving for the first time can feel overwhelming. Fortunately, there are ways to avoid the common issues and mistakes that come with finding a place to live, choosing essential furniture, and arranging your new space. It is an exciting and scary time! Use the tips and information in this guide to help with everything from packing your stuff to finding the perfect place. With the right advice, moving into your own place can be a seamless experience.
Choose the right place
Before you start discussing your moving plans with your parents and begin packing up, you'll need to find the right place for you. Here are some tips to help you make sure you're choosing the ideal place:
Look for a trusted local real estate company.  If you a renting, look for one that specializes in rental properties. They can help you choose an apartment based on proximity to things like your job and local amenities, such as shopping and entertainment. The real estate company will also help you find a place that you can afford and fits within your budget.
Now is the perfect time to nail down your finances so you know how much rent you can afford. It's also a good time to think about finding a roommate to help split the cost of things like rent and utilities if you can't afford a place on your own. Sit down and write out a thorough budget, including your monthly income after insurance and taxes.  This will help you determine how much income you'll have left every month for rent, electricity, and groceries. Setting a budget before you move out will make finding the right place a lot easier, and you won't need to worry about struggling to pay your bills.
Before you call the moving company
A moving company can help you take your belongings from your parent's place to your new space. Before you call a moving company, keep the tips from this checklist in mind to ensure a smooth transition:
Start by finding a reputable moving company to pack and move your furniture and other big-ticket items. Read several customers' reviews online or ask your family and friends for recommendations. Get at least three estimates from different moving companies for the best possible price.
Think about what you're planning to take from your parent's house to your new home and what you're planning to leave there. Make a list of the items you know you'll take with you and put away the items you aren't planning on bringing into the new place. If your parents don't have room for your leftover stuff, consider renting a small storage unit to keep everything safe. Consider hosting a yard sale to make a little extra cash by selling items you no longer need. Donating clothing and other items to local charities is another great way to declutter before the move.
Before you move into a new place, inspect it thoroughly and ensure everything is in good condition. Check the appliances and look carefully at the walls and floors for signs of damage. Make a note (and take pictures) of any damage and issues you find and notify the landlord of broken items. Drafting a custom move-in checklist ensures you're not responsible for the repairs.
Consider hiring a locksmith to change the door lock to your new place, if possible. Before you do this, check with your landlord because they may require access to your place in the event of an emergency. Changing the locks is a good way to protect yourself when living alone, in case the previous resident still has access.
Set up your utilities in advance, including power, water, internet, and gas. Do this ahead of time, so everything is turned on and ready for you as soon as you move in.
Apartment checklist
When moving for the first time, it's a good idea to create a simple apartment checklist so you're prepared before move-in day.
Decide where you're going to sleep. If there's more than one bedroom, which one should you choose to sleep in? If you're getting a roommate, agree on who gets what bedroom before you move in to avoid misunderstandings. If you're living alone, decide which bedroom has the most space for your bed, nightstand, dresser, and other furniture.
Look carefully at the lighting in your new place. If there isn't a lot of overhead lighting or it feels dark, supplement by layering your lighting using floor and table lamps. Plug-in wall sconces add a bit more light to a room and a nice, stylish touch.
Stock up on essential bathroom supplies, including plenty of clean towels, a new shower curtain (and a shower curtain liner), and some soft, absorbent bath rugs. Make sure you have plenty of toilet paper, shampoo, soap, cosmetics, and other bathing must-haves before you move in.
Ensure you have plenty of cleaning supplies, including a mop and bucket, a vacuum cleaner, a window cleaning product, and a disinfecting surface cleaner. Have plenty of dish soap, sponges, dish rags, and paper towels. When your new place is clean, you'll appreciate it even more.
Don't forget the basic kitchenware like plates and cups, silverware, and a few essential pots and pans. Food storage containers are also a great way to save money by keeping any leftovers from the night before.
Determine which small appliances you'll need, including a coffee maker, a microwave, and a toaster oven. Check that your new place has ample counter space and enough electrical outlets. Store unused small appliances in the lower kitchen cabinets and only take out what you need when you need it.
Invest in a basic toolkit that includes a flat head and a Phillips head screwdriver, a small hammer, and plenty of nails and screws. Small household drills are also affordable and easy to use whenever you're in a pinch.
Think about the essential furniture you'll need to be comfortable. Essential furniture includes a decent-sized couch or loveseat, a bed, a dresser for clothes, and a desk and desk chair if you're working or studying from home. If you don't have a kitchen island, invest in a decent dining table or coffee table where you can sit down to eat.
Consider which items you need right away, and which can wait until you get settled. Try not to spend too much money on non-essentials like décor until you have all the basics covered first.
Dos and don'ts when living by yourself
Living alone can be fun, but it also comes with many responsibilities. Here are a few dos and don'ts when you're living by yourself.
Do: Make a grocery list before going shopping, so you get only what you need and avoid spending money on the things you don't. Go through your fridge and kitchen cabinets before you head to the store to determine what you need.
Don't: Spend more money than you earn. Avoid racking up credit card debt because it will affect your credit score. Your score is important if you plan to buy a home. Only buy items that are within your monthly budget.
Do: Clean your place as you go and make small repairs whenever something breaks. It's a great way to keep your place nice and ensure you'll get your security deposit back when you move out.
Don't: Allow your place to get cluttered and disorganized. Not only will this add to your stress, but it also makes coming back to your place unpleasant. Keep your new home as tidy and organized as possible by using storage baskets and bins, shelving, and storage furniture. Everything should have its place.
Do: Be proud that you're moving for the first time on your own. Invite your family and friends over and show off your new space. This is a big moment in your life – host small gatherings and get-togethers so the people you love can participate in your excitement.
Don't: Feel like you need to keep up with your friends or family members in terms of acquiring things like new clothes and fancy furniture. Stick to your budget, live frugally, and enjoy what you have. As you adapt and advance, you'll be able to invest more time and money into nicer furniture, a new flatscreen TV, and the other things that help make your new house a home.
Congratulations on your decision to move out of your parent's house and into your own place. Remember the tips and information from this guide to help you avoid common mistakes and to make the whole experience go off without a hitch. With advance planning, a good attitude, and a proper budget, you can be sure that moving for the first time is the right choice for you.