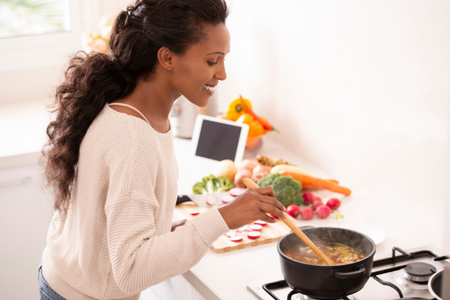 As daylight hours are short and the temperatures drop, it's time to break out the comforting cold weather recipes. Whether you're looking for something warm and rich or an easy meal that will keep your family full, there are plenty of delicious recipes to choose from. From hearty soups and stews that come together in minutes to seasonal drinks, these winter recipes will be sure to please even the pickiest of eaters. So grab a blanket, turn up the heat, and get ready for some delicious wintertime cooking!
Soups and Stews
Slow-Cooker Beef Stew: This classic recipe is the perfect meal for a cold winter evening. Make sure to use lean cuts of beef and plenty of potatoes, carrots, celery, onion, and herbs for a comforting stew that will warm you up from the inside out.
Slow-Cooker Chili: A popular game-day dish, this soup is sure to please a crowd on cold nights. Look for recipes that incorporate lean ground beef, beans, tomatoes, and your favorite chili spices like cumin and paprika. If you are not a fan of red chili, consider a popular twist such as White Chicken Chili.
French Onion Soup: Rich and flavorful, this classic soup is simple to make in any slow cooker. Look for recipes that call for caramelized onions and plenty of cheese – it's the perfect way to cozy up!
Hearty Lentil Soup: This vegetable-packed soup is both healthful and delicious. Choose a recipe that incorporates plenty of flavorful herbs, such as rosemary, thyme, and oregano.
Cheesy Appetizers and Snacks
Creamy Macaroni and Cheese: Comfort food at its finest! You can find many delicious recipes for this classic dish online or in cookbooks. Use plenty of cheese and butter for a cheesy, creamy delight. Create variations by adding ingredients like bacon, broccoli, ham, etc.
Grilled Cheese Sandwiches: This classic sandwich is sure to please kids and adults alike. Make your sandwich more interesting by switching up options for the cheese and bread. Serve with a bowl of tomato for dipping.
Fondue: This decadent cheese fondue is perfect for chilly winter nights. Look for recipes that call for sharp cheddar, Emmentaler swiss, or Gruyere cheese along with garlic, wine, and herbs. Serve with a side of crusty bread or vegetables for dipping. Remember, fondue can easily be turned into a dessert option, too!
Cheesy Baked Spinach Dip: Having friends over for a night in? This cheesy spinach dip is deliciously warm and perfect for sharing with friends. Serve it with crackers, tortilla chips, or pita chips and watch it disappear!
Main Dishes and Sides
Butternut Squash Lasagna: Who says lasagna must be meaty? Use roasted butternut squash, ricotta cheese and a mixture of herbs to make this delicious vegetarian dish that will keep you cozy all winter long.
Chicken Pot Pie: A creamy, comforting dish the whole family can enjoy- either as one full pie or in individual or mini pies. Pay special care to the directions for the crust.  The flaky crust is essential but also the toughest part of the recipe.
Roasted Salmon with Herbs: Get your omega-3s by roasting salmon fillets with herbs such as rosemary, dill, and thyme or citrus such as lemon or orange. Serve over a bed of greens, rice, or roasted potatoes for an easy yet delicious meal. This cold weather recipe can be served year-round!
Roasted Root Vegetables: Put the oven to work by roasting vegetables like potatoes, carrots, turnips, and onions with olive oil, garlic, and herbs. This healthy side dish is a great option for dinner or lunch.
Desserts
Baked Apple Crisp: Nothing says winter like a warm dessert! Mix tart apples with cinnamon and nutmeg, top with oats and butter, and bake. Serve with a scoop of vanilla ice cream and whipped cream for an extra special treat.
Chocolate Cake: Most people are fans of cake, especially a decadent chocolate cake! Choose recipes that incorporate ingredients like cocoa powder, espresso, and dark chocolate chips for the richest version. Flourless cake and lava cakes are also popular options for chocolate cakes.
Drinks
Hot Chocolate: Adults and children alike enjoy a great cup of hot cocoa. Look online or in cookbooks for a recipe with real melted chocolate, cream, and spices like cinnamon, nutmeg, and cloves. Enjoy with a dollop of whipped cream on top!
Mulled Wine: Warm up your evening with a cup of mulled wine. Simmer red wine with spices like cinnamon, cloves, and nutmeg- this holiday beverage is delicious anytime during the winter.
Eggnog: Spice up the colder months with creamy, delicious eggnog. Serve chilled or warm it over the stovetop in a saucepan or slow cooker for extra ease. Enjoy!
Apple Cider: For those looking for a drink option that isn't as rich as cocoa or eggnog, consider apple cider. Simmer fresh-pressed apple cider on the stovetop in a saucepan until hot. Experiment by adding cinnamon sticks, orange slices, or other spices that strike your fancy.  For an adult version of the drink, add a splash of brandy or whiskey and enjoy!
There are many comforting options to choose to whip up when the weather forces you indoors. Feel free to get creative, make substitutions, and create your own version of these cold weather recipes!
Please follow and like us: