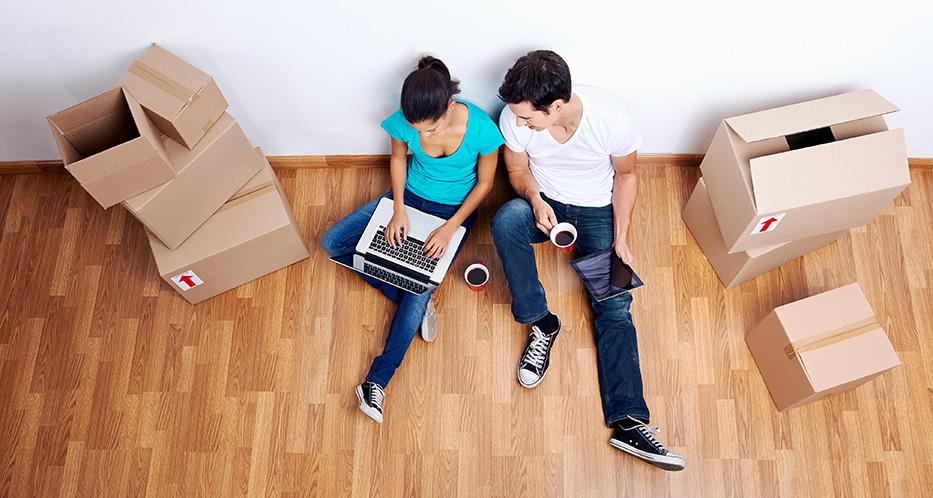 Whether you're planning ahead, in the process of moving, or have already moved into your new home, these three tips will help you get settled.
1. Setup utilities  
If you haven't already set up all of your utilities before moving, checking these off your list will probably be your first priority:
| Utility | Service Provider |
| --- | --- |
| Electricity | Search by city for Canada, and by state for the US |
| Natural gas | Search by state for the US, or by accredited organizations if you live in Canada |
| Water and sewer | Search by state for the US, or by city if you live in Canada |
| Trash collection | Search by city for Canada, and by state for the US |
| Cable, satellite TV, Internet and telephone | Search by zip code for the US, and by city in Canada |
Websites like MyUtilities.com and AllConnect.com allow you to set up multiple utilities under one account, but you'll most likely be creating accounts online and calling to schedule appointments.
"Pay any overdue bills, but also collect any refunds or utility deposits. Many people forget that they may have served up a substantial chunk of change months and sometimes years back," suggests The Moving Team.
This is also a good time to update your address and set up your security and alarm systems.
2. Review neighborhood ordinances and codes
City codes are ordinances and put in place to promote health and safety within neighborhoods, as well to protect the community. They may differ from neighborhood to neighborhood, but familiarizing yourself with them is the best way to keep from being in violation of local laws.
Neighborhood codes typically cover issues like dead trees, high weeds, trash, deteriorated fences, junk and commercial vehicles on private properties, operating a business out of a residence, and keeping animals.
"Neighborhoods that follow their covenants and standards tend to be safer, look better, maintain better relationships with local governments, and better retain or increase the investments that homeowners have made in their properties," reports online legal platform FindLaw.
And if you live in an HOA community, this is a good time to go over those rules as well.
3. Explore your neighborhood and meet your neighbors
As you're unpacking and getting settled in, find opportunities to explore your neighborhood and meet your neighbors.
"You meet a lot of your neighbors while doing activities like gardening," says Antoine Daher, founder of friend making app Patook.
Daher suggests introducing yourself to your new neighbors as you encounter them, and taking the time to exchanging phone numbers or e-mail addresses in case of emergency.  "Ask some questions both about the neighborhood, like when the recycling pick-up is, and later on, about them," he says.
Going online to find opportunities to connect with your neighbors is also an option.
"A few years ago, using apps or online websites to meet people was considered unusual. But the latest polls show that many connections between people now start online, whether for friends, activities or dating," explains Daher. "This makes sense because many people spend a lot of their time online or at work, which reduces the number of opportunities to meet people."
Joining your neighborhoods Facebook groups and following all of their social accounts is not only a good way to find out what's going on in the area, but it's also a good way to find neighbors with common interests and connect with them.
Read more about Helping kids adjust to a new home or Moving during the summer with kids
Please follow and like us: