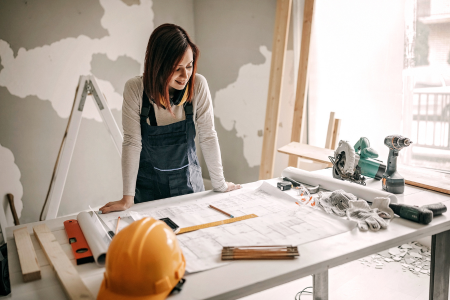 Looking to refresh your home? Consider a sustainable renovation from start to finish by reducing waste, recycling, upcycling, and using eco-friendly materials.
The U.S. Environmental Protection Agency (EPA) estimates that 13% of all greenhouse gas (GHG) emissions come from the commercial and residential sector. This includes the fossil fuels burned to power heating, lights, cooling, refrigeration, and the handling of waste. Electricity production accounts for an additional 25% of the GHGs.
If you are about to undertake a home renovation, making smart choices can make a difference in the amount of waste and GHG emissions associated with the work.
Minimizing waste to keep it green at every stage of construction
The first step to a sustainable renovation is to make waste reduction a part of the conversation. Whether you are working with an architect, designer, or construction company, start by discussing how to tackle your project while keeping the environment in mind.
Next, look at what you already have with an eye for upcycling. The most eco-friendly materials are the ones already in your home. Those old cabinets might look brand new with a fresh coat of paint and gorgeous hardware. You can turn an older dresser with character into a new bathroom vanity with just a remnant or recycled glass countertop and fixtures. You could even find fixtures at an antique shop or salvage yard to mix the old with the new for a very on-trend vibe.
Of course, you may have to demo some things. A gentle demo allows functional and often desirable items to be donated, keeping them out of the landfill. Organizations like Habitat for Humanity's ReStore accept donations of sinks, toilets, bathtubs, cabinets, working appliances, doors, windows, lumber, and more.
When you do have to buy something new, choose materials made of natural or recycled products. Natural fibers emit less volatile organic compounds (VOCs) for better air quality inside your home.
Making energy efficiency a part of your plan will help the environment and save you money, especially over time. If you are replacing appliances, look for the Energy Star logo, which means you will save on energy bills for years to come and possibly receive a tax incentive.
Transforming waste into a valuable resource
Recycling
Construction and demolition materials can be kept out of the landfill by choosing used or recycled materials. Demolition is everything you're taking out and construction is what you're putting in. So how do you recycle the materials you're taking out? The answer depends on how you built your home.
Wood, especially old-growth wood, is highly recyclable and reusable, particularly if the wood was fastened using nails and screws rather than adhesive. Many construction materials have a high resale value. These materials include hardwood flooring, multi-paned windows, architectural moldings, unique doors, and plumbing/electrical fixtures. Who knew your home demo could build up your wallet?
Upcycling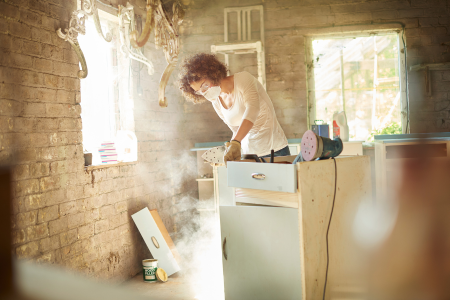 Another option is to buy pre-owned. Many companies now specialize in selling pre-owned high-end kitchens, including appliances and cabinets. This approach saves both money and the environment. A sustainable renovator can save big by purchasing a pre-owned or former display kitchen. In this way, all the costs and environmental pollution associated with creating and transporting new materials are also saved.
Of course, you can do more than donate your gently demolished construction materials to a re-supplier. You can purchase there as well. People just like you have done "delicate demos" and donated those materials, which you can use for your renovation.
Another option is shopping thrift stores and antique malls for well-crafted furniture you can use in your sustainable renovation, which gives you bonus points for thrill and adventure. Imagine finding that special end table for your living room or a bedroom set that contrasts perfectly with your new paint color.
And upcycling isn't just for the professionals. You can also use your creativity to get a custom piece you'll never see in another home. Maybe that special end table is not quite perfect, but with light sanding and a coat of paint, it would be the perfect pop to set off your new natural fiber area rug.
This approach — called a circular economy — is even better than recycling materials because often recycling ends up being "downcycling." Ideally, recycling something would mean it is broken down to its basic materials and remade into something new. This process would ease the pressure on using virgin raw materials. However, in many places, recycling includes incineration, which doesn't actually replace using virgin materials.
Building with a purpose
Saving virgin materials and all the environmental costs associated with processing and transporting them is why sustainability is so critical. The longer something lasts, and the lower its environmental impact, the better it is for everyone. Older buildings are good examples of how to make something durable.
Fortunately, today there are plenty of low-waste alternatives for materials and finishes, eco-friendly materials, and energy-efficient ways to reduce a renovation's carbon footprint.
Corks
Many companies now take natural cork wine stoppers and turn them into different products. Consumers can drop their used corks off at locations across the country, where they are picked up and turned into mosaic flooring or acoustic wall and ceiling panels.
Newspapers
Newspapers are being turned back into wood through a process that uses compression and glue to create the look of wood grain texture and can be used for many applications.
Tree bark
The logging industry throws tree bark away, but some companies now repurpose that bark for natural siding. It makes perfect sense—after all, the bark is what protects trees from weather, disease, and insects.
Glass
Old windows and solar industry waste are being turned into 100% recycled glass tiles with no VOCs and color options that resemble sea glass. Recycled glass is also being used to create countertops that don't carry the resource-intensive manufacturing process of granite or marble.
Ash
Ash-byproduct from coal combustion mixed with cement makes a product called AshCrete, which reduces the amount of coal fly ash going into the landfill. And it's perfectly safe as the coal ash is encapsulated in the concrete, the same idea used to cover old asbestos flooring so that it's safe for the consumer.
Enviroboards
Enviroboards are made of materials like magnesium, sawdust, and fiber cloth. These boards replace timber for the inner portions of a home, roof linings, and underlay systems. They are stronger than regular lumber and won't warp over time because they are water- and humidity-resistant.
Improving energy efficiency
Let us not forget energy efficiency. It's good to start with an energy audit from your local power company so you know exactly where your home can be improved. The resulting report will give you recommendations for improvements. Check with your insurance company to see if any modifications are covered.
You might need to increase the insulation in your home (with eco-friendly products like denim), along with air sealing, to improve overall performance. However, some simple steps you can take to improve energy efficiency include:
Making the most of your natural shade and sun
Using cold water whenever possible
Unplugging unused appliances
Replacing your lightbulbs with energy-efficient LEDs
Zero-waste lifestyle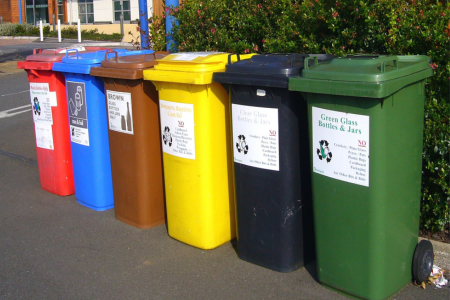 Since you are trying to find ways to complete a sustainable renovation, it is likely you also want to adopt a zero-waste lifestyle. How do you accomplish that? It's important to be realistic and know living without waste in a society that adores consumption is hard. However, you can do several things fairly easily that will go a long way toward waste reduction:
Avoid disposable, single-use items such as plastic shopping bags, plastic straws, water bottles, and cleaning supplies. Instead, look to products such as reusable eating utensils and straws you can carry every day, hydro flasks (which keep your water colder anyway!), and cloth shopping bags. Better still, choose a shopping bag made from recycled materials.
Shopping thoughtfully can make you a waste-reduction champion. In 2015, 42% of the non-fiber plastic produced was for packaging. And in the same year, 54% of the plastics tossed away — into landfills and the natural environment — were packaging. To make matters even worse, those hard, sealed plastic wrappers are so hard to open! Saying no to them saves you the hassle and keeps that waste out of the environment.
Choosing reusable products like glass jars avoids plastic altogether. You can reuse glass hundreds or thousands of times, and it can also be repurposed to make hip flower vases or other home décor.
How many of us even remember when shoes and watches were repaired instead of thrown away? (Kudos if you're donating). But buying higher-quality products and repairing them when needed extends their life. Keeping things longer means less goes to the landfill.
Recycling is one of the easiest ways to keep waste from building up because many communities provide bins for this purpose, including green waste bins. Be sure you're following the regulations in your area for recycling. For example, you must take off removable plastic packaging items like coffee creamer bottles or else facilities will not recycle them.
Composting is a great option for those with space, as up to 40% of all food ends up in landfills. The problem with food waste in landfills is the methane gas it emits, which contributes to GHG emissions. Many communities are now adopting food recovery policies, so check with your local officials to see how you can participate.
Another way to shop mindfully is to choose products made from sustainable materials or use sustainable methods. As more and more people prioritize the environment in the way they live, many companies now promote the sustainable materials or methods they use, making it easier to find them. Some tips include:

Use engineered floors instead of traditional hardwood because they are grown faster and last longer. Hempwood goes from seed to floor within 150 days — even quicker than bamboo.

Consider a rainwater capture system for your sustainable home.

Check out the EAT-Lancet Commission's recommendations for sustainable diets and food production methods.

When it comes to sustainability, it's quality over quantity. Cheaply made clothes, shoes, and household products wear out quickly and end up in landfills.
If you are planning to move, use reusable materials, donate or sell unwanted items and choose eco-friendly transportation.
Keep yourself well informed! Since you're reading this article, you're a person who cares, so keep up the good work and stay on top of new sustainability practices and technologies.
Conclusion
Now that you have plenty of tips and tricks to make your renovation more sustainable, it's time to choose what you can use and make a plan. Remember to keep sustainability part of the conversation from beginning to end. Talk about it early and often with all your contractors and you will be sure to have a renovation that leaves a beautiful mark on your home with less mark on the environment.