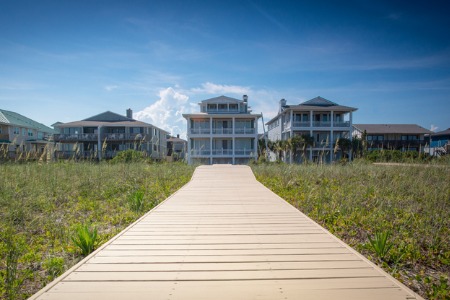 When a house is first purchased, it is hard to believe that at a point in time, you may want a touch of repairs or redecoration. However, after living in a house for a while, there comes a moment where you feel the need to spice up the look, which is no different for a beach house. Sometimes, the change can mean as little as altering the exterior for a fresh look. Renovating the exterior of a beach house can be a little more challenging than the typical home due to the constant weather shifts and aesthetic a beach brings, but here are a few tips.
Change up the Color
Renovating the exterior of your house can be as simple as changing the color scheme of your exterior wall. This brings a significant difference, and at times, it could make you feel like you are in an entirely different house. Contrary to what many people believe, the exterior house color does not have to be all white for a beach house. You could use a different color for window and door frames such as sky blue or mild yellow. Also, you could use a few creative patterns on the wall below the windows.
Use a Retractable Pergola
One common characteristic of the weather on the coast is the variable heat intensity. However, thanks to the retractable pergola, you can deal with this nature issue. You could find several pocket-friendly retractable pergola designs that serve the shade purpose and still make the exterior of your house look captivating. From canopy designs to extended roof styles, you can never miss an ideal piece for your compound. The best thing about it is that some models are easy enough for you to build with family members or for cheap when hiring a designer.
Make Use of Sea Shells
The most unlimited resources at the coast are the numerous numbers of seashells. They come in different shapes, sizes and color shades. Though mostly used to spice up the interior décor, you can still find several creative ways to use them on your home's exterior. You could use some at the windows or make threads of small shells and circulate them around your balcony. Alternatively, you could make beaded blinds for your hot deck or outdoor room. These shells are collected early in the morning at the seashore, so you do not have to worry about the amount of money you will use to buy them.
Plant a Flower Garden
You can never go wrong with adding another aspect of nature at the coast. Whether you are a fan of lilies or any other flower that grows near the sea, you could turn your back yard or the front into a beautiful garden of flowers. Just make sure that you take care and shield them during the storm and you will be good to go. It may need a bit of your time, but the outcome is worth it. You get to enjoy a hobby and an attractive yard.
Use Wood for Boundary Wall
If you do not have a boundary wall around your house, one of the best affordable materials to use is wood. As much as this has been used all over the world to mark home boundaries, it always has a touch of nature that makes your home look environmentally friendly. You could choose an ideal color to paint over the boundary wall, depending on the color of your house's wall exterior to match the two.
Conclusion
Your environment needs to make you feel as much at home as the internal section of your house. The above tips will help you renovate the exterior of your beach house at the lowest costs possible. Don't be afraid to explore new exterior décor options as you never know what may surprise you!