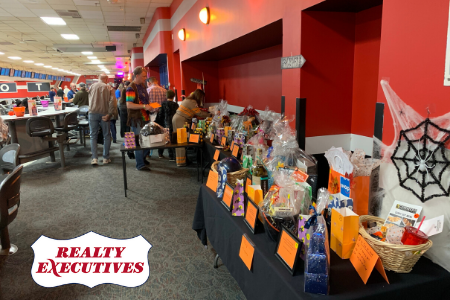 Realty Executives brokerages of the Great Lakes Region recently benefited the Make-a-Wish foundation, raising $10,000 at the annual Booling for Wishes event. The Make-a-Wish foundation works to grant wishes to children who have been diagnosed with a terminal or life-threatening illness. The money raised by the event will grant two wishes for children and their families.
Founded in 1980, The Make-a-Wish organization, 501(c) nonprofit, has granted nearly 480,000 wishes worldwide. Each wish, averaged at $5,000, is chosen personally by the child and family receiving the gift. Headquartered in Phoenix, the foundation is active in over 40 countries and continues to grow globally through generous donations and volunteerism.
A representative from Make-a-Wish, along with a recipient and her family were in attendance. The young recipient was able to share her story and tell how Make-a-Wish made a difference during her battle with cancer.
To help organize the event, an Executive Council gathered items for the raffle and silent auction, registered attendees and reached out to the local community and sponsors to gather donations.
The Executives Council members playing a major role in the even included:
Renee Stoddard- Realty Executives Premiere (Wheaton)
Renee Shutay- Realty Executives Ambassador
Dan Gleason- Realty Executives Elite
Adam St. James- Realty Executives Legacy
Jean Marie Milligan- Realty Executives Premiere (Wheaton)
Megan Beechen- Realty Executives Elite
Joe Kenny- Realty Executives Midwest
Realty Executives International is proud of the commitment to service their brokerages put forth and was thrilled to see the community involvement encouraged by the Great Lakes Region.
"It was exciting to see everything come together for such a great cause and fun event." Alysia Heun, Vice President of Realty Executives International said. "We are proud to represent a network that continues to give back and support their community."
Realty Executives Great Lakes would like to thank all sponsors who helped make this event a success:
Hawbecker & Garver, LLC, Compass Mortgage, Home Warranty of America, MRED, Flanagan Law Firm, Chicago Title, Key Mortgage, Realty Executives Midwest, First American Title, National Title Solutions, INC, Lynette J McKenzie, Ltd., Land and Home Financial Services, Inland Bank