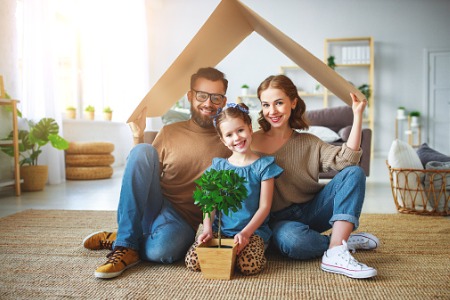 We all love to live in a place that looks perfectly clean and welcoming. But are you aware that there are chemicals in almost everything? Yes, we are exposed to toxic chemicals at home without even being aware of it.
A healthy home involves a lot of cleaning chores, but the amount of chemical content that you are accidentally adding to your home by using cleaning products can be surprising. Creating a perfect world where you can simply rejuvenate sounds good, right? The catch lies in switching to toxin-free products that can help you design a non-toxic paradise. 
So if a natural and toxin-free home is in your to-do list, here are a few ways to cut down the chemical invasion at your home:
1. Vacuum off the Toxic Chemicals
Vacuuming is not just meant for keeping your home clean to enhance the looks of your house. But it helps in cutting down the microbes and allergens that may be occupying your place. Dust is not merely a cluster of mud that you see settling down on your sofas; it can contain harmful allergens too. 
Thus it stands mandatory to find out ways to reduce dust associated contaminants from entering your house. Vacuuming stands as one of the strongest and effective alternatives for the same and is a potent weapon to shove out the toxic chemicals. 
One can consider getting a vacuum with a HEPA filter to get rid of the contaminants in an effective way. Make sure that you vacuum at least once a week so that you can gain control over the pollutants.
2. Minimize the Usage of Chemicals
We unknowingly tend to use chemicals that we never knew were chemicals. Many of our daily cleaning products can leave residual chemicals behind.
Consider using products after checking out the ingredients and using only those which stands to be safe and contains minimal levels of chemicals. Also, buy fragrance-free products as the chemical content is less and stray yourselves from buying fabric softeners and bleaches. 
3. Are You Using The Right Mattresses?
Sleeping enough might be a challenge for many, but apart from the sleeping goals comes the task of finding out whether you are sleeping on the right mattress? Yes, mattresses also do play an important role in cutting down the chemical content at your home. 
Not only do the chemicals used for making the mattresses play a negative role for our bodies giving birth to asthmatic and breathing issues, but they can also hamper our planet starting from our house.
A chemical-free mattress can help you restore yourselves for eight hours in a healthy environment, in turn, promoting social responsibility, adhering to the go green code.
 4. Be Particular About the Plastic That You Use
We all know the adverse effects of plastics; cheap but can prove to be very costly talking in terms of its ill effects. Do you know that the chemical Bisphenol A that is present in most of the plastic items can even harm your endocrine system if ingested by your body? 
Thus it is advised to reduce the use of plastic as much as possible. Using alternatives for plastic is a smart way to lessen down its usage. Avoid getting your food packed in plastic materials as the contents can protrude inside your food and cause your food to be contaminated. Also, consider checking out the resin code whenever you use plastic so that it stands safe for usage.
5. Safer Cosmetics and Body Care For Tweens and Teens
People are simply addicted to using cosmetic products. Ranging from deodorants to face washes and lotions, these products have occupied a major space in our daily lives. But regular and excess usage can expose you to harmful chemicals. Thus it is wise to lessen down the use of such products. 
Go for products that are branded and dermal tested so that you can bestow your trust. Also, ensure that you check out the content of the products before making a purchase. Avoid using chemicals for permanent hair straightening and other similar things that include a higher concentration of chemicals.
6. Stay Informed About the Hidden Chemicals in Food
Even food is not safe nowadays; they are vulnerable to harmful chemicals that can enter our bodies and show up its adverse effects. The packaging used for food and even the equipment that is used for the food processing can add up contaminants.
Some chemicals and pesticides that are used in the soil can enter the food staples and give us a reason to worry. Thus it is essential to stand up for a global cause to build a toxin-free environment to fight the harmful substances that hamper our surroundings.
7. Green and Healthy Grass
Having a beautiful backyard is a dream for many. And, along with the backyards comes the task of maintaining it properly.
Add more and more organic matter to your soil and make sure to nurture your lawns with an adequate amount of water so that it doesn't go dry. To eliminate weeds, pesticides are a common control method but making use of organic methods can help you go a long way to kick start your toxin-free lawn goals.
8. Switch to Safer Products
Choosing safe products can be a wise step to live up to the motto of staying away from toxins at home. Make sure that you always run a check on the labels to get to know if the products that you are choosing contain any added flame retardants. 
Especially while choosing childcare products, ensure that they are free from any such contaminants and are not made of polyurethane foam. Stay at bay from products that make use of ammonia and chlorine and try to make use of commodities that include natural extracts. 
Bottom Line
Yes, getting rid of chemicals entirely is a big task, but these ways can surely help in cutting down the concentration to a considerable level. Your safety is in your hands. Thus it is necessary to choose products wisely to help create a space that brings overall well-being and health to you and your family.
This article is contributed by Sharon P Lliff from SortedForYou.com