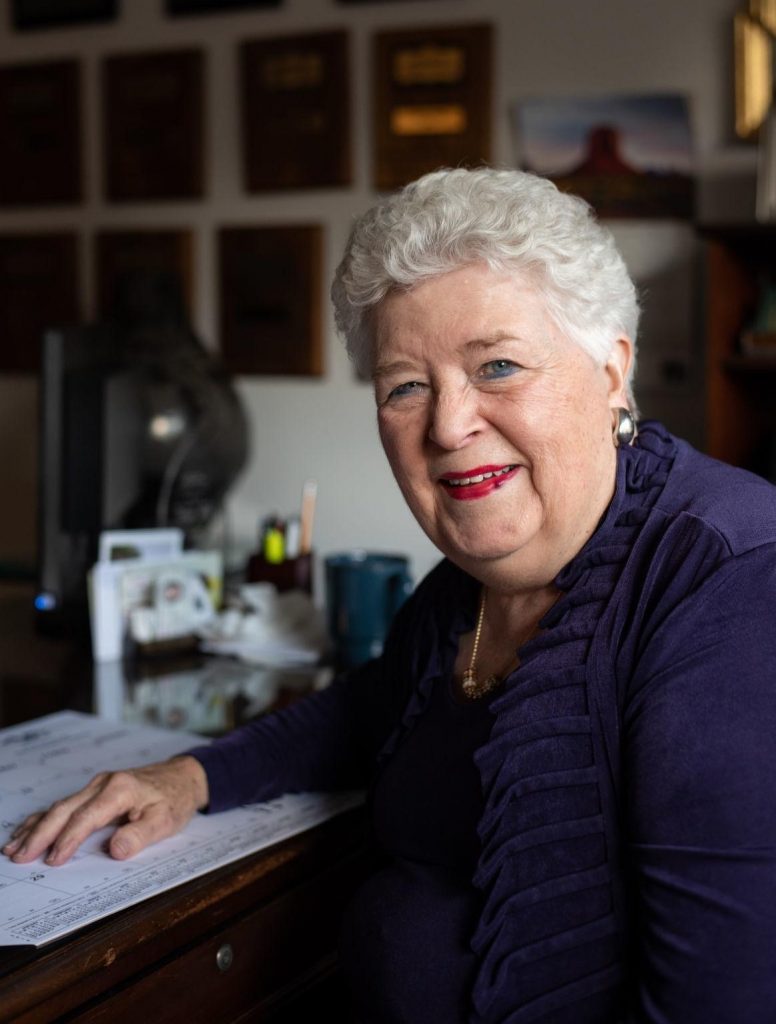 Linda Weis is a busy lady on any given day, but for the last six weeks or so, she's spent countless hours researching candidates applying to become the next justice of the Kansas Supreme Court.
Weis, of Manhattan, is the owner of Realty Executives. She's also one of nine people on the Supreme Court Nominating Commission, which recently went from years of dormancy to high gear with the retirements of Justice Lee Johnson and soon, Chief Justice Lawton Nuss.
"I just had to make time," she said in an interview at her office Tuesday. "It's the kind of thing you don't say no to."
On Thursday and Friday, the commission will interview the 19 candidates applying for Johnson's seat on the court. Those interviews will be in Topeka.
The commission consists of four lawyer members, one from each congressional district, who are elected by other lawyers. Four are nonlawyer members appointed by the governor. The ninth member and chair, also a lawyer, is chosen by qualified lawyers in a statewide election.
The commission's job is to vet candidates thoroughly and recommend three to the governor. It's a job they take seriously. Commissioners are assigned applicants to investigate, and they scour not only their applications but the candidates' court cases, continuing education, disciplinary records, social media and financial information. Candidates must be at least 30 years old, must be authorized to practice law and have practiced for at least 10 years.
The commissioners then prepare investigative reports on the candidates and present those to the rest of the commission. In this case, Weis and her partner, Garden City attorney Gerald Schultz, were assigned five candidates on whom to write investigative reports.
They're required to speak to at least two people, usually attorneys or judges, with whom the candidate has worked. Weis says she talks to at least six for each candidate.
"I'm very committed to the administration of justice and to making certain that things are fair and that they're done well," Weis said. "It's important that we pick people who are exceptionally qualified — not just qualified. They have to be exceptionally qualified."
All that means long hours of work on top of her usual duties. In addition to her real estate business, Weis said she and her husband, Jerry, have a foster son who's playing football this year at Manhattan High.
But she said she finds time to do what she needs to do and is lucky to have a team at her office that keeps things running smoothly.
Weis has sat on the commission since 2014. She was appointed to a four-year term and then appointed to a second four-year term in 2018.
The commission takes care not to consider political affiliations of the candidates, because the court is supposed to be nonpartisan.
"This is not a political thing," Weis said. "When these people come up there, I have no idea what political party they are, and I don't care. What I'm looking for is the brightest and the best, the person with the greatest integrity, the greatest legal minds, and a temperament that will work well with other Supreme Court judges — that's important. We can't have prima donnas who want their way on the Supreme Court all the time. It just won't work."
On Thursday and Friday, each candidate will have a 20- to 30-minute interview with the commission, and those interviews are open to the public.
Johnson officially left the court on Sept. 8. The commission must choose the three nominees by simple majority.
Their deadline is Nov. 7, and Gov. Laura Kelly must make her appointment 60 days after she receives the nominees.
Nuss will retire Dec. 17. The application deadline for his seat is Nov. 14, so the commission hasn't yet received applications for his position.
But Weis said it's likely many of the candidates who applied for Johnson's seat will apply for Nuss' as well.
And though Nuss is the chief justice, that distinction will go to the justice with seniority in terms of continuous service, which currently appears to be Justice Marla Luckert.
Originally written by Megan Moser of www.themercury.com.
Please follow and like us: