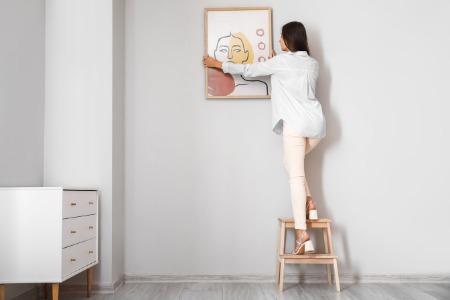 Buying a home comes with great joy. As you settle in, it will be important to make your house your home. One way to do this is by decorating the walls with tasteful art and paintings.
There are different types of wall art, including paintings, prints, photo murals, poster art, custom wall art, and sculptures. You can choose the one that suits your personal style or complements the decoration of your home.
Tips to choose wall art for home
When decorating your home, it's important to know how to choose the right wall art and there are a few important points to keep in mind. Noble Portrait inspired us with some elegant ideas.
Choosing the right type of wall art is highly dependent on your personal taste and preference. When looking for new wall art or artwork to decorate your home, you need to consider size, scale, materials, color, and patterns.
For example, consider the following:
The form and style of art are incredibly important. You should carefully examine your options and select based on your preferences. If you love traditional art, folk art using rich colors could be a great option. Conversely, if you love contemporary art, check out emerging artists for a modern masterpiece.
Size of the wall vs size of the painting. Calculating the size of your walls compared to wall art is another factor that determines the beauty of your room. If your wall has a large space, choose a large and broad piece. However, if your wall doesn't have a lot of free room to experiment, try a small but focused piece.
The style of the house may dictate what decor it needs. For instance, a traditionally designed house goes well with traditional décor, while a modern home goes well with modern art. The same rule applies to colors. Whiter and more eccentric colors go very well with modern style houses, while darker, deeper colors are more prevalent in traditional homes.
Budget expectations. If you are on a tight budget, you should look for inexpensive and affordable pieces of artwork. Choosing affordability does not mean you are choosing poor quality.
Types of wall art to choose from
There are, of course, varieties of wall art you can choose from. You can go for something classic, like a painting, or a slightly more edgy one, like a sculpture. Broadly speaking, there are five types of art. You can choose one of the following types based on general classification, depending on your taste and style:

Classical paintings: These are very traditional paintings and are usually painted on a flat surface such as a wall or canvas. They can be very expensive but are a great way to add a bit of class to any room.

Sculptures: Sculptures are a great way to add some personality to your walls. They come in all shapes and sizes and can be very realistic or abstract. They can be expensive but are a great way to add some excitement to a room.

Photo murals: A mural is a great way to add a bit of nostalgia to your walls. They come in all different styles and can be made to look like anything you want. Pricing on photo murals can vary based on the frames you select but are a great way to add personality to your space.

Poster art: Poster art is a very popular type of wall art. It is usually very colorful and eye-catching and can be used in any room. Pricing for posters will vary, but it's a great way to add personality to your space.

Custom paintings: If you are looking for something unique and personalized, you can always opt for custom paintings. It's a great way to add a little more personality to your space and can be made to look exactly the way you want it to. Noble Portrait is a great resource for custom paintings and custom portrait paintings.
Which type of wall art is right for you?
There are so many types of wall art to choose from and deciding which one to buy can be overwhelming. Whether you're looking for a sophisticated addition to your home or want something that will dominate the room, there are plenty of options to choose from.

If you are looking for something that will be used regularly, a piece of art that is fixed on the wall is the best choice. You can find both traditional and contemporary pieces, and they will look great in any room. If you're not sure what you want or are on a budget, you can opt for a detachable unit, so you can change it up with the seasons.

Whatever type of wall art you choose, remember to choose it carefully as you will have it in your home for a long time. A few prerequisites are worth mentioning here:
Be sure to measure the wall before buying art.
Decide what type of art you want and research different art forms to find the perfect fit for your home.
Be sure to ask the artist if they will be doing any custom art.
Be prepared to pay a little more for high-quality art.
Conclusion
When buying a home, it's important to think about the decor. Wall art is an important way to add personality to your home. There are many types of art you can choose from to match any style of home.
Before purchasing any piece of art, it is important to consider your budget and the size of the wall. You also want to make sure the art will match the style of your home. Once you have determined the style of your home, you can start looking for the right piece of art.