Locally known in Powassan as "Hummingbird Realty", Realty Executives Local Hummingbird Inc., Brokerage is expanding but staying true to its local and family roots.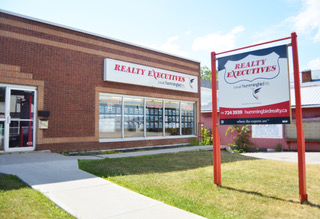 "Having the opportunity to learn the family business from an award winning Realtor has provided a unique experience and has fast–tracked my career into the real estate market" says Nicholas Kunkel licensed Sales Representative. 
Nicholas Kunkel joined the brokerage as a licensed Real Estate Sales Representative. 
Hummingbird Realty was founded by Patricia Kunkel in 2013 after several years of working the local market under other brokerages. According to Patricia, it was the desire to provide consistent and personal service to all its clients without corporate or brokerage restrictions that fueled her desire to own and operate her own brokerage. 
In addition to the normal operations of a Real Estate Office many Powassanites have discovered the hospitality offered at Hummingbird during the Parade of Lights and the Maple Syrup Festival. Hot drinks, assorted treats, and the ever present live music are offered free of charge in a warm welcoming environment. 
In 2016 Hummingbird Realty acquired the franchise rights to Realty Executives in the local area and began operating under that banner. The expanded market exposure has resulted in positive results for Patricia and her team. 
With Patricia and Nicholas working diligently to provide top–notch service to their clients, coupled with the strong influence of their social media presence, Hummingbird hopes to continue making a difference to its clients in the real estate market.
A further expansion took place for Hummingbird in 2018 with the purchase of a Matterport 360 3D camera and the hiring of media staff and graphic designer to facilitate maximum use of this cutting edge technology. This daring step beyond the average has resulted in the brokerage having its best year ever. The ability to market more properties and sell more properties faster, has pushed the local brokerage ahead of the pack. Already part of the Hummingbird team, late in 2018. 
With much more in store for Powassan, the Hummingbird Team invites you to "pay attention for upcoming announcements". 
originally published in The Nipissing Reader.