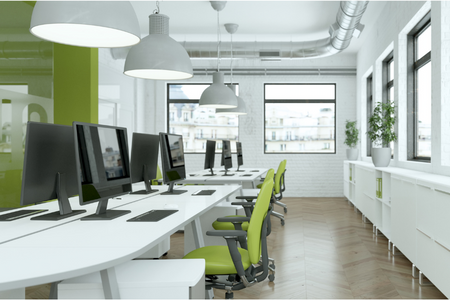 By 2030, emissions from commercial buildings will rise by 1.8%. What are commercial construction companies doing to reduce this figure, and how is it affecting the market for commercial office space?
The commercial office real estate sector took a hit following the pandemic. Is the emergence of green design a potential aid in the sector's resurgence? Keep reading about green design and its effect on the commercial office market.
What is the Relationship Between Green Design and the Commercial Office Real Estate Market?
The commercial office real estate market is still recovering from the events of the pandemic. Businesses are choosing to opt for remote and hybrid work models, which lessens the demand for office space.
The Journal of Real Estate Finance and Economics found that energy-efficient green buildings had superior rental rates and higher occupancy levels. Green buildings could present a solution with the commercial office and real estate market still shifting.
Businesses that have switched to hybrid work models are looking to downsize their office spaces. By investing in green design, real estate companies can offer smaller office spaces with more energy efficiency, reducing costs and the carbon footprint for businesses.
Commercial office real estate investors and agents could generate more leads by procuring and marketing green properties to their commercial clients. Next, we will discuss the top components of a green design commercial office space.
What Makes Office Space Green?
There are many ways you can make your commercial office spaces greener and better suited to the hybrid work era. Here are the top green features for commercial office space.
No More Assigned Office Space
Eliminating assigned office space makes commercial office buildings greener and more suitable for hybrid work. Employees visit the office for collaboration and communication and do not visit the office daily. It would be redundant for these employees to have a private office. More and more commercial offices are implementing flex spaces, which can be used for many purposes. Employees sit in teams in these collaborative spaces, and everyone in the company can utilize the space.
Why are flex spaces greener? Several factors make flex spaces greener:
More natural light – with open office spaces, fewer walls allow more natural light to flow through the area, eliminating the need for artificial lighting. The abundance of natural light in office spaces will also benefit employee productivity and mood.
More efficient HVAC systems – if your office consists of one multi-functional space, commercial tenants can make the most out of their HVAC system, managing the temperature in the space more efficiently.
Space that can be repurposed – by providing open space that can be repurposed for various needs, there will be less reason to renovate or alter the area down the line. You can easily repurpose empty spaces to suit business needs.
Glass Walls and More Natural Light
Green office design creates an abundance of natural light to minimize the need for artificial lighting. Natural light helps to improve focus, productivity, and mood, which makes natural light even more of an asset in the commercial office market. Glass walls throughout the office and large wall-to-wall windows not only make the space more attractive but they make it greener and more conducive to a productive workforce.
Eco-Friendly Materials and Furniture
The carbon footprint of office space doesn't just concern daily operations in the area and the materials and processes involved in constructing and designing that space. Sustainable and eco-friendly design, flooring, and eco-friendly office furniture can contribute to making a commercial office space greener.
Solar Panels
Implementing renewable energy sources is one of the best ways to make your office spaces greener. By implementing solar panels, you can ensure that the commercial office is not wholly reliant on non-renewable energy sources, significantly reducing the long-term carbon footprint of the building.
Building Management Triggers and Access Controls
You can repurpose security tools in commercial office buildings to perform energy-saving functions.
Access control systems installed throughout the building prevent unauthorized users from entering spaces. If access control integrates with IoT devices, you can ensure room heaters, lighting, and appliances are off when someone enters the space. Smart building management is an attractive feature for commercial office tenants, significantly reducing their monthly overheads.
Micro-Filtering Plants
An emerging trend in the green commercial office industry is the introduction of micro-filtering plants to minimize air pollution. Many designers incorporate plants into building interior design and exterior design to help create cleaner air and mitigate the building's carbon footprint. For instance, many facilities implement green roofs and incorporate plants into the exterior building design.
Summary
Green office buildings present an opportunity for commercial real estate to thrive, taking advantage of the demand for spaces that facilitate hybrid working. Buildings with more energy-efficient innovations have more substantial occupancy rates, and commercial office investors could benefit from investing in green offices.
Please follow and like us: