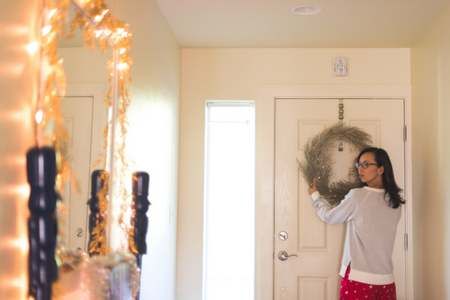 Deck the halls! Now that the season is upon us, it's time for you to take out that tree and spread some good cheer. Decorating for the holidays does not need to be stressful or generic, either. Here are some tips to help you decorate your home for the holidays.
Don't Blow Your Budget Too Much
Sure, we all dream of covering our homes with lights, having a giant Santa outside in our yard and turning our residence into something straight out of the North Pole. However, make a budget and stick to it. After all, it would be best if you still bought gifts.
In some cases, less can be more. If you want more decorations, you can also wait for sales. January is an excellent time to buy discounted holiday merchandise. Only bite off what you can chew, be it the budget or how much you're willing to unpack, decorate, remove, and pack again.
Pick a Theme
The best way to decorate for the holidays is to think of a theme. For example, do you want whites everywhere to give your home a winter feeling? Do you want blues to symbolize ice or Hanukkah? Also, what about reds and greens, the classic Christmas colors? Centering around a theme can give you an excellent idea for decorating your home.
The right theme helps to make a house shine, and also doesn't feel too crowded and busy. Plus, it helps make the place look organized, and not tacky.
Decorate Major Surfaces and Areas
If you want to decorate only a little, stick to the significant areas. Let's look at some examples.
Table
Adding a festive table covering can give you some holiday cheer. After all, this is where you and your family eat daily, so giving it a covering, a candle, and other decorations will make it stand out.
The Windows
A window is one of the first objects to draw your eye when you enter a room. Decorating the window can be a great way to spread some cheer. For example, you can hang a wreath over it, change the curtains to something more festive, and burn a celebratory candle in front of it.
The Door
Putting decorations on your door will tell everyone your home is feeling festive. You can put a classical wreath over it or use a doormat that promotes the holiday spirit if you're feeling different.
Inflatables
Holiday inflatables are becoming more popular, and it's easy to see why. They are relatively affordable and are noticeable to anyone who passes your home. There are numerous options to choose from, including snow globes and reindeer to cartoon characters such as the Grinch or Charlie Brown.
When you set up your inflatable, do it in an area where nothing can damage it. Use weights or tie it down as winds can blow it away. When you're done for the holidays, roll it up and store it in a dry place where pests cannot damage it. Patch up any holes as soon as possible if you want your inflatable to be at its maximum height.
Fragrances
It's not just what you see but what you smell also. Purchasing fragrances such as gingerbread, peppermint, pine tree, or similar can make your home smell like the holidays. Whether you spray your home or plug something in, the smell can make the holiday feel festive.
A Bowl of Candy
Another way to bring in the holiday cheer is to put a festive bowl on a table and fill it with your favorite sweets. Peppermint chocolates, peanut brittle, and other delights will give any visitor, be it a friend or family member, a delicious treat to chow down on this season. For a healthier option, fill the bowl with some winter fruit.
Make it a Team Effort
To make holiday decorating simple for you and to give you more ideas, do it with a team. Have your spouse, kids, other family members, and friends join you with your holiday decorating shenanigans. It's a great bonding activity and one that can remind you what the season is about: spending it with those you love.
Parting Thoughts
These are some tips to help you decorate your home this holiday season. Always remember that while a home can capture the aesthetic of the season, it's ultimately how you spend it that brings in the holiday spirit. So call your loved ones, invite your friends over, and do something for a stranger. Together, we can spread the joy this year offers. We hope you have a wonderful holiday season!