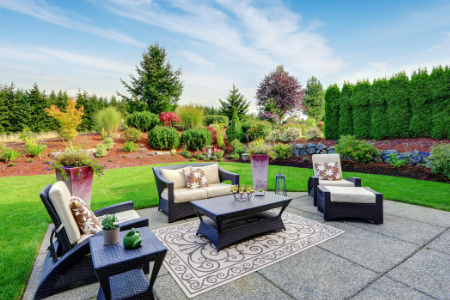 Spring is a time for general renewal, and what better place to start than your own backyard? As everything comes back to life, you want to make sure that your own corner of nature is in the best possible shape. After winter, when your backyard didn't play a major part in your day-to-day activities, you might consider decluttering it and finding new ways to keep it organized for the upcoming summer, whether you're ditching some of the outdoor items for the yard or continuing to use them.
Here are some ideas to help you get your backyard in shape:
1. Clear the Backyard
Clearing the backyard can be intimidating, which is why you should split the process into two steps as follows:
Go Through Large Backyard Items
Check your garage, shed, and greenhouse (if you have one) for all their contents. Decide which items are still in good shape and which can be donated or thrown out. You might discover you have more patio furniture than you need this spring and summer. You can fit some of it in your shed, but if there isn't enough room there, you can always put it in self-storage. Make sure to explore storage prices to see what solution is the most economical. For example, renting a self-storage unit in Miami costs around $182/month and may not warrant keeping extra furniture.
Moreover, go through the outdoor toys and check if they are still in good shape. If your child has outgrown them, you can confidently dispose of them. If the swing set, the slide, and the trampoline are still usable, you can donate them to your neighbors or take them to a donation center.
If you still have small children, keep the toys that are in good shape. For smaller toys, create a storage system – add a toy box where smaller items can be stored once the children are no longer playing with them.
What about your hot tub? If you're no longer using it, you can either dispose of it or take it to a donation center. However, if you're a passionate DIYer, you can consider some creative ways to repurpose your hot tub. You can spray paint it and turn it into a mini shed for some tools if you don't have a shed already.
Check the Smaller Backyard Items
Once you get the larger items out of the way, it's easier to focus on the smaller ones. Inspect the gardening tools for rust or broken pieces and discard those that can't be used anymore. The same goes for broken pots – broken ones can look unsightly and let's be honest, when will you make the time to fix them? Recycle them (if possible) or throw them away.
You might also want to check the garden hose. If it shows signs of deterioration, you're better off replacing it with a new one. This time, find a storage solution for the times when you're not using it. A smaller decorative chest could do the job perfectly!
2. Tackle the Lawn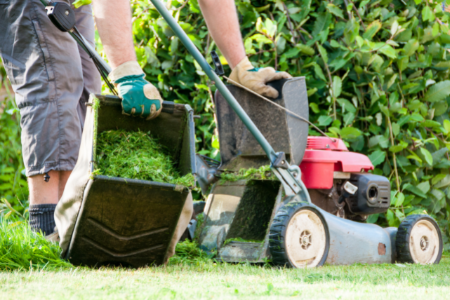 With clutter out of the way, you can easily focus on your lawn, which is the backdrop of your backyard. Mow the grass, making sure that rocks or smaller toys don't get in the way. Next, weed out any spots where the unwelcome plants have grown. If you have roses or any other bushes, now it's the time to trim them to make sure every corner of your backyard gets the TLC it needs. Not to mention, having a well-landscaped lawn can increase your home value.
If you live in an arid area and your lawn is sporting brown spots because of drought, you could consider lawn alternatives. Artificial turf, for instance, requires zero watering and less maintenance than real grass. Besides, you are also playing your part in conserving water and caring for the planet if you go this route.
3. Start a Compost Pile
Once you've mowed the lawn, trimmed all the bushes, and picked up all the dead leaves from the previous season, you can take this opportunity to get started on your own compost pile. Pile up dry leaves, twigs, and any charcoal left from the previous season. This might go well if you've switched to a gas grill and you now have the charcoal ash on your hands.
4. Spring Clean Walkways and Decor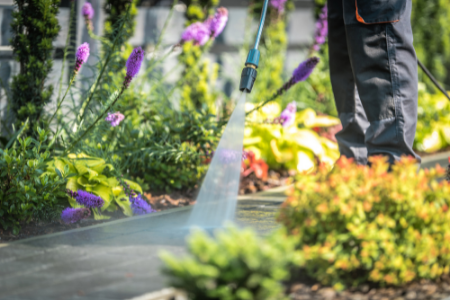 Springtime is also a good time to tackle other areas of your backyard too. If you have a stone walkway or a cement patio, you can power wash it to give it a refreshed look. Additionally, your backyard might sport statues that are most likely in need of cleaning. If you're not sure how to clean cement statues, you can consult this tutorial to help breathe new life into your outdoor décor.
5. Reorganize Your Outdoor Kitchen
If you have a larger outdoor area where you entertain or an outdoor kitchen, now is the time to reorganize it. Keep the essentials close but utilize drawer organizers and baskets that you can put in a cabinet to prevent clutter. This will keep your counter free and ready to entertain your next guests!
6. Keep Deck Accessories Stored
Invest in a deck box so that you can put cushions and blankets, matches, and more away. This is perfect for daily storage or for rainy days when you don't want your outdoor paraphernalia to get wet (especially if your deck isn't covered). Additionally, putting away items you don't use all the time will keep the space tidy both for your family and for your guests.
7. Create an Organization System for Fire Pit Essentials
Even though fire pits require very few items to function, you still need to keep matches, wood, and kindling on hand. You could keep them somewhere on your patio, but there's a chance the area will feel cluttered again. Instead, you can consider a storage basket or a lidded container to keep the fire pit essentials dry and ready to use.
8. Add Finishing Touches
If you're a big fan of DIYing, you can think about adding recycled yard decorations using bits and pieces of old tools, or you can paint various stones to create your outdoor collection of stone pets. Additionally, hanging baskets and newly potted plants next to a lovely herb garden can enhance the look of your backyard. They will provide a pop of color and style to your outdoor space. Make it your own, and the place will feel warm and welcoming to your guests.