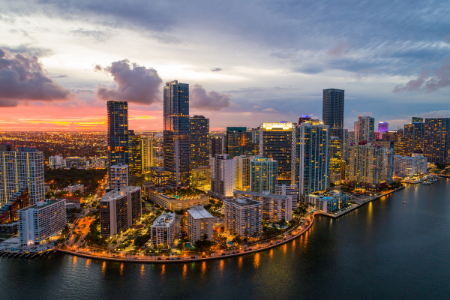 Miami is an energetic, vibrant city full of fascinating art, fantastic food, and diverse cultures. Whether you're drawn to this Florida city for its outdoor attractions or its party scene, there's so much to experience that you'll find it hard to be bored!
There are many reasons for moving to this city, so let's look at what you should expect, and how you can best prepare for this process. Before you pack up your moving truck and high tail it to Miami, here's what you need to know.
Expect to Find a Diverse Population
The people of Miami are a multicultural crew! About 70% of the city's residents are white Hispanic, 13% are Black or African American, and 13% are white. And over half—56%—of residents come from another country, compared to a national average of just 13.7%.
With such a large Hispanic population, it's not surprising that Spanish is spoken frequently, with 66% of the population speaking the language at home. While many also speak English, it's a good idea to pick up at least the basics of Spanish before relocating to Miami.
Research the Cost of Living and the Rental Market in Miami
Major cities usually come with a higher cost of living. Miami is no exception, coming in at 14% above the national average. The average rent for a Miami apartment is $1,998, but this will vary widely depending on the neighborhood. But the cost of living is still lower than many other major cities, like Boston, Washington, DC, and Seattle. And with no state income tax, Florida residents can keep more of their income than in many other states. 
It can, however, be a challenge to find a well-paying job in Miami. Wages tend to be lower than in many other cities, so it's a good idea to have a job lined up before you relocate. 
Contact a Real Estate Company
If you have a job lined up, or if you are certain about moving to Miami, then contact a local real estate company to help you browse through the many options. Give them the list of your wants and needs, starting with what's most important: location, size, budget.
Then, you can tell them what exactly you are looking for, and they'll present you with the options. It would be much easier to have someone local deal with this and prepare the next steps.
Ask for Remote Showings
Especially if you're moving from a different state, coming to showings and managing seeing a lot of apartments in a short time brings unnecessary stress and work. When discussing your move with the local real estate company, ask for remote showings so you can filter through the many available apartments and figure out which ones are not a match for you. Then, when you have just a few options left, you can schedule a live showing and make sure the apartment you want to see fits your needs.
Sign the Lease
You've seen the options, browsed through the offers, and managed to narrow it down to just a few apartments. When you come to the showings, it could be a good idea to bring all the necessary paperwork to start the process of signing the lease. Having it all prepared not only sends a good message to the landlord about your commitment, but it's also efficient to get all these steps done in one trip.
Additionally, when signing the lease, make sure to discuss all the aspects that might concern you, including issues related to the security deposit, all the important dates and costs you should be aware of, any community policies, etc.
After you have this part taken care of, you can go back home and start packing for your move. Let's discuss how you can make that part more efficient and easier to deal with.
Moving to Miami
When you're preparing for the move, it's essential that you start with a decluttering session. There's no point in packing everything you own just to get to your new home and realize you don't need half of the things you brought. So, start by sorting and getting rid of the things you no longer need.
Before you pack everything and hit the road, schedule a cleaning company to come to your new home and prepare the space for your belongings. Moving into a freshly cleaned place will give you a great head-start and help you better manage your move.
Then, make sure you create a checklist with everything you need to pack. Pack your items by room so that you can sort the boxes as they come in and then easily unpack everything. Also, create a bag of essentials that you can access easily on the day of the move. When everything gets hectic, having all your go-to items in one accessible bag will help you stay calm.
After all your things are in the apartment, start unpacking and putting things back to their place. You might be tired, but this will significantly reduce the risk of having boxes of stuff lying around for weeks after your move. Just power through and get it over with.
Welcome to Miami!
Now you've found the right place, all your items are in their place, and you are living in Miami. After you're all set in the new apartment, it's time to really explore and enjoy the city! Here are some of the things you need to know about the Magic City:
Miami Beach & South Beach Are Just the Beginning
Miami has 16 different beaches, including the infamous Miami Beach and South Beach with their "see-and-be-seen" reputations. While these attractions come with their own beauties, they're also major tourist draws.
Residents often like to visit Surfside for its small-town feel and tranquil vibes or Haulover Park Beach, which includes a clothing-optional area for the adventurous. If you're looking for outdoor fun, Crandon Park Beach is the place to go. Vendors offer kiteboards, kayaks, and stand-up paddleboard rentals so you can hit the water. There are many options for you to relax and enjoy.
People Operate on "Miami Time"
Miami is a car-heavy city, so traffic can be intense. As a result, it's not uncommon for people to be running late for just about everything. Give yourself extra time to get from place to place but understand that there's generally a relaxed atmosphere about timeliness. It even has its own special name: Miami Time.
It Has an Exciting Art Scene
Miami may have made its mark with its beautiful beaches and bumping clubs. But the city's art scene is not to be missed.
Home to one of the four locations of Art Basel, a famous international art fair, Miami attracts visual artists of all kinds. The Perez Art Museum exhibits modern works from the 20th and 21st centuries. And for an outdoor art experience, visit the Wynwood Walls, a street art museum of over 50 vibrant murals.
Plus, there's fantastic Art Deco architecture to be seen, especially on Miami Beach where a boom of hotel, mansion, and restaurant construction between 1923 and 1943 created a one-of-a-kind neighborhood. For enthusiasts, there are many beautiful and inspiring places to visit in the city.
Be Prepared for Bugs After Moving to Miami
In more temperate climates, bugs die off during the winter and re-emerge with the spring. Not so in Miami, where the year-round heat and humidity are a perfect environment for creepy crawlies. Termites can wreak havoc on your home's framing, while mosquitoes can make outdoor enjoyment an itchy pain.
But don't give up on Miami just yet! Factor a regular pest control service into your budget to keep termites, palmettos, and ants at bay. To ward off mosquitoes outside, position yourself in front of a simple fan. Tiny mosquitoes have difficulty flying against the wind. Paired with citronella candles and a natural bug spray, you can still enjoy the great Miami weather without becoming a feast.
The Food is Divine
Foodies don't need to worry about finding something good to eat in Miami. The city is often associated with its Cuban cuisine, with abundant fresh ceviche and delicious Cubano sandwiches available on every corner.
There's more to discover here, too, with both traditional and inventive Pan-Latin cuisine blending in this cultural melting pot. And on special occasions, there's no shortage of high-end cuisine from celebrity and award-winning chefs like James Beard-winner Michael Schwartz and Top Chef-winner Jeremy Ford.
Discover Miami!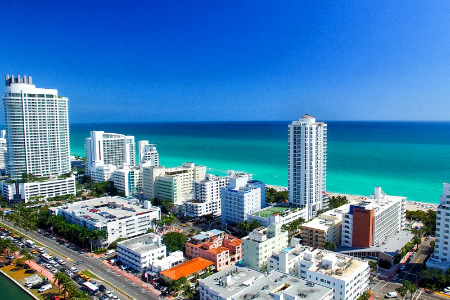 There's so much more to explore in Miami. Live music, boutique shopping, gorgeous national parks, historical tours, quick weekend trips to the Bahamas—life in this subtropical city is certainly worth the price! So, now that you're prepared for the whole journey of finding an apartment, negotiating, signing the lease, and moving to the city, you're ready to enjoy the process.
We hope you have found this guide useful, and you are now excited about this new chapter. Good luck!