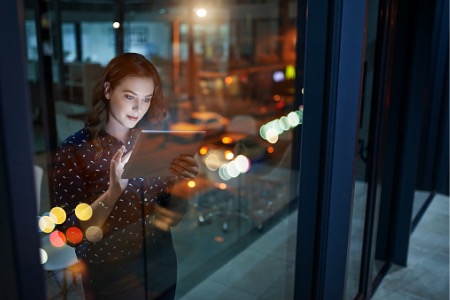 The real estate industry is undergoing rapid change like never before. The pandemic has significantly reshaped how agents, third-party providers and clients transact. Clearly, the need for digital real estate tools has quickly escalated from a "nice to have" to a critical "must-have."
From the West Coast to the East Coast, agents and brokers are reporting more buyers looking to flee the cities and move to the suburbs. But with inventory as tight as ever, multiple bids are increasing while days on market linger in the single digits.
Today's buyers and sellers don't only expect a frictionless, digital transaction experience — they demand it. With nearly every product and service available digitally on demand, consumers are used to clicking to transact, from reserving travel and buying a car to ordering coffee.
Recently, we polled top agents and brokers nationwide and asked them how they're delivering that ultimate customer experience in today's fast-changing environment. Here are their top tips:
1. Expedite the Offer
In California, Daryl Rogers, President of Better Homes and Gardens Real Estate | Reliance Partners, Roseville, CA, finds well-priced, quality homes are listing for an average four days on market. 
In Tulsa, OK, licensed agent and dot-Certified Technology Trainer and Consultant Carolyn Thompson is working a market "unlike anything I've seen over the last 20 years in Oklahoma."
In Atlanta's metro area, good properties priced well are going into contract "within minutes," says McClelland whose brokerage has written more contracts than any other month since June 2006 and, this past July, surpassed July 2019 by about 25%.
And to the northeast, Candace Adams, President and CEO, Berkshire Hathaway HomeServices, New England Properties, New York Properties and Westchester Properties, reports record demand as New Yorkers make a mass exodus from their urban dwellings in search of more isolated, private pastures throughout Connecticut.
"In many of our markets, properties are selling so quickly, we're barely able to get them listed on the market. Homes that are priced well or entry level are easily selling within a week or two," Adams says.
This deluge of buyer demand coupled with tight inventory nationwide makes submitting a fast offer absolutely critical in today's market. For Adams, dotloop has been an essential resource to not only keep her agents operational during the pandemic but also competitive in today's tight sellers market.
2. Focus on Building Relationships
With inventory down 24% YoY and less than three months' supply across the board, Berkshire Hathaway HomeServices broker Ann King coaches her agents to continually build relationships.
"People want to work with who they know and trust," says King. "If you build that relationship, they will come back to you."
Thompson finds agents need to establish that relationship and rapport with the customer first before adding too much of the tech piece. She'll typically spend an hour with a new client, explaining what the entire transaction process will look like, from the contract to the financials. "They have questions they don't even know they have and they look to you as an expert," she says. 
Then, Thompson asks her new clients to fill out the entry paperwork on dotloop. "I tell them, 'I want you to try out the platform because when you find that house we have to move quickly.' Because they've already experienced what it's like to sign something in dotloop, it gives them the confidence to follow through with the offer. Some of these offers we have to execute in 30 minutes and, with dotloop, you can do it."
3. Create the Ultimate Virtual Video Experience
Imagine a real estate hub where a client and her agent enter a slick video conference space, slip on a pair of virtual reality goggles to experience a listing in "6D" before viewing additional listings on a large, four-quadrant HD screen. If the client should decide to pursue a property, she has access to a suite of third-party providers, including title, escrow, mortgage, financial and insurance officers.
Down the hall, an adjacent 30- x 30-foot media studio offers real estate professionals a space to run a podcast, shoot a video, take a headshot and create 3D renderings of new construction.
The best part? No one has to step foot outside their home because everything that can be done in the physical realm is enabled from a mobile device.
Cohn, who recently invested in the 3D virtual reality imagery company getvrly.com, which offers digital marketing services including Matterport, now offers customers a 3D and "6D" virtual reality experience that enables customers to see things otherwise missed, like a peek inside the refrigerator, under cabinets and interiors of closets.
Even if building an all-in-one, high-tech real estate center isn't in your future plans, there are virtual video features that any agent can use to deliver the ultimate customer experience, including 3D and virtual video, digital listing presentations, and digital transaction features, like pre-filled Templates and Tasks Lists for faster transacting.
Since the beginning of the pandemic, the industry has been promoting use of virtual tools to show homes and, most agree, the trend is here to stay.
First, the ability for a buyer to narrow their home search from their phone or laptop is more than convenient and saves both the agent and client hours of driving time. Two, today's video and imaging technology is so advanced, clients are more likely to click on a 3D tour and see details they may not have noticed during an in-person tour.
4. Offer a One-Stop Transaction Experience
Customers want quick, convenient and seamless transactions, so having everything, from a safe digital escrow transfer with Earnnest to instant referrals for a home warranty or lender, on one digital platform avoids the customer having to look outside to complete the deal.
Thompson, who trains agents across the U.S. on dotloop's platform, finds dotloop's Templates, a huge help in moving the transaction forward. "It's great when you've already built out those Templates and they're established. So when you need to make an offer fast, you can grab the Template, insert the property address, load the people and just fill in the blanks in the contract," she says.
Wire fraud and managing paper checks are not a worry with dotloop's latest integrations partner, Earnnest, a digital way for buyers to send their deposits via a bank-level encrypted digital transfer directly from the platform. The agent simply clicks in their dotloop account to send a request to the buyer, who can then transfer the funds in a matter of minutes.
5. Provide True Concierge Service
True concierge service may mean tending to the details or doing the "heavy lifting" for the client.
As Jim D'Amico, President/CEO, Century 21 North East, reminds, "The home buying and home selling processes are the most stressful purchases and sales in a person's life. It's a major life investment and should be treated as such." Add the uncertainty and stress of the pandemic and it becomes clear that "information is paramount" as the customer experience draws more into focus.
For Rogers, who serves California's Gold Country about three hours east of the Bay Area, that extra level of information is critical to serving his many Bay Area customers looking for a simpler, non-urban lifestyle in an unfamiliar region. In this case, his agents need to educate the client about the neighborhood and not just sell the home.
"Our lifestyle brand is not only about looking for a house," Rogers says, "so our questions may be, 'Do you like to paddleboard?' 'What activities are there for kids?' and 'What type of community are you looking for?' Most of these customers know nothing about the local area, so our agents have to educate them on how far the schools are and where the rivers and lakes are."
6. Meet the Customers Where They Are
Some customers prefer email. Others prefer texting, while some still feel more comfortable conversing on the phone. However your customers prefer to communicate, you're likely to get a faster response when you communicate with them in their preferred style.
"Great agents meet consumers where they are," says McClelland. "If they call you, call them. If they email you, email them back. If they don't want to leave their house, meet them on Zoom. It's all about meeting the consumer where they are."
As consumers increasingly choose texting as their preferred form of communication, dotloop's text Messenger on the mobile app has played a key role in expediting offers and moving the transaction forward by enabling agents and clients to share and eSign contracts, get instant notifications and, as McClelland notes, "give the agent the flexibility to write an offer in minutes and send it to the listing agent before the customer has even left the house."
7. Recruit for the Long Term
More team leads and brokers are finding the type of tech tools they offer their agents, the better results they have with recruitment and retention. And the happier the agent, the happier the client.
"When we sit down with an agent who's interviewing three or four companies before they make a decision and they choose us, I know that's a direct reflection on the tools we're offering," says Rogers.
McClelland also finds new recruits respond favorably when they're extended a package of digital tools and resources, like dotloop, which they've used since 2014, and Zoom, which they now use for training, to hold meetings, conduct listing presentations and host open houses.
In the end, great customer service is really "not about making money off the customer, but rather,"Cohn says, "about treating your customers with the goal of getting them to talk to their friends about you. Become the value conversation."