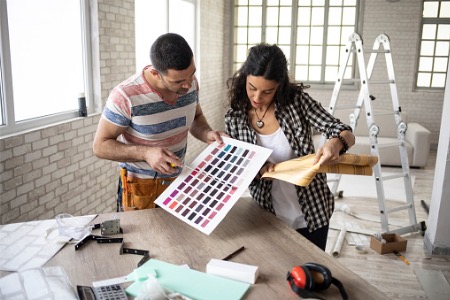 Color is an essential tool when crafting any kind of interior design plan. Every room in the home should have at least two colors that offer something unexpected, interesting or harmonious. Modern interior decorators have come with lots of wonderful matching color ideas for home decoration throughout the seasons. Whether you are designing a new home or refreshing your current home, these color combos will make your rooms pop!
1. Magenta and Turquoise
This is one option for the homeowner who likes bold looks and isn't afraid to make that clear. Magenta and turquoise both draw on the same side of the cool color wheel. Yet, they're different shades and tones. When combined, the result is electric. This is a good choice for a room that needs lots of zing.
2. Cream and Terracotta
Soft cream and light terracotta orange are two colors that make any room feel soothing. Consider this one in your dining room to help guests relax and promote conversation. This is a good idea when you want something with a fresh feel yet comfortable.
3. Navy Blue and Crisp White
Navy blue and crisp shades of white are great colors for a summer look. Use powder coating services to paint the walls white. Then add navy blue touches in the form of details like pillows and curtains. The overall look says time at the beach with friends and family. This is a great option for a sunroom or a beach house.
4. Avocado Green and Mahogany
Avocado green is once again in style. The deep tones in this shade speak of places like rain forests that are full of promise and life. Take this color and use it with a rich mahogany brown for a real outdoorsy feel. Use in rooms that invite time for a nap.
5. Grey and Aubergine
Grey tones fade into the background with ease. That makes it ideal as a backdrop for a bolder color. Combining grey with aubergine lends any room heft and style. This is a good option for places where quiet activities come to the forefront. Use it in a bedroom or home office where concentration is required but you want something with a bit of pop.
6. Buttercup and Sapphire Blue
Jewel tones can enliven any room in your home. Sapphire blue stands out to the eye and adds plenty of excitement. At the same time, the eye also needs lots of places to rest. This is where buttercup comes to the rescue. It's a soft shade that keeps it from being just a bit too much and over-stimulating your guests.
7. Raspberry Pink and Bubblegum
Raspberry is one of those shades that add lots of life to any space. Make your little girl happy with a room done up in shades of color. The reddish tones in the raspberry make this room stand out. Raspberry needs a complementary color to keep it from feeling too overwhelming. Bubblegum pink is right and will add to the girly feel of a child's bedroom, playroom or bathroom.
8. Pistachio and Lavender
Pistachio green and pastel lavender purple are a natural combination. Think about fabrics like chintzes that combine both shades for slipcovers. A large sofa with these colors can serve as the focal point. Add in all pistachio armchairs and a matching lavender rug for a unified feeling.
9. Teal and Bronze
Teal is where blue meets green to the benefit of both. Teal is a good choice in a room that gets a lot of traffic such as a kitchen. Bronze highlights add shimmer and shine. Bring in metallic chairs to your kitchen island and paint your kitchen cabinets this pleasing color to give it a clean, modern feel.
10. Ruby Red and Ink
Ruby red is one of those colors that demands attention and yet feels comfortable at the same time. Ink with tones of black and blue and you can add some flare. When combined, the two bring in something that is wonderful for a guest bedroom. Use these if you're someone who really loves lots of saturated color.
Well-chosen colors are a great way to bring in the personality without adding lots of expense. These color combinations can make a room feel dramatic, vibrant or peaceful depending on your style! Take them as inspiration for your dream home.