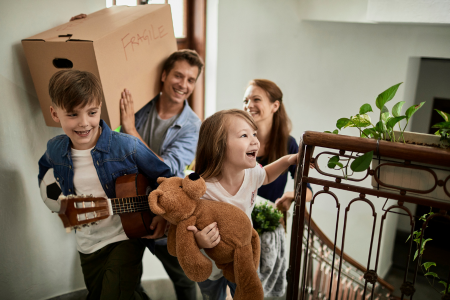 Between the shuffling of boxes and the moving van pulling up, going through a major move with kids of any age can present challenges logistically and emotionally. Summer is a popular time for families to move, as they have time to get settled into the new house before the school year starts in the fall.
As you prepare to list your current home and start the search for your next, talking to your kids about the upcoming process can help them feel engaged with the move- even if it feels scary and unknown to them.
If you're preparing to move this summer, whether around the block or across the country, following these tips and tricks can be helpful to ensure everything goes smoothly and your children feel supported during the process.
Learn about the school district
As you conduct your home search, utilize online resources to learn about the school district each home is located in, such as Great Schools. You will want to know where schools are located with respect to your potential new home. Pay careful attention to details that describe how to register your children before the fall school year starts.
Keep your kids informed
Moving can be a stressful experience for parents and kids alike. One way to help ease children's anxiety about moving is to keep them informed and share with them information to prepare for the big day. By giving them details and answering any questions they have, they can feel at ease knowing you're also there to guide them through the change.
Make a moving plan
Creating a plan for the days or week leading up to the move can provide some organization and stability when things start to get chaotic. Your moving plan can include things like where or what you will eat, where you will sleep when things start to get packed up, and other logistics. This can ensure everyone is on the same page and has a clear understanding of what's happening and when.
Get them involved
Kids can experience a wide range of feelings when it comes time to move. One way to get them excited and stay busy is to involve them in the moving tasks. Depending on their age, some children might be able to handle a small to-do list of tasks like putting toys in a box, sweeping the floor, or other tasks that help contribute to the packing. If possible, letting them pick out their room in the new house can empower them during the moving process, too.
Color-code and organize
Creating a color-coded organization system for your boxes and belongings can help sort things by person and place. When it comes time to unpack the moving van, you'll be able to easily see which boxes belong to which kid and where they should go in the new house. Kids can also get involved in this process by picking out their favorite colors and putting the tape or sticker on their boxes. This can be a fun, approachable way to provide some organization to the moving process.
Pack overnight bags
As it gets closer to the moving day, it can be helpful to pack overnight bags for each family member. You can include essential items like pajamas, toiletries, clean clothes, and more which will help you transition smoothly from one home to the next. You also will avoid digging through boxes at the last minute to find a toothbrush on the last night in your house!
Don't be scared to get rid of things
If it's been a few years (or longer!) since you've moved, there's likely a lot of stuff your children have grown out of or don't need anymore. Moving is the perfect time to go through belongings and donate or throw things out. Whether it is a box of old crayons or clothes that no longer fit, taking the time to sort through miscellaneous items will ensure you are not bringing more than you need into the new house.
Unpack your child's room first
It can be helpful to pack your child's room up last as you're leaving your old house, giving them as much time as possible in it before moving. But, when your belongings arrive at your new house, setting up your child's room first can give them a sense of security in this new environment. By reuniting them with their belongings, they can start to build new memories in this house immediately.
You can stay cool, calm, and collected this summer as you prepare to move with your kids. By taking the time to organize and communicate, you can ensure the move goes smoothly. Before you know it, you will be settled in and enjoying family time in your new house.
Please follow and like us: