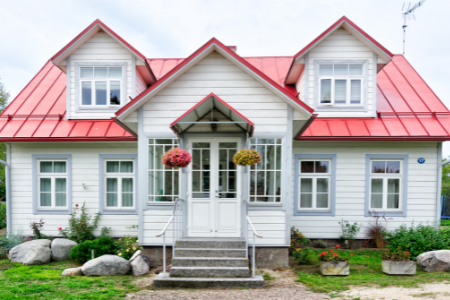 If you're looking to sell your home, or even just give it a much needed lift, curb appeal is a good place to start. Adding a porch or landscaping the front yard are great ideas, but what many homeowners often don't consider is the effectiveness of color. A new color to your home's exterior can completely transform your home from bland and outdated, to attention grabbing and on-trend. Yet you must take some things into consideration before embarking on this project, after all, it could be a worthwhile investment. So, how can you use color to add to your home's curb appeal?
Tie in color with your home's architecture
It would be counterproductive to decide on a color without taking into consideration the architectural design and structure of your home. Some styles and colors simply may not work. If the color of your home doesn't match its original design, it may attract attention for the wrong reasons. There's always a color palette that works best on each style (usually we wouldn't use the same colors for a Victorian house as on a ranch). Also, some homes tend to combine two or more colors, while others look a lot better with one single color or just small accents on shutters or trims.
Continue reading