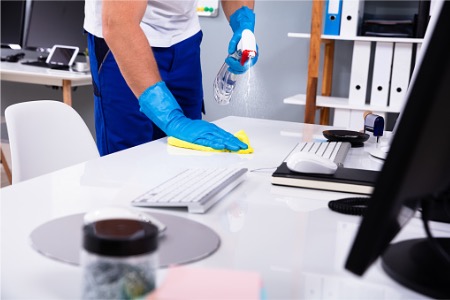 Spring motivates a lot of us to do some much needed deep cleaning. It's a good idea to take a few days to really cleanse your space and revamp your style. Cleaning and decluttering is a great way to start off the new season and fill your time. Not only does it clear your house, it also clears your mind!
Clean Baseboards, Cabinets, Doors, Windowsills, and Walls
Sound like fun yet? These are not typically chores we do on a regular basis, but a lot of crud builds up here, especially in kitchens and bathrooms.
Baseboards and window sills accumulate dust, dirt, hair and can become discolored. You'll be amazed how much cleaner and brighter your space looks with freshly scrubbed baseboards and window sills. 
Don't forget to do the ones in the kitchen, too. Sticky food residue easily accumulates here and can attract bugs when the warmer weather sets in. Wipe down your walls and doors to get off the dirt and grime, especially the parts closer to the floor where the foot traffic is coming and going. 
Dust
Dust everything you see!
This is especially important if you have allergies or have pets. Blinds and vents are notorious for accumulating thick layers of dust. Have you looked at your ceiling fans lately? Chances are they are caked on with dust, hair, dead skin particles and pet hair. Don't forget to change your air filters while you're at it so you won't be circulating in new dust right after you clean!
Go Through Your Closet
We accumulate a lot of clothes over the year from birthdays, holidays, hand-me-downs from friends and shopping. Most of the time we keep a lot of stuff in our closet that we never wear or look at. Make some space in your closet and donate or sell your clothes you don't wear. Throw out those holey socks and undies. Box up your winter coats and sweaters to make space for your summer clothes.
Rearrange the Furniture
If you have the option to, switch around your furniture arrangement in your living room and bedroom! It will make the space feel fun and new. Play around with it to find your personal feng shui. Hang up some new decorations or pictures. Fairy lights also make a great addition to any room by adding soft, mellow lighting.
Bust Out the Vacuum
Most of us vacuum throughout the year, but for your spring cleaning, there are some can't miss spots to go over with your vacuum. Vacuum all rugs and carpet and don't forget to get under those couch cushions! Always make sure you wait till after you finish dusting to vacuum to ensure that all the remaining dust particles get sucked up.
Clean Out Your Fridge, Freezer and Pantry
Take out everything from your fridge and freezer. Wash the interior of the fridge and defrost the freezer. You'd be surprised how much sticky food residue gets stuck well, pretty much everywhere. Next, take everything out of your pantry and toss anything expired or unwanted. Organize food by package shape, food type or any other way that makes sense to you. 
Clean Out Your Home Office
It's easy to let the paper clutter get out of hand. Shred all your unneeded documents, throw out the junk mail, and opt in for paperless billing if you haven't already. Dust the keyboard and around the computer. You'll be able to focus much better with a clear space! This is the perfect task during a time when plenty of us are working from home and need a nice space that allows you to focus.