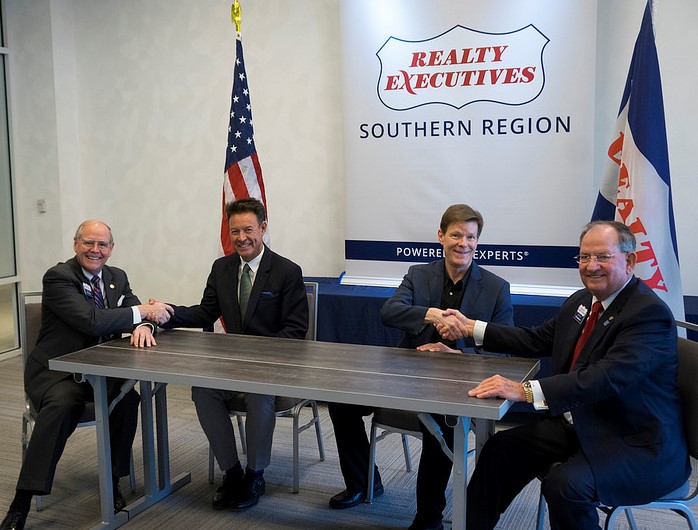 Realty Executives International has acquired the Realty Executives Southern Region, its largest territory covering five states: Florida, Georgia, Tennessee, North Carolina and South Carolina.
This acquisition marks a year since corporate purchased the remaining shares of the company from former owner Rich Rector.
The purchase sets the course for an aggressive company growth strategy focused on acquisition of competitive brands, independent brokerages and Realty Executives Brokers who are looking to retire.
Realty Executives International purchased the Southern Region from their longtime Regional Developers Ken Durkee and Zig Ziegelman.
Durkee and Ziegelman are military veterans and have been with Realty Executives for 20 years and 30 years respectively.
While Durkee plans to retire from the real estate industry to focus on his charitable outreach work, Ziegelman will remain with his Realty Executives brokerage in Lady Lake, Florida.
"We congratulate Ken and Zig for their years of service in both the military and as part of the Realty Executives family," said Patrick van den Bossche, President of Realty Executives International. "We are excited about how the timing of the Southern Region acquisition works perfectly with our growth strategy."
"Realty Executives International's acquisition of the Southern Region will coincide with the launch of an exclusive recruiting campaign throughout the region," van den Bossche said.
This territory represents 16% of the U.S. population. The buy-back puts full control and growth efforts in the hands of the International team.
Realty Executives International's acquisition of the Southern region, coupled with the recent acquisition of Realty Executives Northern Arizona, is the first of many corporate acquisitions that are geared toward providing large brokerages and Regional Developers a retirement plan as the company prepares for aggressive recruiting in these areas, many of which are underdeveloped.
"We had the pleasure of visiting some of the Realty Executives brokers in the Southern Region in late March as part of the transaction and are extremely pleased with the energy and successes of those branches," van den Bossche stated. "We will be working closely with this network of high performing professionals to further expand our presence in the region."
Realty Executives International will be at the Florida Realtors® 2018 Convention & Trade Expo in Orlando, Florida, which will be held August 8th and 9th, in support of its broker/owners, the region, and business partners, as part of its regional growth strategy.