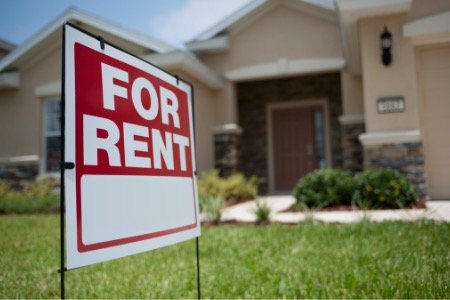 Most investors are interested in improving the value of their asset over time. Investors typically seek both capital growth – I.e. turning a profit when they want to sell – but also maximum rental yield and minimum vacancy whilst holding the asset. The best way to do this is to create maximum appeal for prospective renters in the area.
But this can be tough to do, especially in suburbs or cities that are flat, facing oversupply (too much choice for renters, which pushes rent rates down), or perhaps aren't offering the property type that rental seekers are looking for in that area.
Many different home improvements can be made to the property to increase its appeal and functionality to renters. Today the team at Property Correspondent offer up some innovative ideas to make your property stand out from the pack in pursuit of the best quality tenants looking in your area.
Houses – Install a New Garage Door
This is a big one. Older garages often appear tired to renters and older garage doors often lack the security level needed to protect the tenants' vehicles being stored. Garages and sheds should be in good condition to allow the home to look maintained. The garage door is one of the main features on buildings that influence the aesthetics of the home and the good news is there are many tools available to design your own shed or garage.
Outdated garage doors can become an eyesore on the property and detract from the home's curb appeal. Older properties tend to have an asbestos-ridden, poorly secured garage in an inconvenient location on the property, so introducing a durable, sleek and modern garage at the right spot on the property will protect vehicles and create additional secure storage space, year-round. This is appealing for tenants, especially in areas with high volumes of young-families as the extra storage space is often valued by these tenant types.
Houses – Add a New Roof
In similar ways to how garages can add street appeal, a new roof offers both practical and aesthetic appeal to renters. The roof is one of the main investments in residential buildings and will, of course, protect the home from water damage throughout the year. Installing a new roof can not only increase the asset's value immediately, but modern roofing materials offer protection for decades.
Coupling a new roof with solar panel fit-out can also be attractive to renters and help to make your property stand out from the crowd, thanks to the appeal for renters to have cheaper electricity bills whilst they occupy the property. Metal roofs offer added energy efficiency and can typically last an average of 50+ years before needing replacing. Not only this but as an investor, you could be adding substantial equity by adding a roof. It is not uncommon for houses with new roofs to see their value increase by 15%+.
Houses / Townhouses / Villas – Add a Sandpit in the Backyard
If your investment property is in a suburb with a high concentration of young families and families with children under say 10, consider adding a simple sandpit to the back yard. This simple addition can really make the property stand out and appeal to renters. For example, when a couple with a 5-year-old is considering two properties for rental, both may offer near-identical attributes (e.g. same bedrooms size, yard size, air conditioning etc.), however, a sandpit can be a real differentiator to encourage young families to rent your property.
Adding a sandpit can be simple and as cost-efficient as only a few hundred dollars if done as a DIY job that can be done in an afternoon.
All Property Types – Paint the Home
Adding a new coat of paint to the interior and/or exterior of the property (if it is a house), can enhance the style of the property and allow it to appear fresher to prospective tenants. Painting doesn't need to cost an arm and a leg, since strata-titled properties often do not require strata approval for internal walls (though check-in with your strata manager just to be sure).
You can even DIY this task if the property is vacant, and paint type/color selection is becoming easier than ever for amateurs. Use neutral colors that allow the home to blend in well with the rest of the street/suburb and add a complementary color to the trim and shutters. Another way to make your property stand out is to consider pressure washing the siding to remove dirt and grime that may have accumulated throughout the previous/departing tenant's stay. This will brighten up the look of the home and encourage renter interest.
Using bold colors internally can make the property less appealing to renters as these may not relate to their own personal tastes. Neutral colors that are within the same color palette will blend in well with one another and will give the appearance of a professionally designed home to renters
All Property Types – Renovate the Kitchen
This one appears obvious and probably should be higher up on this list, since the style and condition of the kitchen significantly influences both the value and the rental appeal of the property. As one of the top home improvements to perform, it's important to plan to renovate or replace kitchens appropriate for the suburb and your core target market. Investors are at risk of overcapitalising on kitchens and these rooms can quickly become money pits.
Some cabinets may simply require painting and not replacing, so a fresh coat of paint can give them a cost-efficient facelift. New countertops and a modern backsplash can create an updated environment that has a high level of appeal.
Energy-efficient appliances can also help in marketing to renters, and stainless steel adds both design and durability benefits to a kitchen. Switching out the light switches with a modern metallic cover plate can match the appliances and add further appeal. Depending on the property type and target market, an island bench can create a wow-factor for renters that can elevate your property in their consideration list. These also have the dual marketing benefit of providing extra storage with cabinets or drawers that are used underneath
All Property Types ­­­­– Add New Furnitures
These days, renters give priority to saving the earth more than before, as well as the decoration. You could get potential renters by making use of it. For a fully furnished property, make sure that all the furniture is functional and look new. Planthoues is still popular for home/office decor, an item of wood furniture from Taweesak Furniture will get along and blend with the plants. This gives the property a relaxing and refreshing vibe. 
All Property Types – Install New Flooring
Finally, consider a simple upgrade that can distinguish your rental property from all others. The condition of your floors can determine how much you attract potential renters (and indeed, down the track, buyers should you sell). Hardwood floors are in demand with homes and these increase the style of the interior setting.
Renters often cringe at wall-to-wall carpeting, which wears down easily in areas of traffic and can trap allergens as they set. Good flooring appeal can add 1.5%+ to your property's overall value, as well as make it more competitive in the rental market.