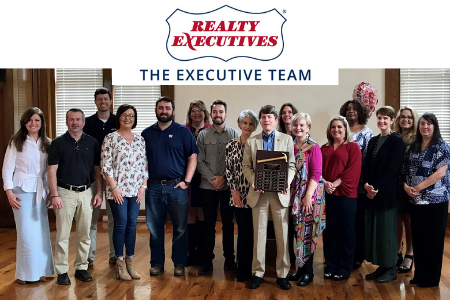 Realty Executives The Executive Team, of Hattiesburg, MS, is proud to announce they have committed to another five years with the Realty Executives brand.
Joining the network in 1999, this renewal marks over 22 years with the international real estate franchisor. The Executive Team has successfully expanded their footprint over the years. The brokerage includes 18 agents in two offices, Hattiesburg and Petal, that serve the communities of Southeast Mississippi. Hattiesburg native and Broker/Owner Jim Stroo started his career in real estate in 1993 with Better Homes and Garden. Opening his own brokerage in 1999, Stroo focused on being the local expert in his market and evolving his expertise.  Stroo joined the Hattiesburg Area Association of Realtors Board of Directors in 1993 and continues to be an active member of the organization, including serving as President in 2004 and 2015.
Stroo is excited to continue his business journey with the incredible agents and administrators on his team. Stroo believes in recruiting only the most qualified and customer-focused agents, so each client is treated as a priority with world-class service during their home buying or selling experience.
"We've made a conscious effort to build a team of true entrepreneurs and professionals who are passionate about their community and committed to clients at every stage of the home process," Stroo said. "I am so proud of the productivity they have shown and am confident that this renewed partnership with Realty Executives will extend resources and tools that have helped enhance their individual businesses and customer service."
Midsouth Regional Developer, Drew Rambo, who is actively working to expand the Realty Executives presence in Arkansas, Alabama, Louisiana, and Mississippi, is pleased to see Stroo and his brokerage continue with the network. The Executive Team is a recognized and trusted business in the Mississippi area and is greatly respected among fellow Broker/Owners. The brokerage has done an excellent job representing the brand with integrity and care.
"Jim and his agents are such an honor to work with and have always been a team that I can use as an example of success, collaboration, and hard work when speaking of the Realty Executives network," Rambo said. "We are excited for this renewal and to see what opportunities lie ahead for The Executive Team."
Realty Executives International is honored to continue to partner with The Executive Team as they grow their business and success.
"Jim has been an asset to our network for two decades and we are grateful for his and Drew's commitment to expanding the Realty Executives reputation in not only Mississippi, but the surrounding regions," Patrick van den Bossche, President of Realty Executives International, said. "Thank you to The Executive Team for continually demonstrating a passion for real estate, a strong work ethic, and a client-centric focus. This is one of the many reasons we call our agents 'Executives'."
For more information or to see homes for sale in Hattiesburg or Petal, visit http://www.hattiesburghouses.com/home.