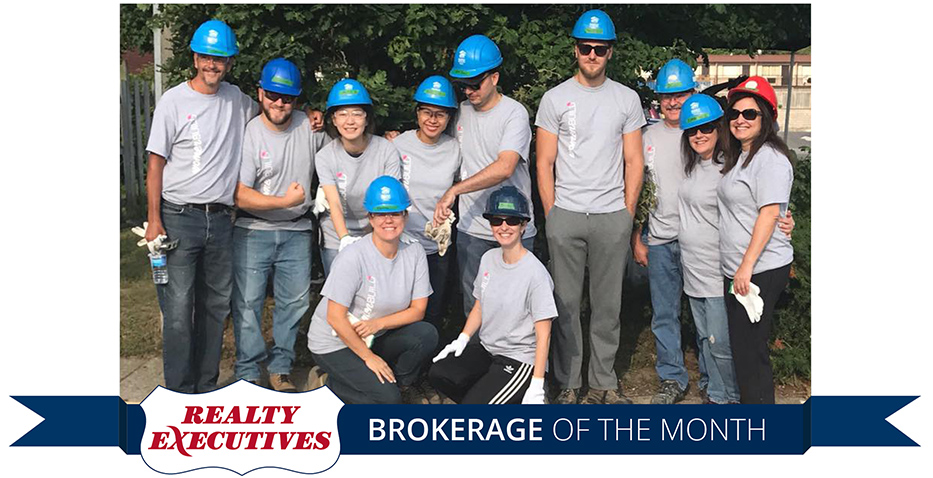 Realty Executives Plus Ltd., Brokerage, serving buyers and sellers throughout Central Ontario, has been named Brokerage of the Month for August 2017 by Realty Executives International. Led by Broker/Owner and President of Realty Executives Regional Inc. Scott Gilmour, Regional VP of Franchise Development Brian Gilmour, and Broker/Manager Carol-Anne Schneider, the brokerage team delivers a visionary leadership style that aims to impact the lives of real estate professionals, clients and community members alike. With a focus on mentorship, training, and building a culture that is second to none, Realty Executives Plus is seeing their efforts magnified in both community impact, local footprint and agent productivity.
On August 21, members of the firm joined forces with Habitat for Humanity Niagara to raise the framework of two homes during one action-packed framing blitz day. Realty Executives Plus raised pledge money to go toward building costs, leveraged relationships with local businesses to heighten support, as well as gathered a team to help build a two-unit, semi-detached home which will open its doors to two families in Niagara Falls this December.
"Leading up to the build, our team used local business video blogs to help raise donations and awareness for the cause. When the big day arrived, there was nothing more than a foundation, but by the time we left at the end of the day, the homes were fully framed, roofed, windows installed and front doors locked. Special thanks to REALTOR® Aneta Fleming who wanted to take advantage of yet another opportunity to bring her fellow Executives together to impact their neighbors," said Schneider, who has been with Realty Executives since 1994 and leads the training and mentoring initiatives throughout all 8 branches.
Working together to support the goals of their people is central to the culture at Realty Executives Plus, and the company is gearing up to open a new forward-thinking office expansion in Mississauga later this year to reflect their vision. Executives will be invited to take advantage of a state of the art, open area space complete with "Executive styled" Apple Bar, cold calling stations, a grand training room with views of the Mississauga City Centre, and private office options.
"All of our branch offices are also equipped with green rooms — video is the way to go," Schneider explains.
With amenities in place to boost productivity, the brokerage welcomes the next generation of real estate pros with proven training and mentoring programs.
"We want the millennials. They are keen to learn, they aren't afraid to hustle, and they love that they have the ability to create their own destiny by building a successful real estate business," Schneider explains.
In addition to offering a wide range of training topics, Realty Executives Plus helps agents tailor a marketing plan to reach their career goals. The results find agents who have embraced the programs offered by the company often breaking their own records.
"We are so proud of our Executives, they smash through their goals, year after year, doubling, tripling, and a few have even reached income levels five times what they did the year before. In fact, one of our newest recruits who was brand new to the business sold 30 properties in her first 30 days," Schneider said.
Scott Gilmour, who has been with Realty Executives since 2006, echoes Schneider's enthusiasm and finds he has much in common with the agents he leads.
"I joined Realty Executives because with my prior company, my direct competition was my own brand with offices all around us, and the head office was looking at adding even more. I wanted a company that would provide a protected area but also offer support and freedom. I recognized that Realty Executives would allow me to pursue my dreams and grow in a direction that would inspire the entrepreneur in me. I partnered with Realty Executives and never looked back. Watching my team evolve as industry leaders behind a rock-solid brand has been amazing. I am so excited for our future growth," Scott Gilmour said.
Pictured above, members of the Realty Executives Plus Ltd., Brokerage team and affiliates band together with Habitat for Humanity to build homes in Niagara Falls.
Realty Executives Plus Ltd., Brokerage thanks Corporate Administrator Lori Middleton, Deal Secretary Angie Young, Office Administrator Caroline Giura, Marketing Assistant Jake Hernandez, and Telemarketing Coordinator Patricia Lust for their incredible support.