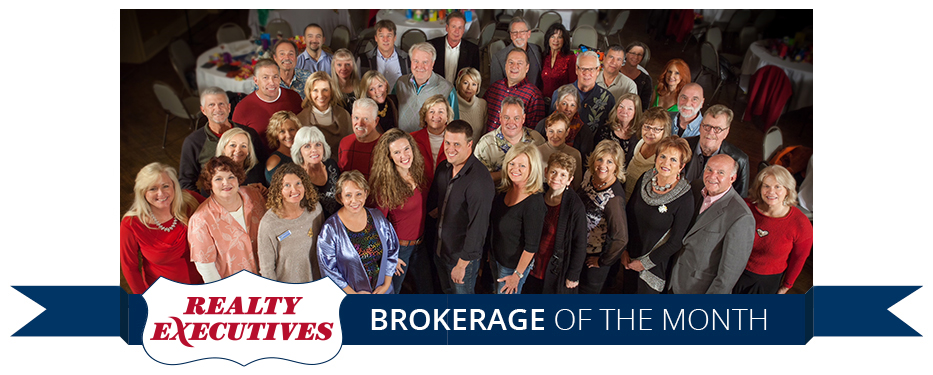 Realty Executives Northern Arizona, with 9 offices and more than 150 real estate professionals throughout northern Arizona, is Realty Executives International's Brokerage of the Month for November 2017.
Led by Broker/Owner Don Bonnell and Managing Broker Cynthia Yannitelli, Realty Executives Northern Arizona offers expertise to buyers and sellers throughout Prescott, Prescott Valley, Dewey, Chino Valley, Sedona, Cottonwood, Camp Verde, Verde Valley, Payson, and cities throughout central and northern Arizona.
The firm has gained both national recognition by leading industry publications as well as the vote of local patrons. In November, Realty Executives Northern Arizona was again named "Best Realty 2017" by Quad Cities Business News. 2017 marks the fourth year in a row the brokerage has received the distinction, which is based on a vote from the readers of the Quad Cities Business News, which serves Prescott, Prescott Valley, Dewey/Humboldt and Chino Valley with news about local business, health care and education.
"What sets us apart is that we provide quality services to our real estate professionals and the flexibility to operate their own real estate businesses. Our vision statement is: Realty Executives Northern Arizona provides the ultimate environment for real estate professionals to achieve success and enrich the lives of others," Bonnell said.
Realty Executives Northern Arizona is seeing their mission succeed. Since Bonnell joined in 2005, the agent count has nearly doubled, growing from 80 real estate professionals to more than 150 today. This summer, the firm was recognized by RISMedia, ranking in the Top 1,000 Power Broker Report, as well as nearly tripling the minimum transaction side requirement to be named in REAL Trends' Up-and-Comers report. The REAL Trends report ranked over 1,200 real estate firms based on closed transaction sides in 2016, with only brokerages that closed a minimum of 500 transaction sides qualifying for the ranking. Realty Executives Northern Arizona closed nearly three times that amount with 1,497 sides.
"We have been the number one company for a decade in the Prescott area and continue to be number one in Northern Arizona by sales volume," Bonnell said.
REAL Trends recently recognized two of Realty Executives Northern Arizona's most productive teams, including The Bergamini Group and The Cody Anne Team, each ranking in "America's Best Real Estate Agents."  Inclusion in these annual reports place the teams featured among the top 1 percent of real estate practitioners in the nation.
Coupled with the firm's tremendous success is an emphasis on giving back, both as a team and as individuals. For the eleventh year in a row, the company is supporting the U.S. Marine Corp Reserve Toys for Tots programs, collecting new toys at its nine real estate offices. Over the last ten years, Realty Executives Northern Arizona has collected upwards of 100 boxes of toys for the Toys for Tots program. In addition, the company is proud to support Yavapai Big Brothers/Big Sisters annually with a monetary sponsorship.
"We're very proud of our Executives and their dedication to helping local non-profits. They are committed to the communities where they work and live. They're very honorable folks and we're glad to have them as part of our team. It is the work of our Executives that set us apart from the competition," said Cynthia Yannitelli, Managing Broker.