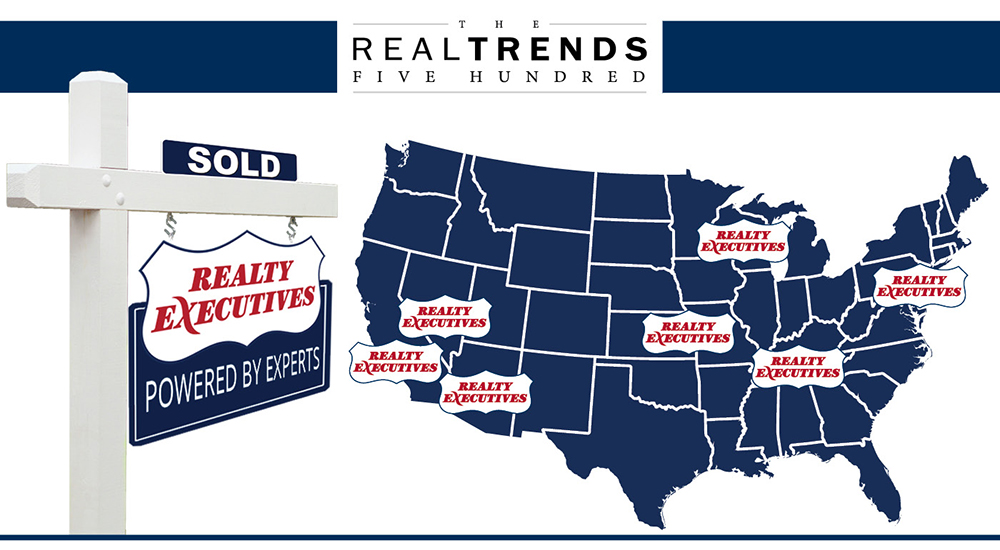 This year seven Realty Executives brokerages placed on the REAL Trends 500 survey. Realty Executives Associates in Tennessee, Realty Executives Exceptional Realtors in New Jersey, Realty Executives Integrity in Wisconsin, Realty Executives of Kansas City, Realty Executives of Nevada, Realty Executives Santa Clarita in California, and Realty Executives Phoenix, Tucson, Yuma and Green Valley all made the list.
The REAL Trends 500 ranking highlights the country's leading real estate firms, rating the top 500 companies by transaction sides and sales volume.
"Due to the requirement that all information be independently verified, the REAL Trends 500 remains the trusted source for information about the performance of these firms," according to the organization. And in order to qualify for placement, firms needed to close at least 1,702 transaction sides during 2015.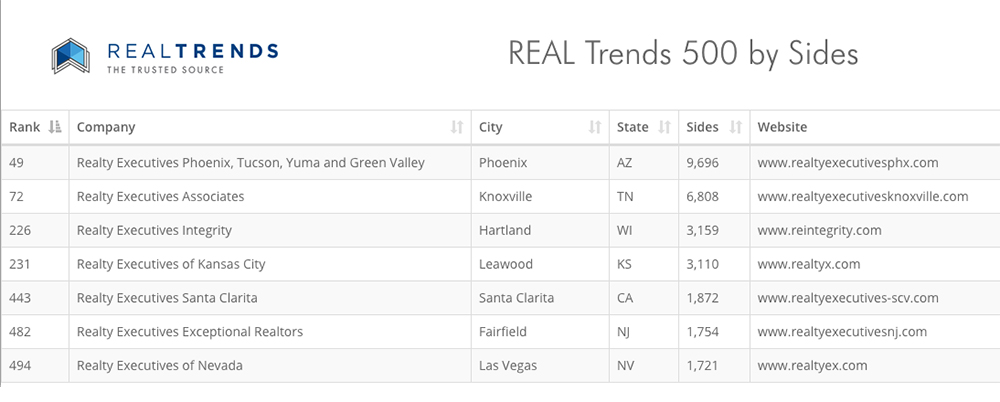 Realty Executives Phoenix, Tucson and Yuma closed nearly 9,700 sides and generated $2.7 billion in sales last year. The Arizona group ranked 49 for both volume and sides. Headed by Jeff Murtaugh and Gerry Russell, this franchise includes over 1,000 brokers and Executives in south and central Arizona.
The number one firm in East Tennessee for over three decades, Realty Executives Associates placed at 72 with 6,808 sides and 143 with $1.3 billion in sales.
Realty Executives Santa Clarita, also the top real estate firm in their community, generated almost $900,000 in sales last year. The franchise also celebrated their 25th anniversary last year and is consistently named in best real estate firm lists by Real Trends, RISMedia, and LA Business Journal.

Making the REAL Trends 500 list for the first time this year, Realty Executives Exceptional ranked 482 by sides. The franchise closed 1,754 transaction sides in 2015. The New Jersey-based firm also serves Upstate New York and Northeast Pennsylvania.
Realty Executives of Kansas City placed squarely in the middle, ranking 231 by sides and 363 by volume. According to Broker/Owner Steve Summers, "The greater Kansas City real estate market is doing very well.  The tight inventory in many areas has resulted in a very competitive marketplace for buyers, making it a great time to sell your home. The current low interest rate environment makes it an excellent time to buy a home as well."
Rounding out the survey at 456 by volume and 494 by sides is Realty Executives of Nevada. One of the fastest growing franchises in the state, Realty Executives of Nevada recently was honored by the City of Las Vegas for passing the milestone of 25 years of operation.
REAL Trends 500 is in its 29th year and remains a trusted source of information on the real estate industry.