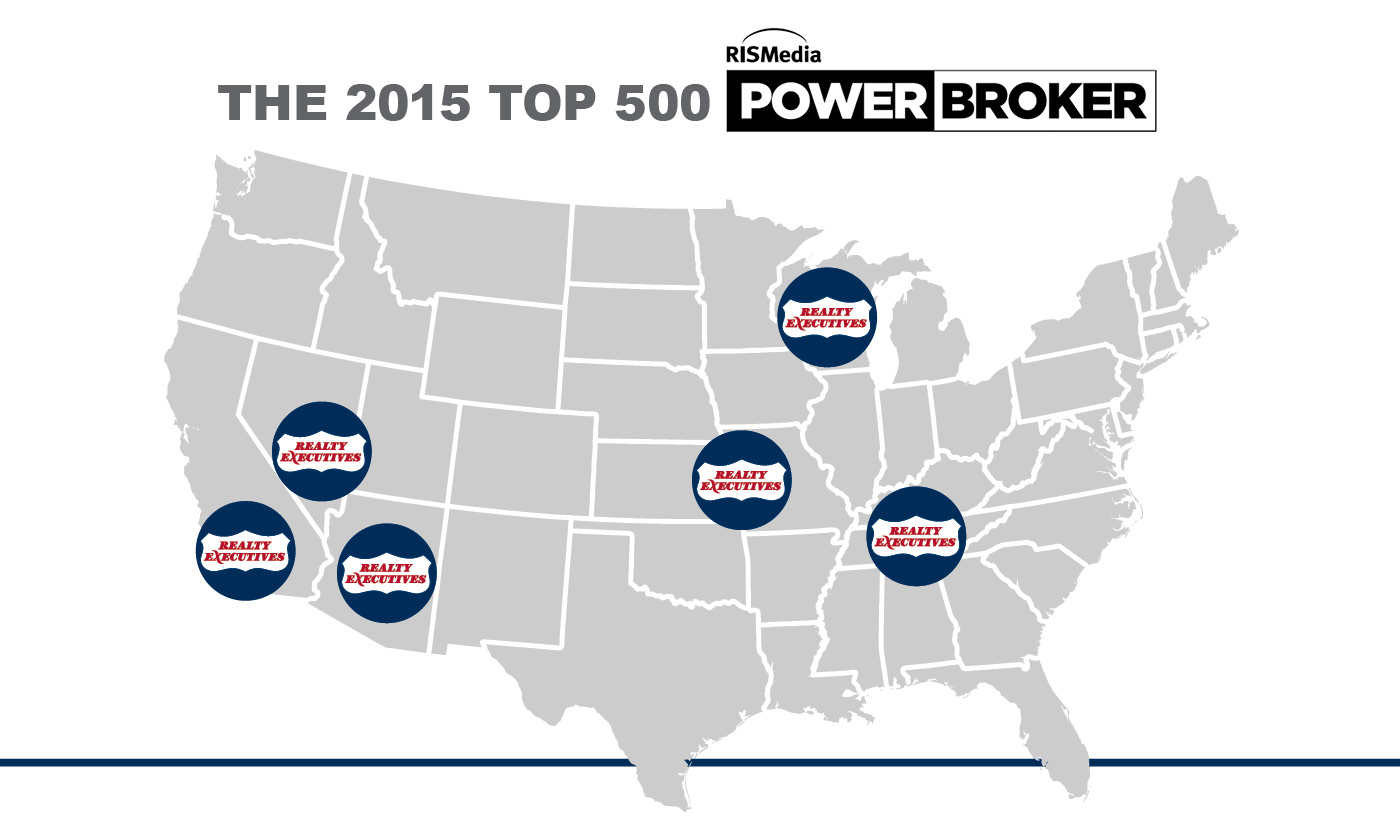 RISMedia's highly anticipated Power Broker Report was published this quarter, and six Realty Executives franchises made the list. Released annually, RISMedia's Power Broker Report ranks the country's top 500 residential real estate firms and brokerages by number of transactions and sales volume. The brokers surveyed reportedly closed 3,453,108 transactions and generated $1,123,494,913,023 in sales volume in 2015.
"This represents a more than $150 billion increase in sales volume over 2014, and nearly 250,000 more transactions—a clear indicator of low inventory driving prices higher," says Maria Patterson, executive editor at RISMedia.
The Realty Executives firms featured include:
Realty Executives Phoenix

,

Tucson

,

Yuma

and

Green Valley

in Arizona, led by CEO Mary Francis Coleman, broker Gerry Russell, and owners Jeff Hawke, Jeff Murtaugh and Joel Moyes

Realty Executives Associates

in Knoxville, Tennessee, led by President and Managing Broker Steve Fogarty

Realty Executives Santa Clarita

in California, which is led by Broker/Owner Jim Tanner

Realty Executives Integrity

in Brookfield, Wisconsin, managed by Broker/Owner Dale Schaechterle

Realty Executives of Kansas City

led by Regional Developers and Broker/Owners Steve and Nancy Summers

And Broker/Owners Fafie and Jeff Moore's

Realty Executives of Nevada

.
All of these brokerages were also featured in RISMedia's 27th Annual Power Broker Report last year.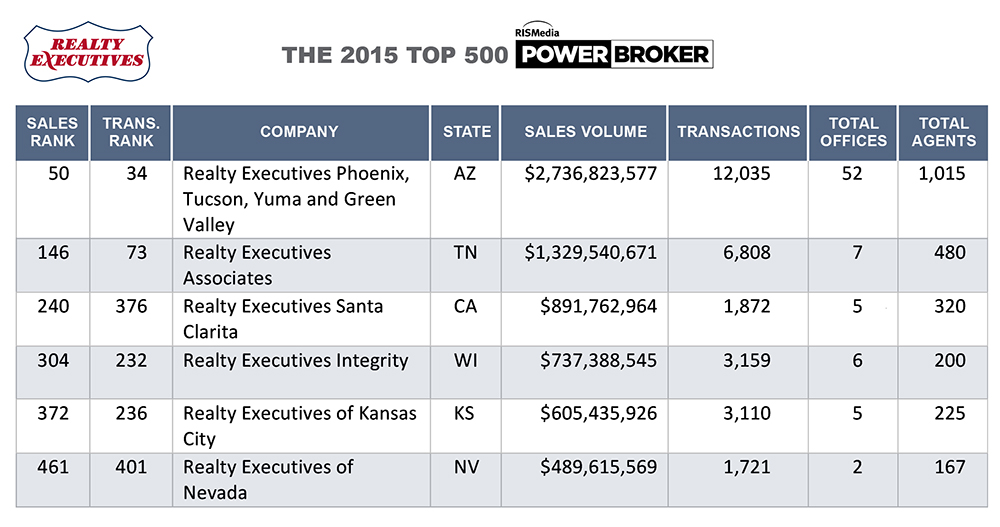 "RISMedia is highly respected for having high standards and reliable data on the ranking of brokerages," says Fafie Moore. "Therefore, being ranked by RISMedia's Power Broker Report adds credibility when talking to recruit prospects and prospective buyers and sellers."
Realty Executives Phoenix made the top 100 list again this year, moving nine spots up the sales ranking from last year's #59 to #50.
Realty Executives Associates and Realty Executives Integrity also moved up the list by 13 and 17 spots, respectively.
According to Patterson "The results of RISMedia's Power Broker Survey reflect the overall pattern of the housing market last year."
"I don't believe the housing market will differ greatly from 2015," insists Steve Summers.
"The general housing market looks good in 2016. There will be continued pricing and inventory challenges at specific price points in certain market areas. I think as the housing market continues to improve, more first-time homebuyers will enter the market, and at the same time, it will be a very competitive environment for real estate investors. Unemployment, jobs, and the economy will ultimately determine the market's momentum," Summers concludes.
RISMedia coined the term "power broker" almost 30 years ago and continues to be a leader in ranking the nation's top-performing brokers via the Power Broker Survey. For the complete 2015 report, visit RISMedia.com.