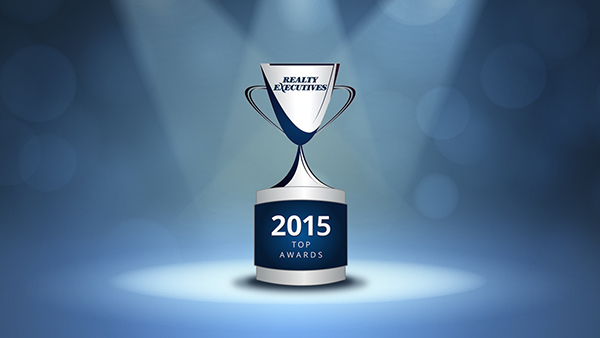 In 1965, Realty Executives founder Dale Rector started out with the leading-edge concept of 100% commission for agents. His innovative idea attracted top producing real estate professionals to become "Executives" and forever changed the real estate industry. Today, Realty Executives International boasts a 50-year legacy of innovation, a foundation that has drawn in generations of the industry's leading real estate professionals. Every year, it is our honor to recognize the very best of the best through our annual awards program.
With over 500 offices and 8,000 real estate professionals globally, these awards represent the sales and production achievements of our top Executives throughout 2015 – the year we've celebrated our company's 50th anniversary.
Together, with a commitment to providing the best service and value to homebuyers and sellers, we look ahead to the next 50 years, as we are strategically positioned to advance regionally and globally with a combination of world-class support, 50 years of brand recognition and ongoing collaboration across brokerages.
2015 Award Highlights:
Each year, Realty Executives International recognizes the Top Executives in three separate categories across our system. The Solo, Team, and Top Gun awards rank individuals, 2-person teams and groups throughout the entire Realty Executives International system.  There are two sets of awards, gross commissions and units sold. The Top Executives in each category include:
TOP SOLO – Individual Executives
SOLO COMMISSION
Lyle Caddell | El Cajon, California
SOLO UNITS
Karl Wehle | Valparaiso, Indiana
TOP TEAM – Two Executives working together
TEAM COMMISSION
Christine Wilczek and Jason Bacza | Lemont, Illinois
TEAM UNITS
Christine Wilczek and Jason Bacza | Lemont, Illinois
TOP GUN – One or more Executives working with a team
TOP GUN COMMISSION
Laura Harbison | Las Vegas, Nevada
TOP GUN UNITS
Skidmore/Mokhtarian Team | Tucson, Arizona
Realty Executives International also recognizes the leading offices throughout our system for top listings and sales.  A Gold (1st), Silver (2nd) and Bronze (3rd) is awarded in each category.  These are the top three from all submissions.  Congratulations to Realty Executives Phoenix, Tucson and Yuma for sweeping the top spot in each category!
TOP LISTING OFFICE | NUMBER OF LISTINGS
GOLD
Realty Executives Phoenix, Tucson and Yuma
Phoenix, Tucson and Yuma, Arizona
SILVER
Realty Executives Associates
Knoxville, Tennessee
BRONZE
Realty Executives of Kansas City
Leawoood, Kansas
TOP LISTING OFFICE | DOLLAR VOLUME
GOLD
Realty Executives Phoenix, Tucson and Yuma
Phoenix, Tucson and Yuma, Arizona
SILVER
Realty Executives Associates
Knoxville, Tennessee
BRONZE
Realty Executives Saskatoon
Saskatoon, Saskatchewan, Canada
TOP SALES OFFICE | NUMBER OF UNITS SOLD
GOLD
Realty Executives Phoenix, Tucson and Yuma
Phoenix, Tucson and Yuma, Arizona
SILVER
Realty Executives Associates
Knoxville, Tennessee
BRONZE
Realty Executives of Kansas City
Leawoood, Kansas
TOP SALES OFFICE | DOLLAR VOLUME
GOLD
Realty Executives Phoenix, Tucson and Yuma
Phoenix, Tucson and Yuma, Arizona
SILVER
Realty Executives Associates
Knoxville, Tennessee
BRONZE
Realty Executives Polaris
Edmonton, Alberta, Canada
Congratulations to all of the 2015 Realty Executives International Award Winners! We wouldn't be where we are today without our Executives' support and dedication to excellence.  This truly is "where the experts are."